Stormy Daniels Lawyer Says Trump's Denial of $130K Payment Just Helped His Client
President Donald Trump's denial that he knew about a $130,000 payment to adult star Stormy Daniels in trade for her silence over an alleged affair just helped the lawsuit seeking to free her from the deal, according to her lawyer.
En route to Washington, D.C. on Air Force One Thursday, Trump addressed the allegations personally for the first time. Reporters asked him whether he knew about the hush money payment.
"No. What else?" Trump told reporters who followed up by asking why the president's personal attorney Michael Cohen made the payment if there was no truth to Daniels's allegations. "You'll have to ask Michael Cohen. Michael is my attorney," the president replied.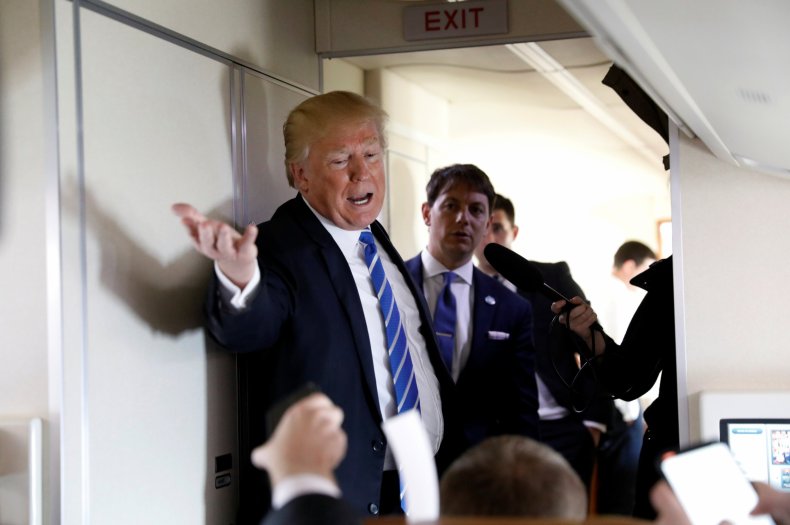 The Wall Street Journal first reported the payment in January. Cohen has said he made it on Trump's behalf, as part of a nondisclosure agreement signed with Daniels days before the November 2016 presidential election. Trump was not aware of the agreement, Cohen told Vanity Fair, and he himself paid out of his own pocket because "I truly care about him and the family."
"Good (actually GREAT) things come to those who wait!!! The strength of our case just went up exponentially," Daniels attorney Michael Avenatti tweeted following Trump's remarks. "You can't have an agreement when one party claims to know nothing about it," he wrote.
Avenatti is representing Daniels, whose legal name is Stephanie Clifford, in a suit that argues the agreement is invalid because Trump never signed it, even though he is named as party to it.
Read more: Stormy Daniels 60 Minutes interview: What did CBS cut from broadcast?
"We very much look forward to testing the truthfulness of Mr. Trump's feigned lack of knowledge concerning the $130k payment as stated on Air Force One," Avenatti wrote on Twitter. "As history teaches us, it is one thing to deceive the press and quite another to do so under oath."
Last week, Avenatti filed a motion in court seeking sworn depositions on the payment from Trump and Cohen and for the case to be tried before a jury. On Monday lawyers representing Trump and Cohen argued the case should go to arbitration behind closed doors.
David Schwartz, an attorney leading the defense, accused Avenatti Monday of "trying the case in public" with multiple high-profile television interviews and public statements. Daniels appeared in an interview on 60 Minutes March 25. Schwartz said Avenatti is "playing games" by claiming he has information that will prove the affair alleged to have occured in 2006—a year after Trump married to third wife, Melania.
Cohen, however, has placed himself in "legal peril" wrote Harry Litman, a University of California at San Diego constitutional law professor and former Justice Department deputy assistant attorney general in an opinion piece in The Washington Post April 3.
"The story Cohen and Trump are taking into litigation, then, is that Cohen was a complete freelancer," Litman wrote. That means he could have committed "serious professional malfeasance" by not informing Trump that he was being made party to the deal."
"The rules of professional responsibility are explicit that the lawyer can't simply enter into a settlement that binds the client but 'must promptly inform the client of its substance' unless the client has previously authorized it," Litman wrote. "In other words, only the client can approve a settlement."