Melania and President Trump Will Be 1,000 Miles Apart During Stormy Daniels' '60 Minutes' Interview
Adult film star Stormy Daniels, who allegedly had an affair with President Donald Trump, spoke to Anderson Cooper in an interview for the CBS show 60 Minutes. The President and Melania Trump will be in two separate places when the show airs at 7 p.m. EDT Sunday.
The alleged affair happened in 2006 around one year after Donald Trump married his third and current wife Melania. The alleged affair happened shortly after Melania Trump gave birth to their son Barron, Donald Trump's fifth child.
The President and the first lady traveled to Trump's Florida resort Mar-a-Lago over the weekend and Melania Trump and Barron will be staying behind Sunday, according to the White House.
"The first lady will be staying in Florida as is their tradition for spring break," said deputy press secretary Lindsay Walters in a statement.
Barron Trump has a week off for spring break, and he and his mom had been slated to stay in Florida.
President Donald Trump will be headed back to the White House Sunday, and is set to arrive in Washington D.C. at 6:30 p.m. EDT, according to NBC, about 30 minutes before the interview is set to air.
The affair is also the subject of a contentious legal battle.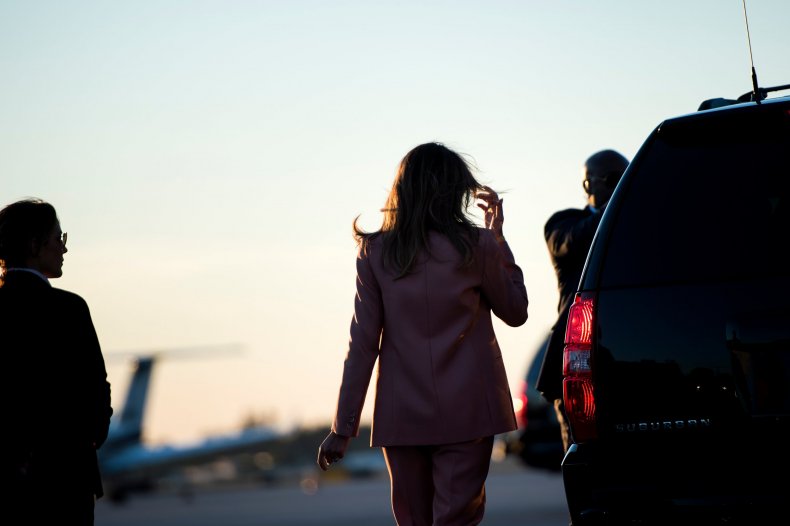 Trump's personal lawyer Michael Cohen, through a shell company, paid Daniels $130,000 just before the 2016 presidential election to stay quiet about the alleged affair, but Daniels contends that the agreement she signed is null and void because the president did not sign it. She is suing to get out of the agreement. Through lawyers, Trump and Cohen's company have filed a court complaint seeking $20 million in damages from Daniels for what they say are at least 20 breaches of the agreement.
The White House has denied that the affair took place. Melania Trump has not spoken publicly about it.
Former Playboy model Karen McDougal spoke to CNN Thursday about an alleged affair she had with the president around the same time as Daniels and apologized to Melania Trump.
"I'm sorry. I wouldn't want it done to me," said McDougal
The White House could not be immediately reached for comment by Newsweek.