Strange Long, Skinny Muskie Caught by Minnesota Man in Water Channel
A strange, long and skinny muskie has been caught by a Minnesota man in a shallow water channel.
Tayden George, 19, had been fishing for bass and panfish in a channel connecting Lakes Ida and Charley, in west-central Minnesota, when he landed the fish.
"I was going there to catch some largemouth bass, maybe some bluegills. I saw a bunch of bass on shore and then a bunch of sunfish. I thought, 'OK, maybe I can catch a decent bass to pass my time before dark.'" George told the Park Rapids Enterprise.
George had only been fishing for 20 minutes when some others nearby spotted the muskie lurking in the water.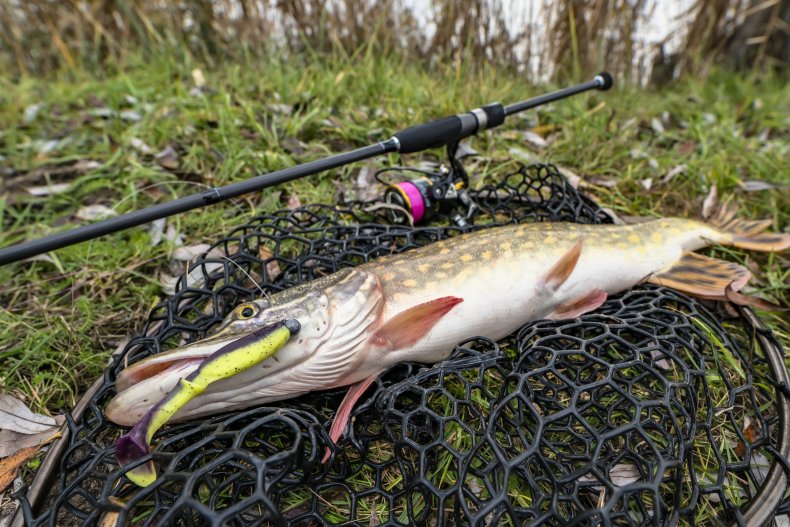 Using a white Keitech swimbait and a test braided line, George enticed the huge fish and battled to get it out of the water.
"I fought him up and down the channel," George told the Park Rapids Enterprise. "Me and one of the other kids threw our stuff off, jumped in the water because I couldn't fight him anymore because he was going down stream. I jumped in and fought him up to my hands and grabbed him. Right when I pulled him up, the hook fell out of his mouth."
It was only when George got the fish out of the water that he realized its strange, skinny appearance, which can be seen here.
The anglers measured the fish at 49.5 inches long. Muskie fish on average are about 28 to 48 inches long. The anglers were not able to weigh the fish but they are usually between 15 to 36 pounds, with a sizable girth, making this skinny fish an unusual find.
"I think it was a spawned-out female. It was really skinny," George told the Park Rapids Enterprise. "Usually a muskie that size would have a big gut, but I think it was all spawned out."
After snapping some photographs of the catch, the anglers released it back into the channel.
Its appearance wasn't the only unusual thing about this fish.
Muskie fish do not usually swim in small water channels such as this. They are not abundant in Lake Ida and Charley, making it even stranger that it would be swimming in the water channel.
However, Lake Ida and Charley connect to Lake Miltona, which is known for its high numbers of muskie, meaning this large catch had probably strayed from there.
It is not the only large muskie to be caught in this area. A 50-inch muskie was caught on Lake Charley in 2021, while another 48-inch fish was found in Lake Ida in 2019, Outdoor Life reported.
Muskie can be found throughout northeast states, the Great Lakes Region, and through the Mississippi Valley. They can also be found as far south as Tennessee.
Newsweek has contacted Tayden George for comment.