An Alabama-based coal company is deliberately refusing to pay approximately 1,100 employees.
That was the statement alleged by Braxton Wright, of United Mine Workers of America Local Union 2368, during a January 5 YouTube livestream conversation with U.S. Senator Bernie Sanders.
Local Union 2368 is responsible for handling and washing coal, preparing it for transportation to the market. Coal is cleaned of rock and debris and then crushed and sorted into different sizes. That plant employs 23 UMWA members.
"We're not even asking for more than what we had; we're asking to get back what we give up so the company can be profitable again," Wright told Sanders. "They say they can afford it, but we don't deserve it."
When Sanders was shocked by that statement and asked if it was true, Wright said, "They really said that they will starve us out before they give us what we want, that we do not deserve it."
Sanders asked if the company acknowledged they have the money to meet the union employees' concessions. Wright said they do.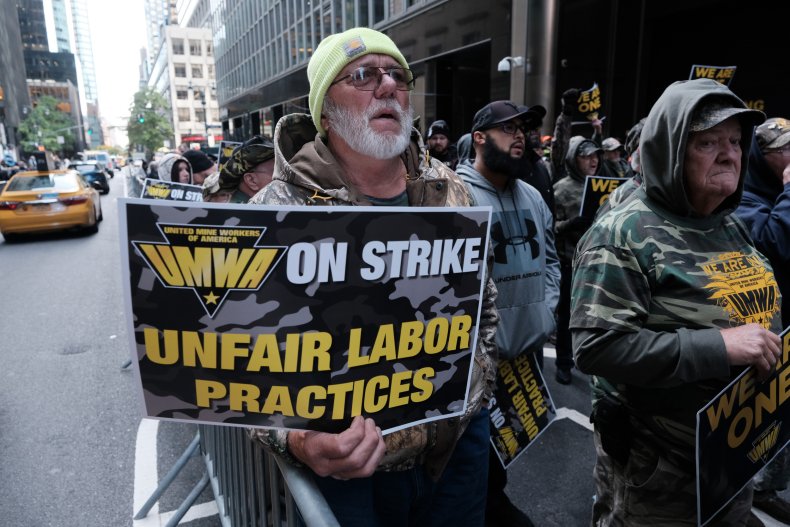 Wright and about 1,100 other coal miners have been on strike against their company, Warrior Met Coal, since April 1, 2021.
Warrior Met Coal operates underground mines located in Brookwood, Alabama, southwest of Birmingham and close to Tuscaloosa—some of which are between 1,400 and 2,100 feet underground, among the deepest vertical shaft coal mines in North America.
The company described itself as a leading producer and exporter of metallurgical coal for the global steel industry and serves markets in the U.S., Europe, Asia and South America.
"Negotiations are sporadic at this point, but they are ongoing," Phil Smith, director of communications and governmental affairs for United Mine Workers of America, told Newsweek. "I really can't comment on the particulars of what we are discussing at the bargaining table. We continue to pay strike benefits of $400 per week to the strikers and cover any catastrophic health care costs they have."
Wright, a control operator at the No. 5 prep plant, discussed losing alleged wages and healthcare benefits, as well as "four strike" rules and having just two sick days.
"As this contract ended, [Warrior Met Coal] wanted us to take even more concessions," Wright said. "They claimed a loss last year during the pandemic, but they also spent a lot of money last year. And they also stockpiled a lot of coal that they sold this year."
The company's third-quarter earnings announced November 2, 2021, reported a net income of $38.4 million compared to a net loss of $14.4 million in the same time period in 2020.
Walt Scheller, CEO of Warrior Met Coal, said in the statement that they were the most profitable results since the beginning of the COVID-19 pandemic, "driven by the resiliency and efficiency of our operational base."
"While we continue to negotiate in good faith to reach a new union contract, the UMWA, unfortunately, remains on strike," Scheller said. "During this period, we continued to execute successfully on our business continuity plans, allowing us to continue to meet the needs of our valued customers. Despite incurring costs associated with the strike, we have been able to manage our working capital and spending to deliver strong results in this market."
In its 2021 Corporate Responsibility Report, Warrior Met Coal said it remained "hopeful for a fair and reasonable resolution" as it pertains to the strike.
"While we value our hard-working employees, Warrior Met Coal must continue to maintain our corporate strategy to protect jobs and ensure the company will remain profitable and competitive in an industry that experiences constant volatility in market pricing for metallurgical coal," the company said. "We remain steadfast in our belief that the eight proposals given to the union are fair and equitable. The contracts offered have included wage increases, additional holidays, more time off, better benefits, scheduling flexibility and significant performance and market-based incentive opportunities.
"Our goals during the negotiation process remain unchanged—to provide employees with a competitive compensation package, while protecting jobs and the financial stability of the company in a highly volatile market."
The company has called itself "an attractive and stable place to work since 2016," adding that it has reportedly tripled its workforce since then.
"Over the past five years, Warrior Met has been a terribly difficult company for our people to work for, working as long as 12 hours a day seven days a week in some of the most dangerous conditions in the mining industry in North America. ...These mines liberate so much methane they could destroy an entire city," UMWA International President Cecil Roberts said at the onset of the strike.
Wright's interview with Sanders went viral on sites like Reddit and its "antiwork" forum, where the post was upvoted over 51,000 times and included thousands of comments—including encouraging helping union members through organizations like the Action Network.
"Strikes are nearly impossible in Alabama but our mining community has been beyond vocal in these past years," one Reddit user said. "Strikes are so hard to pull off here due to unions being politicized and most of the state not supporting unions. They break strikes and go to work anyways.
"My grandpa was a foreman at an aluminum plant and he would tell me how much he despises union workers. He said they were all lazy and sorry for striking. Unions need to be accepted by all workers and need to stop being a political tool, period."
Newsweek reached out to Warrior Met Coal for comment.