String of Antisemitic Incidents Over Weekend Prompt NYC Hate Crime Probe
A string of antisemitic attacks and incidents over the weekend is spurring greater action from authorities in New York City. The New York City Police Department's (NYPD) Hate Crimes Task Force has opened several cases, looking into incidents ranging from assault to vandalism.
The first incident took place near a Flatbush gas station at around 11:30 p.m. on Friday, according to CBS New York. Surveillance footage obtained by the NYPD shows a Jewish man being aggressively confronted by an unidentified suspect. Eventually, the suspect slapped the man in the face, knocking a yarmulke off of his head, before fleeing in a gray minivan.
"Out of nowhere, all of a sudden, boom. Clocks him right in the head," Bob Moskowitz, coordinator for the Flatbush Shomrim, told CBS New York.
In the same area, about 15 minutes after that assault, two suspects entered the gas station parking lot and began harassing a 14-year-old Jewish boy.
"Started talking to him and threatening him, you know with a threatening voice, and started chasing him," Moskowitz added about this second incident. "They ran halfway across into the intersection at Kings Highway, and then they let him go. But the kid was petrified."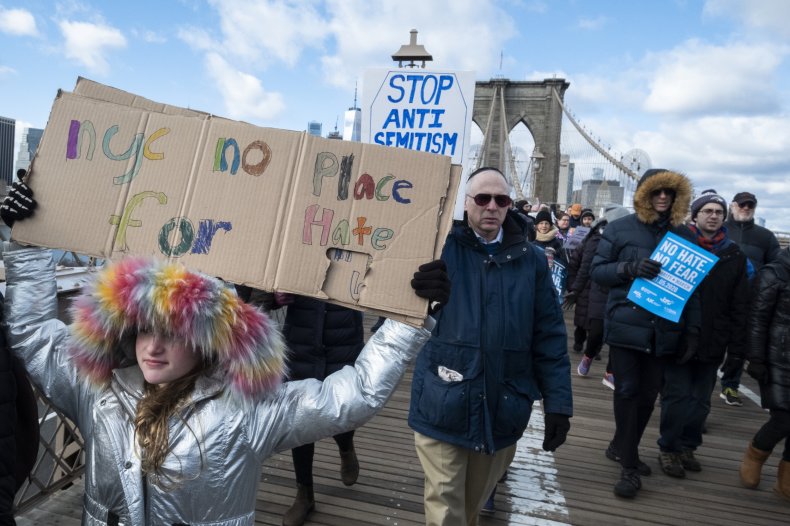 Flatbush is located in Brooklyn, which boasted a Jewish population of around 600,000 in 2018, making it the most Jewish borough in New York City by proportion, according to Hadassah Magazine.
In Queens on Saturday, a rabbi called police after discovering graffiti on the window of a Jewish-owned dental lab in the neighborhood of Forest Hills.
In response to these numerous incidents, several major cities leaders spoke out against antisemitism in the boroughs.
"Make no mistake," Mayor Eric Adams said in a tweet. "An attack on our Jewish community is an attack on every New Yorker. We will catch the perpetrators of this assault."
"We can't let this be the norm," Councilwoman Lynn Schulman said in a statement. "People saying, 'Oh, they're getting used to it.' We can't get used to any of this. Hatred is not something to get used to."
The Anti-Defamation League (ADL) has partnered with the NYPD to offer a reward of up to $5,000 for information leading to the arrest of the Flatbush suspects. The ADL also told CBS that the state of New York, and New York City, lead the nation in rising antisemitic hate crimes.
"We've responded to incidents in 47 states, and New York was number one across the country in terms of antisemitic incidents by far," ADL spokesman Scott Richman said. "Within New York, the vast majority of incidents take place in New York City."
These latest incidents come roughly two weeks after similar ones across the country in Chicago. On February 1, Shahid Hussain, 39, was arrested in connection with yellow swastikas that were found spray-painted on a synagogue and near a Jewish school in the neighborhood of West Ridge.
Newsweek reached out to the NYPD for comment.