There is "strong evidence" of systemic racial and ethnic bias in air pollution control across California, according to a new study from UC San Diego's School of Global Policy and Strategy (GPS).
Researchers assessed air pollution data from before the coronavirus pandemic began and as California's first stay-at-home order was in place. They found predominantly Asian and Hispanic communities saw a bigger drop in air pollution exposure during the shutdown than predominantly white areas, which researchers said means the state's Asian and Hispanic areas "experience significantly more air pollution from economic activity compared to predominantly white neighborhoods." Meanwhile, drops in pollution exposure were not "statistically significant" in Black communities, instead remaining closer to pre-pandemic levels.
Jennifer Burney, the Marshall Saunders chancellor's endowed chair in global climate policy and research at GPS, suggested the study's findings were at odds with what might be expected of the blue state.
"One would think that in a state with strong environmental policies, where we track what is being emitted where, that our regulatory system might do a good job of protecting everyone equally," Burney said in a Thursday press release. "But this is really strong evidence of systemic bias."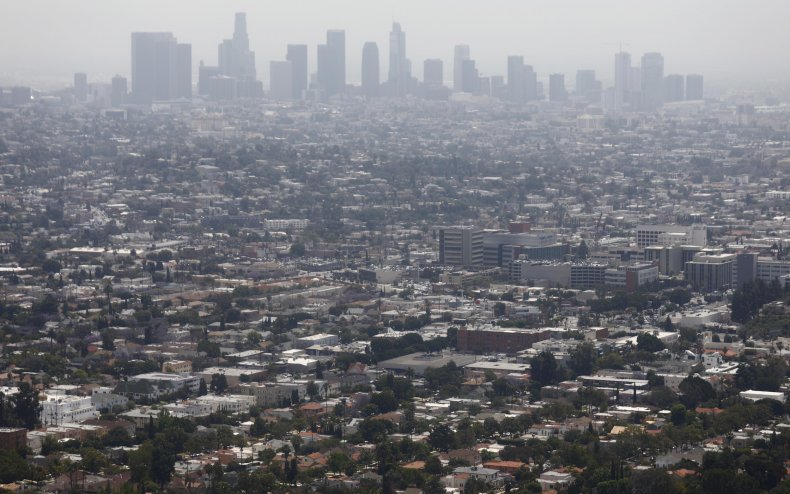 The study was published by Nature Sustainability days after the United Nations' (U.N.) Intergovernmental Panel on Climate Change shared a report warning it is "now or never" for the world to limit global temperature increases by taking action on climate change. An estimated 99 percent of the global population breathes air that is polluted beyond "internationally approved levels," the World Health Organization warned this week. The U.N. attributes one in nine deaths to air pollution and estimates 13 people die as a result of it every 60 seconds.
For the GPS study, Burney noted that while income is often linked to discussions about pollution exposure, it "only explains about 15 percent of the disproportionate decrease in air pollution experienced by Asian and Hispanic communities during the shutdown" in California. Income alone "does not explain the racial and ethnic bias in how our economy creates and distributes pollution," Burney added.
The study's findings in regards to income mirrored a U.S. Environmental Protection Agency (EPA) study released last year. Throughout the country, "people of color breathe more particulate air pollution on average, a finding that holds across income levels and regions of the U.S.," the EPA said at the time.
GPS researchers assessed air pollution data using satellite measurements of nitrogen dioxide and 830 air monitor networks, 106 of which are run by the California Air Resources Board, with the rest being privately owned. Researchers noted similar studies in the future could assess air pollution over a wider range of time, which would help "thoroughly" factor in "natural seasonal swings."
While the study was limited to assessing air pollution exposure in California, researchers "believe that the disparity in air quality between ethnicities most likely applies to other states," according to the release. It said the researchers "take this as evidence of an environmental policy failure."
When reached Friday for comment, the California Environmental Protection Agency (CalEPA) told Newsweek that agency officials have not yet reviewed the study in full but said the state "is committed to addressing the disproportionate impacts of the climate crisis on low-income communities and communities of color."
"The state is doubling down on efforts to advance equitable climate and air quality goals through an unprecedented proposed $37.6 billion climate budget, ramped up enforcement efforts and continued promulgation of regulations aimed at addressing harmful pollution," CalEPA said. "This Administration has also taken bold action to reduce demand for oil by ending the sale of new gas cars by 2035, moving to phase out harmful oil production in our communities and increasing access to zero-emission mobility in low-income communities."