Student Banned From Wearing MAGA Hat at School Tells Fox News She'll Wear It Again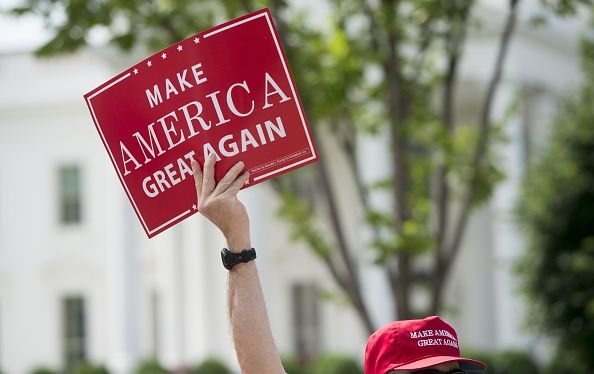 The California student who was banned from wearing a "Make America great again" hat on campus says that she plans on wearing the hat on school grounds again.
Maddie Mueller, a student who attends Clovis North High School in Fresno, California, made headlines for wearing a MAGA hat at school after members from the group the "Valley Patriots" were asked to wear the hats. The Clovis Unified School District said they would not allow her to wear the hat on campus, KSEE previously reported.
During a segment on The Ingraham Angle on Monday, Mueller spoke out about the controversy surrounding the hat. She told Fox News host Laura Ingraham although she was not allowed to wear the hat that sports President Donald Trump's campaign slogan, she noticed many other students wearing political garb on campus.
"Currently on campus as of today I saw four Hillary Clinton T-shirts, one Obama shirt, a Bernie Sanders hat, and about seven LBGTQ rainbow flag hats on campus today," Mueller told Ingraham.
The teen told Ingraham she interned with U.S. Representatives Devin Nunes and David Valadao during the midterm elections, where she discovered her passion for politics. Mueller claimed public schools systems are "trapped under the government's thumb" on what they are allowed to teach.
"I realized that the school systems seem to be trapped under the government's thumb about what they're supposed to, you know, teach, what's acceptable, what's acceptable to force down our throats in a sense," Mueller told Ingraham. "And I realized that it's not always the truth."
She told Ingraham that as a conservative, she wanted to take a stand for campuses across the nation.
"I felt like someone needed to take a stand, somebody needed to stand up not just for Clovis North, not just for Clovis Unified, but nationwide for the conservative and Christianity monitoring that's going on, on campuses," Mueller said.
Ingraham mentioned that a former federal district judge Oliver Wanger said the hat could cause issues and potentially incite violence, but Mueller claimed that it was never brought to her attention until recently. Despite the controversy, she claims she will still wear the MAGA hat and has ordered another hat in black.
"I intend to try to wear it on campus because black is one of our school colors. I'm going to try it, in fact, today," Mueller told Ingraham.