Student Grills Staff on 'Sexist' Dress Code During Assembly in Viral Video
A female student put her administrators on the spot last week, interrogating them over dress code rules that she described as "disgusting."
High school junior Anastasia raised her questions during a school assembly in New Jersey, according to footage posted on TikTok. Her video from September 9 has been viewed 5.2 million times.
"Why is this school so persistent on telling girls to cover up, when really guys should just keep it in their pants?" she asked, while the room went silent. "This school is so headstrong on telling girls to cover up their shoulders, or, you know, stomach, when those things are all pretty natural."
Anastasia went on, "I've talked to many girls in this school. If two girls come to school wearing the same top, you know. One girl has smaller cup size, the other one has bigger cup size. I've heard more girls with the bigger cup size get dress coded more than the smaller ones. It's completely sexist and biased and not okay."
She captioned the viral video, "Our bodies aren't distracting, you're just disgusting."
A follow-up video recorded the response from two male administrators, whom Anastasia identified as the principal and vice principal. One of them could be heard referencing education policies and the school handbook.
"It's not the way we're looking at that, but we're just following whatever we want to do," he said vaguely. "Majority of the people do get it, but there's some people that want to challenge the system, so that's it. And a lot of staff members and people, they feel uncomfortable."
Students briefly murmured amongst each other, baffled over the suggestion that staff members felt affected by the attire of minors.
"Wait, I have a question," said another student. "You said the staff feels uncomfortable with what girls wear?"
"I said years past, some staff members..." the administrator said before the other school leader jumped in, saying, "Hold on guys, let's refocus for a minute," and the video cut out.
What's In A Dress Code?
While school dress codes are generally presented as protecting the learning environment, they have been criticized for the opposite effect.
In 2021, the nonprofit Girls for Gender Equity audited student handbooks across New York state and found that dress codes disproportionately punished girls and gender-non-conforming youth of color.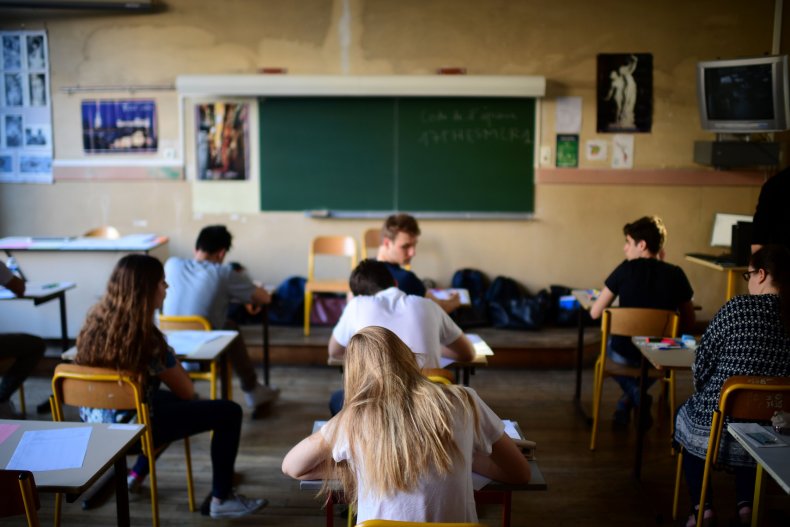 The report noted that body types and presentation were policed through rules around skirt and dress lengths, clothing fit, make-up and accessories. "Subjective and stigmatizing language" was "pervasive" throughout the handbooks, encouraging school staff to scrutinize students' bodies, as were "harsh" disciplinary "threats" that targeted educational opportunities for specific students.
A 2018 study from the National Women's Law Center also found that many dress codes can cause Black students to fall behind academically, as they were disproportionately pulled out of class or school for violations.
Disputes over dress codes have spilled into the courts.
In Illinois, a law that took effect in January prohibited schools from implementing hairstyle-based dress codes, which were shown to disproportionately affect students of color.
In Texas, in December, the Magnolia Independent School District reversed its policy requiring boys to have short hair in December after a lawsuit from the American Civil Liberties Union (ACLU).
And in 2019, a legal fight in North Carolina ensued over a charter school's ban on girls wearing pants or shorts to school.
Newsweek reached out to Anastasia for comment.