Student Loan Update: 100 House, Senate Members Ask Biden to Extend Pause
One hundred members of the Senate and House have sent a letter to President Joe Biden asking him to extend the current pause on student loan debt payments.
New Jersey Senator Bob Menendez announced that he and 99 other lawmakers, including fellow Democratic Senators Cory Booker, Elizabeth Warren and Chuck Schumer and Democratic Representatives Tony Cárdenas and Ayanna Pressley, "led a bicameral group of 100 colleagues in the Senate and House in urging the Biden Administration to extend the student loan payment pause beyond August 31, 2022."
Thursday's letter comes a little over a month before an August 31 deadline, when the current pause in federal student loan payments will end. At the start of the coronavirus pandemic in 2020, President Donald Trump imposed a pause on student loan payments, which was extended by Trump and then by Biden after he took office.
Biden has said he will decide on his next move on student loans, whether it's another pause or some form of cancellation, by the end of August. He has suggested he would consider forgiving $10,000 in debt per borrower, but some progressive Democrats say they want as much as $50,000 canceled.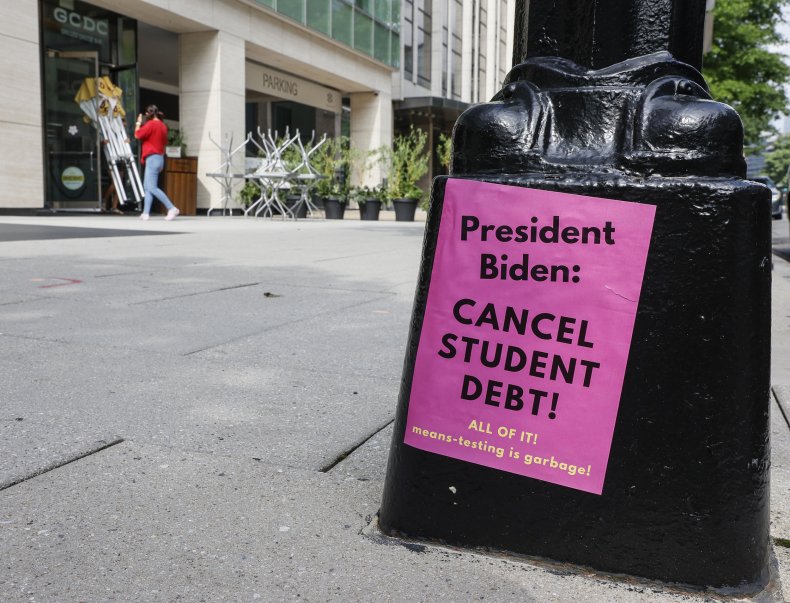 In their letter, the lawmakers wrote, "For over two years, the [Education] Department has provided critical flexibility to millions of federal student loan borrowers by pausing payments, as many have struggled during the COVID-19 pandemic. This much needed pause has helped many borrowers to keep a roof over their heads, secure childcare, and purchase food, health care, and medicine during the course of a pandemic responsible for the deaths of more than 1 million people in the U.S."
The letter went on to cite a number of problems the nation is facing. It noted that despite a decrease in prices for goods last month, the current price of gas remains much higher than a year ago and supply chain problems are still hurting the economy, making it difficult for some borrowers to pay back student loans.
"Moreover, resuming student loan payments at this moment would further complicate administrative actions already underway or contemplated by the Department—which could contribute to unnecessary confusion for borrowers in the upcoming months," the letter said. "Accordingly, we ask that the Administration continue to keep federal student loan payments paused."
In June, the Department of Education reached an agreement to forgive $6 billion worth of student loan debt for 200,000 students. The agreement came in response to a lawsuit filed by a group of students who believed their requests to have student loan debt canceled were ignored by the Education Department.
"We are pleased to have worked with plaintiffs to reach an agreement that will deliver billions of dollars of automatic relief to approximately 200,000 borrowers and that we believe will resolve plaintiffs' claims in a manner that is fair and equitable for all parties," Education Secretary Miguel Cardona said in a statement in June.
Newsweek reached out to the White House and the Department of Education for comment.