Students and Faculty Walk Out of Vice President Mike Pence's Commencement Address at Taylor University
As Vice President Mike Pence gave the Saturday morning commencement address at Taylor University — a Christian school in Pence's home state of Indiana — dozens of graduating seniors and faculty walked out in protest.
The small demonstration came after Taylor students and members of the surrounding Upland, Indiana, community started an online petition to bar Pence from giving the address, citing concerns that it could be construed as an endorsement of President Donald Trump's policies. Many of those who remained at the ceremony but objected to Pence's presence sported buttons that declared, "I am Taylor Too," which intended to show that the university houses a multitude of viewpoints in contrast to those held by the administration.
Close to 10,000 people signed the Change.org petition, although only a fraction of the roughly 500 graduating students actually ended up walking out of the speech. Still, the demonstration marked a rare instance in which a member of the Trump administration was rebuffed in what many considered to be friendly territory.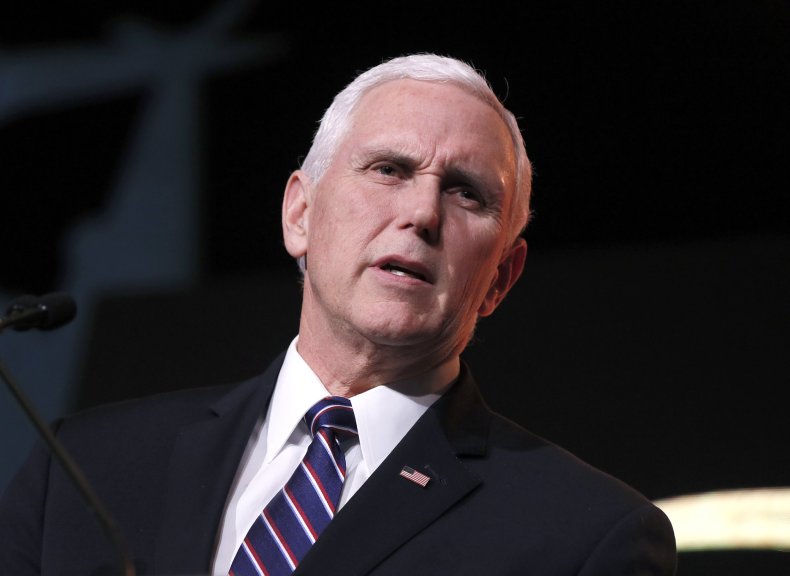 "Inviting Vice President Pence to Taylor University and giving him a coveted platform for his political views makes our alumni, faculty, staff and current students complicit in the Trump-Pence Administration's policies, which we believe are not consistent with the Christian ethic of love we hold dear," the petition read. A counter petition also sprung up supporting his presence, although that garnered thousands of fewer signatures.
Pence, undeterred by the controversy, spoke broadly about the importance of freedom of religion and urged the graduates to remain strong in their beliefs in the face of persecution. A livestream of the speech shows him receiving a standing ovation.
"I promise you," he said at one point. "We will always stand up for the freedom of religion and the right of every American to live, to learn, and to worship according to the dictates of your conscience."
For the most part, the speech was evocative of a commencement address he delivered last Saturday at Liberty University, a Christian institution founded by televangelist Jerry Falwell. That school has long shared a close relationship with the Trump administration and conservative leaders.
There, the vice president was more forceful in his disapproval of progressives and tacitly addressed his own reputation in popular culture. He also defended his wife, Karen, for working at a school that promotes anti-gay policies, including barring gay teachers and students from affiliation with the school.
"You're going to be asked not just to tolerate things that violate your faith; you're going to be asked to endorse them," he said. "You're going to be asked to bow down to the idols of the popular culture. So you need to prepare your minds for action."