Students Banned From Graduation Over Vaccination Status Sparks Protest
A high school's decision to ban unvaccinated students from its graduation ceremony has sparked discontent among parents, who plan to protest.
The decision was made by Granada Hills Charter High School in the San Fernando Valley near Los Angeles. Unvaccinated students will not be permitted to attend the graduation ceremony on June 2, senior awards night or any of the school's other year-end events, according to KTLA.
Parents pushing back against the decision said the school's ban based on vaccination status discriminates against their children, who opted to continue remote learning rather than get vaccinated against COVID-19.
The protest is being carried out with the participation of groups like GHC Parents United, Moms on the Ground, The Unity Project, and Let Them Breathe, among others. Let Them Breathe previously filed a lawsuit against the district over its vaccination status policies, according to KTTV.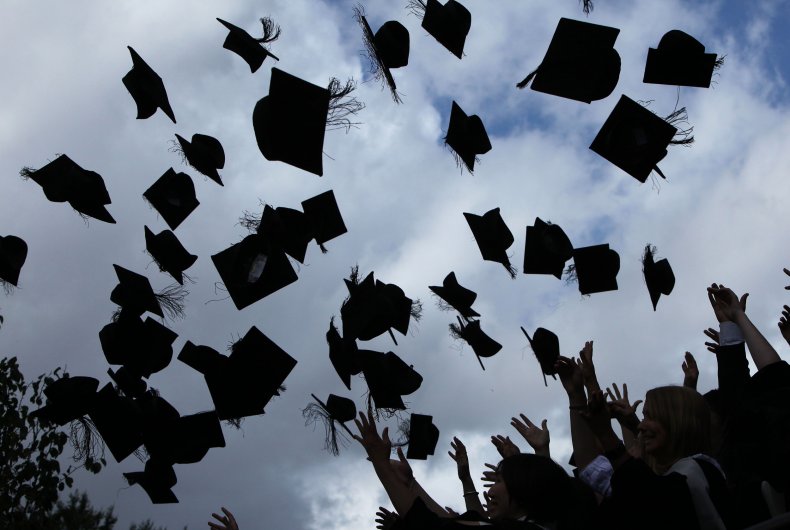 The event was expected to begin at 8 a.m. local time Tuesday. The senior awards ceremony will be held on Thursday 2 at 6 p.m., with graduation at 7. The ban will also affect the district's eighth-grade culmination ceremony on Friday.
Students, age 12 and over, and their families were notified in the fall that they would not be permitted to return to campus if they did not get vaccinated.
According to a statement from GHC Parents United, about 70 senior students will be affected by the ban.
"Granada Hills Charter plans to deny in-person graduation on June 2 to 70 seniors, including special-needs students, & 8th grade culmination on June 3," the group wrote on a GiveSendGo page.
"GHC will rob kids of this once-in-a-lifetime honor & celebration, all because of GHC's shot mandate, which Los Angeles Unified dropped, and which exists nowhere else we know of... Our GHC Parents United group has been trying every way we can to raise public awareness to join us in opposition and telling the GHC Governing Board that this cannot stand."
In a statement on the decision, the school board noted the overwhelming support it has received for its vaccination policies, according to the Los Angeles Daily News.
"Our community asked for and has overwhelmingly supported our student vaccine policy, as demonstrated by our 99% vaccination rate amongst those who are eligible to be vaccinated," the school said in a statement.
"Our Board stands by the science that indicates that vaccination is the most effective and best tool available to minimize the spread of COVID-19 and ensure the safest learning environment possible... Our commitment to safety is ever more important as COVID-19 cases are spiking again, and the prospect of outbreaks and new variants is significant."
Newsweek reached out to Granada Hills Charter High School for comment.