Students, Parents React to 'Grueling' Spate of School Shooting Hoaxes
Families were paralyzed with fear as active shooter threats rocked schools across the U.S. this week, only to be uncovered as hoaxes.
Local news reports of these threats cropped up in multiple states. In California's Bay Area, police rushed to at least five schools on Wednesday after calls falsely reported mass shootings. In Florida, the calls struck schools in at least five counties on Tuesday, including St. Petersburg College. And in South Dakota, the calls targeted schools in Mitchell, Sioux Falls and Brookings on Thursday morning.
The trend of "swatting," or hoax calls designed to set off a forceful and immediate response from armed law enforcement, has ticked up dramatically in recent months. At least 113 instances of swatting calls were reported across 19 states between September 13 and October 5, according to NPR.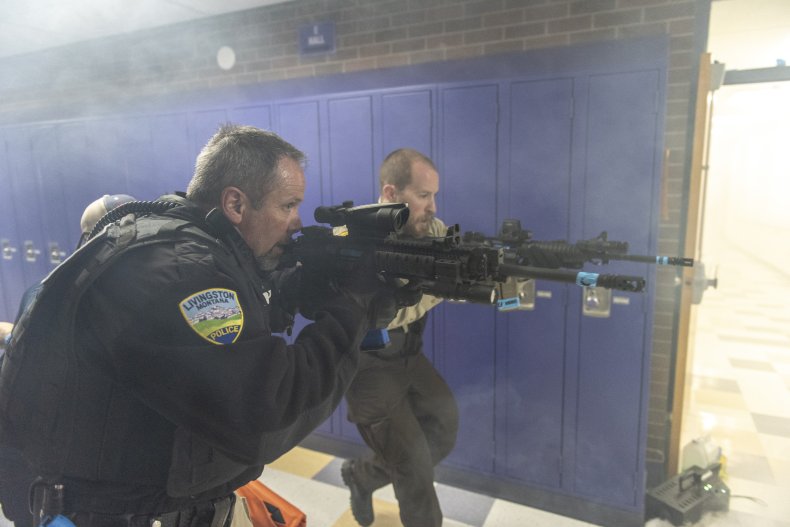 In the San Francisco Bay Area, local families reported that threats broke out while high school students were taking their PSAT tests.
Father Tony Gapastione said on Twitter, "Active shooter threat on my daughter's high school today. [Two] hours of grueling silence (it was Pre-SATs today, no phones). AWFUL experience. Parents lined the street. COPS all around. Thankfully all is well. Turns out multiple schools in [the San Francisco] Bay Area had pranks/TikTok dares."
Greta Kasle, a student at Woodside High School, posted on TikTok about the threat that hit her school. She said the PSAT seemed "boring" until her school was swatted.
In another video with 164,000 views on TikTok, a Florida student captured his classmates walking out of their building with hands raised as armed police officers stood by.
"POV: your school got an active shooter threat," he wrote. "Not a drill."
A Broward county student tweeted a photo of four law enforcement officers charging down a school hallway with their guns aimed ahead.
"Why [is] every school in my county [getting] swatted," he wondered.
The psychological toll of active shooter threats, even when false, can be severe. Lockdown drills that students understand as safety training already heighten stress, anxiety and depression by 39 to 42 percent in school communities, reported a 2021 study in Humanities and Social Sciences Communications. These drills are routine in virtually all U.S. schools today, according to the National Association of School Psychologists.
Newsweek reached out to the FBI for comment on any connection between the spate of hoaxes this week. In September, the bureau said it was "aware" of numerous swatting incidents plaguing schools across the United States.
"While we have no information to indicate a specific and credible threat, we will continue to work with our local, state, and federal law enforcement partners to gather, share, and act upon threat information as it comes to our attention," a spokesperson said last month.