Study Finds Nearly 20% of Children Not Getting Enough to Eat Amid Partisan Stalemate Over Coronavirus Food Stamps
One in five children in the U.S. is going hungry due to the economic instability of the coronavirus epidemic, according to a new study by The Brookings Institute, a D.C.-based think tank.
More households are skipping meals, and malnutrition can cause permanent developmental damage in young children. But while the issue could be addressed by expanding food assistance benefits, Congress has yet to do so beyond a $2 billion increase signed into law on March 18.
The Brookings Institute study analyzed data from two recent surveys: The COVID Impact Survey and The Hamilton Project/Future of the Middle-Class Initiative Survey of Mothers with Young Children. Both surveys asked questions taken from the U.S. Department of Agriculture's (USDA) 2018 food security questionnaire.
The Brookings Institute's study considered households and children as "food insecure"—that is, experiencing difficulty providing enough food due to a lack of resources—if respondents said the two following statements were often or sometimes true: "The food we bought just didn't last and we didn't have enough money to get more," and "The children in my household were not eating enough because we just couldn't afford enough food."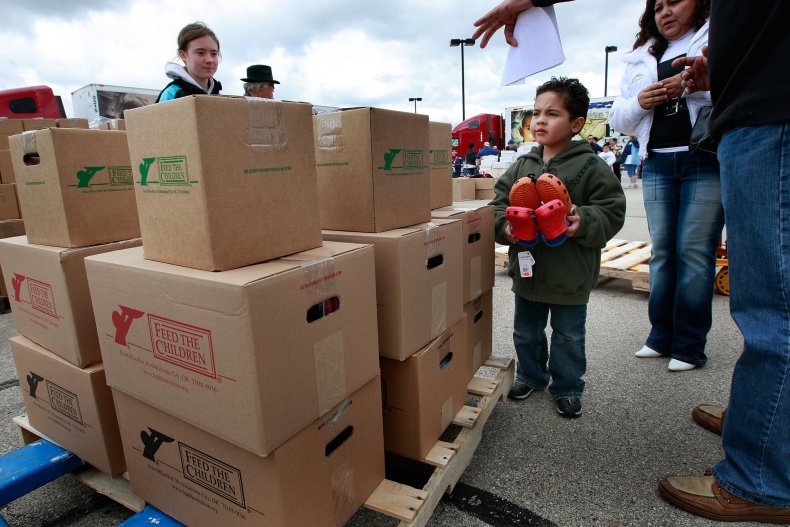 "Food insecurity in households with children under 18 has increased by about 130 percent from 2018 to today," Lauren Bauer, a Brookings fellow in economic studies, wrote.
"Looking over time, particularly to the relatively small increase in child food insecurity during the Great Recession, it is clear that young children are experiencing food insecurity to an extent unprecedented in modern times," she continued.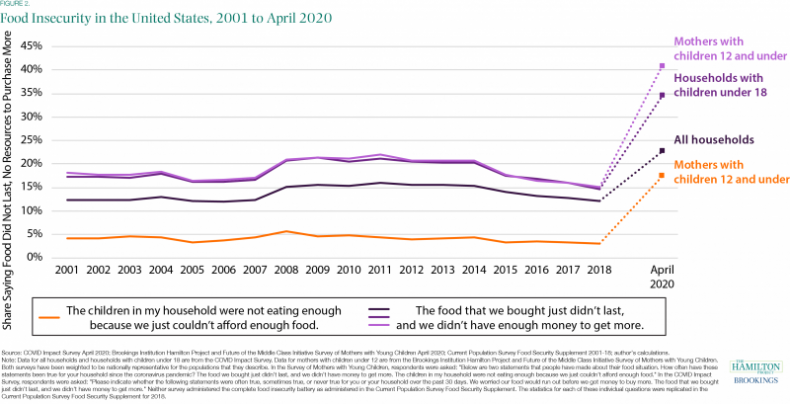 Bauer said disruptions in school meal programs, an inability to reach food distribution sites and siblings competing for limited food at home may all contribute to the issue, according to the Times.
To help resolve the issue, she suggests broadening eligibility in the Supplemental Nutrition Assistance Program (SNAP), a federal program that provides low-income individuals and families with an Electronic Benefits Transfer (EBT) card that works like a debit card for purchasing food in local stores.
Broadening eligibility could include suspending SNAP work requirements for students, doubling the minimum SNAP benefits, increasing maximum benefits by 15 percent and issuing $100 pandemic-EBT cards for each school-aged child from now until the end of the 2020-2021 school year.
Bauer also says providing emergency SNAP allotments to eligible households would benefit more than 5 million children who have currently received no additional benefits during the epidemic.
However, the issue of expanded funding for SNAP is currently mired in congressional gridlock.
Democrats want to increase SNAP benefits by 15 percent, but Republicans say families' financial and nutritional difficulties have been sufficiently addressed through the expansion of other larger social safety-net programs during the epidemic.
Newsweek reached out to The Brookings Institute for further information. This story will be updated with any response.