Stunning Video of Commercial Jetliners 'Racing' in Midair Viewed Over 15 Million Times
A video of a mid-air plane race has over over 15 million views.
"This just happened," read the text passenger TahoeMatt pasted on a TikTok video taken from his window-aisle seat. TahoeMatt, who is a self-identified professional outdoor filmmaker, captured his United Airlines flight as it prepared to race an American Airlines flight mid-air.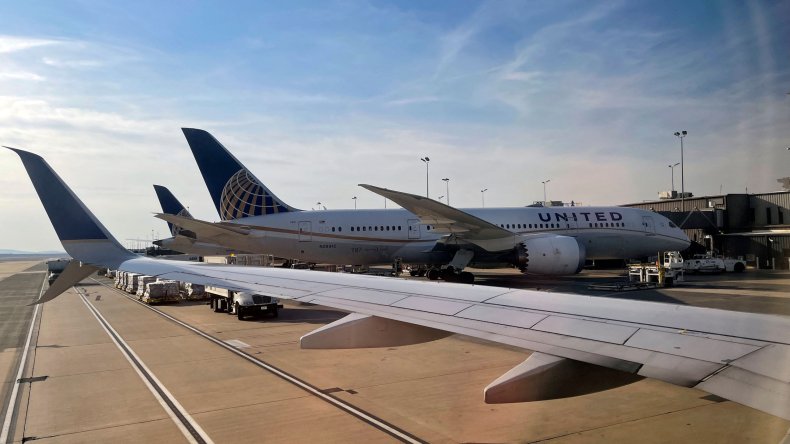 "Ladies and gentlemen, this is your captain speaking," the video's audio plays. "If you look to the right side of your aircraft you will notice Flight 198 challenging us to a race. I've heard the fasten seatbelt sign back on because s*** is about to get real."
The sound was added on by TahoeMatt, but the clip shows viewers what United passengers would have see out of the plane's right side; the American Airlines plane flying parallel, about to take off in a mid-air speed competition.
TahoeMatt captioned the clip: "When your trip home turns into a race."
WARNING: audio below contains language that may be objectionable.
The stunning video takes place at San Francisco International Airport, with an avid flyer pointing out the planes use two sets of intersecting parallel runways 28L and 28R, and 1R and 1L. The landing strips are only 750 feet apart, so tandem arrivals and departures are frequent at San Francisco's airport.
The video has amassed over 9,000 comments and more than 44,000 shares and 1.5 million likes on TikTok. Commenters expressed both fascination and fear at the spectacle of the race.
"I probably would have had a heart attack," Sandra Pederson commented.
Reese Teacher said: "Now I'm just waiting for the video from the other plane."
Anita M Wells said: "And when they all land, they all clap because they just survived 'Fast and Furious: Aircraft edition.'"
TahoeMatt posted another video "Part 2 Race Finish," which has 446,000 views as of Sunday. He wrote in the clip: "Wait for it. They land first, but, wait it's not over yet. It's the first one to cross the finish line. Please go faster captain. That's it, almost there, boom, photo finish."
"Who shall it be?" the voiceover proclaims in the second video as the two planes safely touch down on SFO's parallel runways, a 3-2-1 countdown layered on the video to make the end of the race.
On which plane "won" the race, TahoeMatt said: "Well they touched down first - but we didn't brake as hard so we ended up passing them."
Newsweek has reached out to TahoeMatt, SFO, United, and American Airlines for comment on the viral flight.