Sturgis Motorcycle Rally Busiest in Decades as COVID Delta Variant Looms
Local law enforcement officials say the first few days of the Sturgis Motorcycle Rally in South Dakota have been the busiest they've seen in decades, adding to fears that the gathering could cause a major virus outbreak amid the spread of the COVID-19 Delta variant.
"There are more people here than in the 31 years I've been doing this," Meade County Sheriff Ron Merwin told the Rapid City Journal on Saturday.
The motorcycle rally kicked off Friday in Sturgis, a town located in South Dakota's Black Hills, and is expected to attract roughly 700,000 people for a 10-day event. But in just the first two days since the rally began, law enforcement officials in Sturgis and Meade County reported that their calls for service are up dramatically compared to previous years.
Sturgis Police Chief Geody VanDewater said officers have already issued 207 violations for open containers of alcohol since Friday, according to the Rapid City Journal. VanDewater said the city allows open containers of beer and wine, but not liquor, during the rally in certain designated areas, but drinkers must purchase a special cup to do so.
In total, the sheriff's office has responded to 104 calls for service in just two days.
Merwin said the largest number of calls have been for traffic stops and accidents, which are nearly double from last year. By Sunday, sheriff deputies have responded to 41 traffic-related incidents, compared to only 22 in 2020.
"I don't know what it is this year, but it seems people are in a hurry to get here and are causing all kinds of traffic issues," Merwin told the news outlet. "We are asking the public to please follow our traffic laws and be safe out there."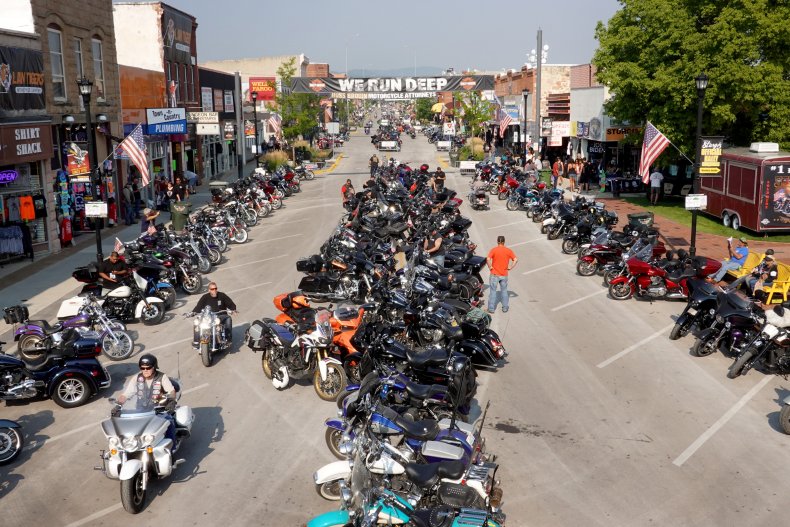 The increase in activity this year comes amid fears that the rally could result in a coronavirus outbreak as the highly contagious Delta variant continues to soar throughout the country. Anthony Fauci, the nation's leading infectious disease expert, said Sunday that he is "very concerned" the event could cause a new surge of infections.
Fauci said that while he understands why people want to have the freedom to attend large events, "there comes a time when you're dealing with a public health crisis that could involve you, your family, and everybody else—that something supersedes that need to do exactly what you want to do."
"We need to get this pandemic under control before we start acting like nothing is going on. Something bad is going on and we've got to realize that," he added Sunday.
Last year, the Sturgis rally became a "super spreader event" after more than 460 attendees became infected with the novel coronavirus, according to a team of researchers from the Centers for Disease Control and Prevention (CDC).
There are no vaccine or mask requirements to attend the rally this year, but officials state the event offers access to coronavirus tests, face masks and hand sanitizer stations, in addition to doses of the Johnson & Johnson COVID-19 vaccine. The city is also allowing attendees to drink on public property this year, in the hopes of preventing indoor crowding.
Just days before the event kicked off, South Dakota reported a 68 percent rise in COVID cases, largely due to the Delta variant. Furthermore, only about 46 percent of adults who live in the host county are fully vaccinated, according to the CDC.