After making gains in recent years among suburban voters, Democrats are losing that support, according to the findings of a recent poll.
Many analysts said they believed suburbanites were an important factor in President Joe Biden's victory over Donald Trump in the 2020 presidential election. A new survey from Harvard University's Center for American Political Studies (CAPS) and the Harris Poll indicates that not only is that support dwindling, but suburban voters said they are also more likely to support a Republican candidate in the upcoming midterm elections.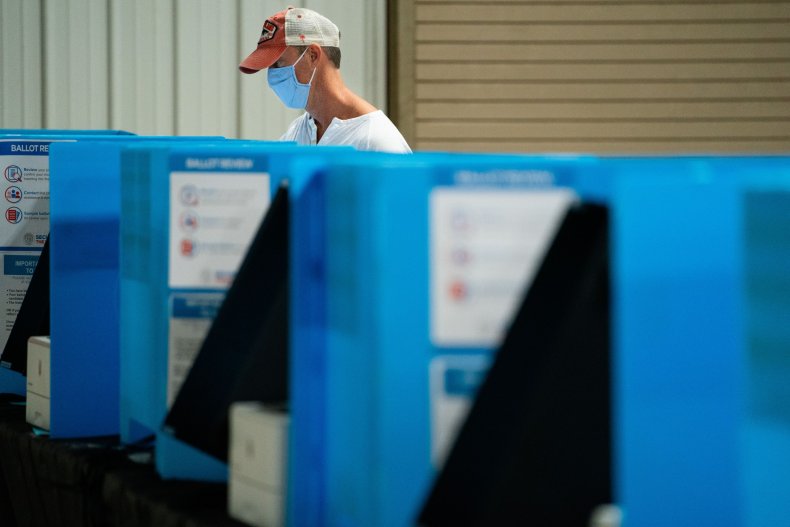 The poll, released exclusively to The Hill on Monday, found 56 percent of respondents who live in the suburbs said they believe Trump was a better president than President Biden, while 44 percent said Biden was the better leader.
Data from the Pew Research Center compiled in 2021 showed Biden won 54 percent of voters from the country's suburbs in the 2020 election, while 43 percent of voters in the suburbs cast ballots for Trump. That was a marked improvement for the Democrats over 2016, when Hillary Clinton won 45 percent of the suburban vote compared to Trump's 47 percent.
The latest Harvard CAPS/Harris Poll findings also point to trouble for Democrats going into the 2022 midterms. Fifty-seven percent of respondents who live in the suburbs said they are more likely to vote for a Republican candidate than a Democrat in the midterms. Forty-three percent said they are more likely to vote for a Democrat.
During the midterm elections of 2018, when Trump was in office, suburban voters favored Democrats in many elections, which allowed the party to take control of the House of Representatives in 2018 and the Senate in 2020.
The Hill said the poll reflects the opinion shift seen during last year's gubernatorial elections in Virginia and New Jersey. Governor Glenn Youngkin, a Republican, won Virginia on a campaign that appealed to suburban voters, especially with the campaign's emphasis on school-related issues.
The Trump-backed Youngkin beat Terry McAuliffe, a former governor of the state who had the support of former President Barack Obama on the campaign trail.
Meanwhile, New Jersey's Democratic Governor Phil Murphy was narrowly re-elected in 2021 in a tight race against Republican challenger Jack Ciattarelli. Political analysts also frequently mentioned suburban voters as a significant factor in that election.
The survey from the Center for American Political Studies at Harvard University and the Harris Poll was conducted from January 19 to January 20, 2022. The poll was done online with 1,815 registered voters.