Subway Sandwiches Have Too Much Sugar to Be Classified as 'Bread'
The rolls used in Subway sandwiches cannot be defined as bread as they contain too much sugar, the Supreme Court of Ireland has ruled.
A Subway franchisee in Ireland argued it was not liable for value-added tax (VAT) on some takeaway products, included heated filled sandwiches. However, the court ruled that the sandwiches were not a staple food and were therefore liable for VAT, as they contained too much sugar.
Customers in the European Union have to pay VAT on goods or services but the tax is usually included in the advertised price. Basic or staple food items, such as bread, do not attract VAT, but restaurants or takeout meals do.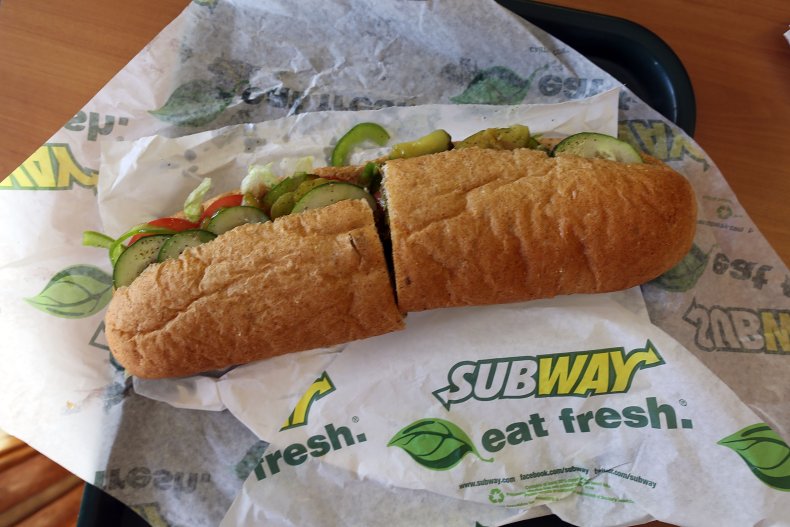 The bread used in Subway's heated sandwiches cannot be included in the statutory definition of bread because its sugar content is 10 percent of the weight of the flour in the dough.
The definition of bread was intended to differentiate bread as a staple food from other baked goods made with dough.
This means that the bread in Subway's sandwiches does not meet the definition under the Value-Added Tax Act 1972, which states that sugar, fat, and bread improver cannot exceed 2 percent of the weight of flour in the dough.
The Subway franchisee lost the appeal in the Supreme Court after trying to claim a VAT refund.
Subway stores in Ireland will be able to continue serving the sandwiches advertised as bread but, due to the high sugar content, they will have to pay more tax.
A spokesperson for Subway told Newsweek: "Subway's bread is, of course, bread. We have been baking fresh bread in our stores for more than three decades and our guests return each day for sandwiches made on bread that smells as good as it tastes."
Sugar is not the only unwelcome ingredient that has been found in Subway subs.
Subway came under fire for its bread in the U.S. back in 2014 when it was found to contain a bleaching agent that is also commonly used to make yoga mats, synthetic leather and shoe soles.
Following a petition calling for Subway to Subway stop using the chemical azodicarbonamide, the U.S. stores pledged to stop using it.
Azodicarbonamide makes bread whiter and improves the elasticity of the dough. Though it is FDA-approved, the chemical has been banned elsewhere in the world, including Europe.
In Australia in 2016, Subway settled a lawsuit after a customer claimed that the footlong sandwiches were only 11 inches long. Subway ended up paying 10 plaintiffs $500 each, plus more than half a million dollars to the plaintiff's attorneys.
The case was a drawn-out process, with the Australian teenager who kicked off the case initially posting about the sandwich in January 2013.