'Succession's' Cousin Greg Is an Angel and We Must Protect Him at All Costs
Given that Succession is full of powerhouse performances—from the foreboding presence of Brian Cox's Logan Roy to Kieran Culkin's NSFW depiction of his son Roman—you'd be forgiven for overlooking the real star of the show: Cousin Greg.
While Nicholas Braun's character is portrayed as this goofy, pure little soul who just ambles about without much direction, it is for this very reason that he becomes privy to key information that he can use to his advantage. He's certainly not Machiavellian (despite Kendall's saying so), but he's also not as naive as everyone believes him to be. He is a sort of Nick Carraway, both within and without.
It's something Braun notes about Greg as well. In a recent interview with The New York Times, he explained: "I think there is an intellect underneath it all, but it's buried by all the other stuff—being afraid to talk in a room full of important people.
"But when he does get a chance, I think he does have a good take to put forth."
Meanwhile, the show's creator Jesse Armstrong added: "Greg's got a long way to go [in order to take over from Logan]. He often gets what he wants, through a mixture of guile and guilelessness. I leave it up to other people to judge whether he's a real succession candidate or not."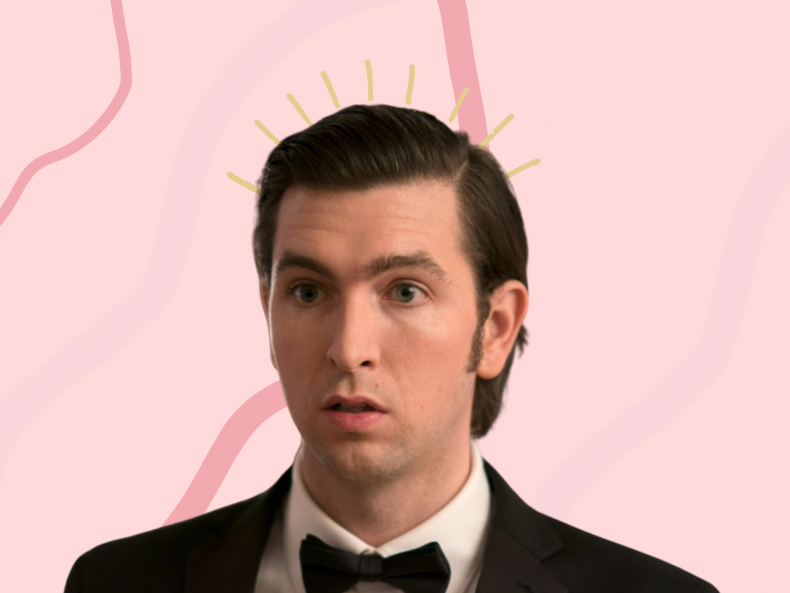 Here, we take a look at Cousin Greg's best moments in Succession (so far)—and why in a world of power-hungry, overbearing media moguls, he is a bright, buoyant beacon of hope that we must protect at all costs.
**WARNING: Minor Season 3 spoilers ahead**
1. Puking in the park
When we first meet Cousin Greg, he is participating in Waystar Royco's management training program—which includes him dressing up as a character at one of the company's theme parks. High on weed and surrounded by screeching, demanding kids, Greg proceeds to throw up through the eyeholes of his costume. All in all, it's a pretty memorable introduction.
2. "I'll answer to both!"
After his snafu at the theme park, this eager-to-please cherub approaches his uncle Logan outside his New York mansion in the hopes of getting a job within the company. As well as being briefly accosted by Logan's security, Greg is mistakenly introduced to Roy's children as "Cousin Craig." Rather than point out his uncle's error, he accepts the mistake—until Logan's daughter Shiv corrects her father.
3. Eating ortolans
Suffice to say that Greg and Shiv's husband Tom have an... interesting rapport. The latter quickly takes Cousin Greg under his wing, believing them to be in a similar position—and hoping to take advantage of Greg's seemingly innocent nature. But in amongst the frat boy-style hazing, Tom offers genuine kindness and strives to teach Greg the ways of the Royco business (not that he's exactly a pro himself).
Over an elaborate dinner in a dingy, overpriced restaurant, Tom orders a plate of ortolans, before instructing Greg to place his napkin over his head and eat the exceedingly crispy bird—beak, feet and all.
4. "The bad ones"
Once Tom has established he can trust Cousin Greg, he enlists his help to get rid of damaging papers and receipts about misconduct within the company's cruise line. Before Tom implicates our sweet, sweet boy, however, he alludes to the nature of the crimes they're covering up ("theft, rape, murder"), to which Greg brilliantly responds "the bad ones."
5. Congressional hearing
Perhaps one of Cousin Greg's finest (and by that we mean "adorably fumbly") moments was when he was testifying in Congress after—*shocker*—the cruise cover-up was discovered. The exchange went a little like this:
Senator Gil Eavis: Gregory Hirsch, executive assistant to Tom Wambsgans, correct?
Greg: Yes. Yes, if it is to be said.
Eavis: I'm sorry?
Greg: Uh, if it is to be said, so it be, so it is.
Eavis: Are you all right?
Greg: Uh, yes. Uh, I merely wish to answer in the affirmative fashion.
Eavis: You can speak to us normally.
Greg: Oh, no — thank you, sir. Uh, uh, so I shall.
Speaking to The Wrap about the scene and explaining how Armstrong sprung the script on him the night before, Braun commented: "There's something kind of amazing about the challenge here, to be able to go tomorrow and be as prepared as I can be, but it's the same situation that Greg is being put in.
"He is all of a sudden being surprised with a hearing. I have to take this acting opportunity to let life imitate art and be as prepared as I can be, but also just to go be in that experience and whatever happens while we're filming that to just let it happen."
6. "Greg the Egg"
Despite the cutthroat nature of the Roy family, they have surprisingly affectionate pet names for one another. Logan calls his daughter Shiv "Pinky" and his son Roman "Romulus," but the most endearing nickname of them all is "Greg the Egg," which is revealed to us by his aunt, Lady Caroline Collingwood.
Not so much as endearing is the fact CamSoda and sex toy company Lovense have joined forces to create the aptly named "Greg the Egg" technology, which activates one's vibrator every time Cousin Greg is on screen.
"I think, uh... Is it a compliment?" Braun told Vanity Fair. "That's such an intimate thing to do with yourself—or with another person participating or watching. So the fact that Succession and Greg can be on their mind as that's going on, it's not something that any of us expected."
7. "Are you asking if you can blackmail me?"
Like a proud dad, Tom poses this question to Greg after he threatens to leak the cruise papers he stashed as a backup. But who would Cousin Greg be without his impeccable manners? Rather than using this leverage to go gung ho on his line manager, Greg politely (and rather meekly) uses the cards he's been dealt to give himself a little breathing space.
8. Panic room
If this isn't your favorite scene, are you really a Succession fan, tho?
We'll just leave this here...
9. "It's a rosé, it's not my favorite"
He may not have had enough money for groceries at the start, but Cousin Greg soon adapts to his new, lavish lifestyle. Joining the Roys on Logan's expansive private yacht, Greg enjoys swimming in the crystalline waters off the coast of Croatia, sunbathing on the teak deck (even if his toenails aren't yacht-ready) and sipping on chilled, passable rosé.
10. "It's like, kind of against my principles"
Greg may be learning the tricks of the trade, but he still remains true to himself. When Tom takes over the company's global news division ATN, Greg voices his concerns over the brand's lack of morality and truth-telling. Attaboy, Greg!
11. Storage wars
When hunting down an apartment within his "modest" pay bracket, Greg points out to his realtor the spacial challenges he faces as an almost-7ft giant. "It's just the thing I need storage for most urgently of all, Stanley, is me."
12. "Good memeage"
Finally, after jumping ship and forming an alliance with Kendall Roy at the beginning of Season 3, Greg provides the most unhelpful insight into the reaction to his cousin's bold move against his father. When asked by Kendall to "slide a sociopolitical thermometer up the nation's ass," Greg informs him that while "the negative stuff does tend to stick in the mind," overall there's "good memeage."
Succession Season 3 airs Sundays at 9 pm ET on HBO and HBO Max.