'Succession' Family Tree: Who Are the Roy Family Members and What Are Their Skills?
Succession is a show all about family, at least, it is in some respects.
The HBO hit follows the dysfunctional Roy family members as they vie for power at Waystar Royco, run by patriarch Logan (Brian Cox), and the dynamic between them during this internal conflict.
But who are the family members and what are their skills?
Here is everything you need to know about them.
Logan Roy
Who is he?
Logan is the CEO for Waystar Royco, a media conglomerate he built which has now become its own empire and is the fifth-largest in the world. He is a difficult man used to getting his way, and he won't hesitate to berate those around him to get what he wants done.
What are his skills?
The patriarch may be cruel but he is also a top-class businessman, clearly shown by how big his media empire has grown in his lifetime.
What he lacks in compassion he makes up for in leadership, and Logan also has a keen eye on how to expand his business even if theme parks are an odd choice of venture for a media conglomerate.
Family and relationships
Logan has four children by two wives, his eldest son is Connor by an unnamed first wife he divorced long before the show began. He has sons Kendal and Roman and daughter Shiv with his second wife Caroline Collingwood (Harriet Walter) who he also divorced.
He is married to Marcia (Hiam Abbass), who is a member of the company's board of executives but has not earned the trust of Logan's children.
Kendall Roy
Who is he?
Kendall (Jeremy Strong) is Logan's second son and he is the most hungry for his father's approval. He starts the show primed to be Logan's successor but his business failings meant he was quickly dropped, and now Kendall is aiming to usurp him.
What are his skills?
While he isn't as skilled a businessman as his father, or much liked, Kendall has a keen interest in how Waystar Royco can change and improve in the future. In fact, one of the main contentions between him and Logan is his desire to scale back operations at the company.
Family and relationships
Kendall has two children by his estranged wife Rava (Natalie Gold), son Iverson and daughter Sophie.
While they remain on good terms, Rava and Kendall have been separated for some time and the latter has begun dating other people.
He is currently in a relationship with Naomi Pierce (Annabelle Dexter-Jones), who is one of the board members of rival company PGM.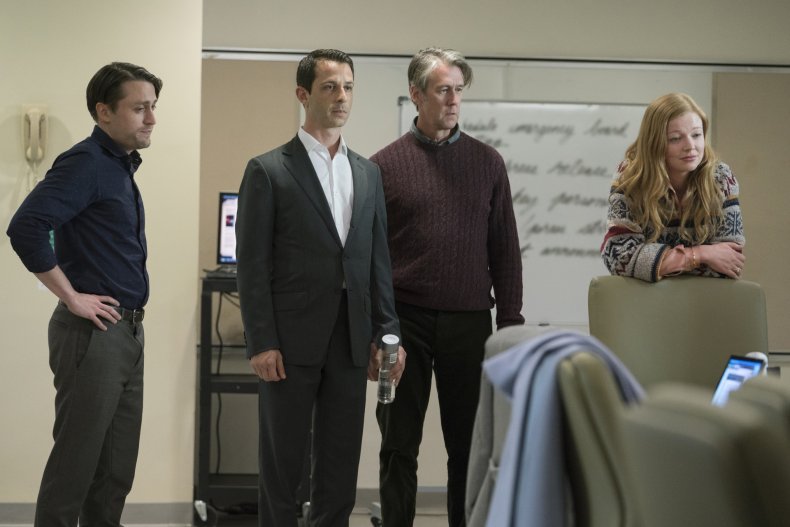 Roman Roy
Who is he?
Roman (Kieran Culkin) is the second youngest of the Roy children, and is also the most like his father Logan. While not yet as experienced in the company, he has inherited Logan's brash attitude and desire to succeed.
What are his skills?
Like his father, Roman is headstrong and ruthless. Of all Logan's children, Roman is the most logical choice to succeed him because of how similar they are and how well he understands the company the way his father wants it to be.
Family and relationships
Roman has no children, and while he has been known to date several women over the course of the series he remains distant from them and also does not have sex with them. He has an interest in Gerri Kellman (J. Smith-Cameron) but the pair share a will-they-won't-they relationship.
Siobhan "Shiv" Roy
Who is she?
Shiv is Logan's only daughter and is the youngest child in the family. She worked as a political advisor but has since joined her father's company in a bid to take over the top spot.
What are her skills?
Although she isn't as knowledgeable about the company as her brothers, Shiv (Sarah Snook) is a natural-born leader and she has a drive to succeed.
Family and relationships
Shiv is married to Tom Wambsgans (Matthew Macfadyen) but the pair have an open marriage, which she requested they have on their wedding night. As a result, Shiv has regularly cheated on Tom and has also suggested they have a threesome together. They currently have no children.
Tom Wambsgans
Who is he?
Tom is Shiv's husband and he also works at Waystar Royco. At first he was the head of the theme park division before taking over the cruise line. He has since become the Chairman of Global Broadcast News at ATN.
What are his skills?
He is infatuated with the Roy family's power, and is quite interested in getting some of it himself by proxy. While he is clearly ambitious, Tom's desire to succeed has given him a disregard for his own dignity, and he is often willing to be humiliated by the Roy family.
Family and relationships
Tom is married to Shiv and while she wants an open marriage he is not as keen on the idea, and informs her in season 2 that he is unhappy with their relationship.
Connor Roy
Who is he?
Connor (Alan Ruck) is Logan's eldest son and he has little desire in taking over Waystar Royco, or even working at the company. While he isn't interested in that he does have ambitions elsewhere, and even tried to make a bid for Presidency.
What are his skills?
He has shown very little skill over the course of two seasons, and is more focused on life at his ranch than anything else. His ill-fated Presidential campaign was based heavily on a desire to abolish taxes.
Family and relationships
Connor has been in a relationship with budding playwright Willa Ferreyra (Justine Lupe) for two seasons, and they met while she was working as an escort.
Gregory Hirsch
Who is he?
Greg (Nicholas Braun) is Logan's great-nephew, and is the grandson of his estranged brother Ewan. He joined the company at the suggestion of his mother Marianne, and has been working under Tom.
What are his skills?
While awkward and outwardly careless, Greg does have some sense of self-preservation and made sure to keep copies of important documents that Tom had him get rid of in order to use it as blackmail should the tide turn.
Family and relationships
Greg is the most far-removed from the Logan family and is therefore seen as a relatively harmless figure.
Succession Season 3 is currently airing every Sunday at 9pm ET on HBO and HBO Max.