Everything the 'Succession' Cast and Crew Have Said About Season 4
There is absolutely no stopping the Roy family (or dynasty), with Succession Season 4 officially receiving the green light from HBO.
Before the news was confirmed, Succession star Brian Cox, who plays the formidable Logan Roy, hinted at Season 4 to Newsweek. The show's writers, Georgia Pritchett and Jon Brown also shared their thoughts and feelings on the show's future, teasing there was so much more of the Roy family empire, and drama, to be explored.
Now that the exciting news is out in the open, other members of Succession's cast and crew have been reacting to the Season 4 news. Newsweek has taken a full look at everything the Succession family has said about the upcoming fourth series.
Everything the Succession Cast and Crew Have Said About Season 4
Brian Cox
Before the premiere of Succession Season 3 at the London Film Festival on October 15, Brian Cox exclusively confirmed to Newsweek he was "committed" to exploring Logan Roy further in Season 4.
When asked if he would want to be a part of a fourth season, Cox insisted: "I'm committed, of course."
In a separate interview with GQ, Cox revealed the writer's room was reconvening in January 2022. He also teased a Season 5 was on the cards, after telling the magazine he would "possibly" play Logan for two more series, adding "then I think we're done."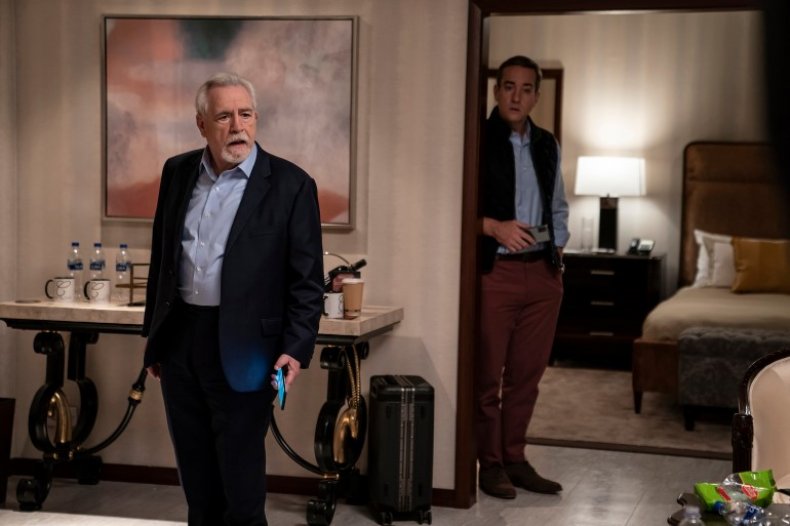 Georgia Pritchett
Succession writer Georgia Pritchett shared her hopes for Season 4 at the London Film Festival, teasing there was "enough material for a lot more episodes."
When asked about a potential fourth series, Pritchett said: "Yeah, definitely! I think, well you need to see what happens this season but the characters are so great and the cast are so great that we just want to keep exploring those relationships and those characters, but we feel like we've got enough material for a lot more episodes."
Jon Brown
Writer and executive producer Jon Brown caught up with Newsweek on the London Film Festival red carpet, where he shared Logan may not name a successor at all in Season 3 but agreed they [the writers] will have to "figure it out" at some point.
The fall out from Season 3 and the potential lack of appointment of a successor will most likely set up the events for Season 4.
He said: "I sort of don't give a f*** who takes over because I sort of feel that's not really... I don't really care who takes over the company.
"I guess I care about Logan's affection and who he wants to share his light on. I really care about the three children and who you feel he cares about the most. That really gets me in the stomach. If I think about my family and you think about when your parent sees something in you that they don't see in your sibling or the other way around. That's a killer right? Who's the boss of BP? I mean who gives a f***."
He added he would like to see Tom as the future CEO of Waystar Royco if he had to choose.
He said: "I'd say probably I would like to see Tom because I love him, and in a way, you feel like all the kids are all f***** and they can all sort of be fine but it's a hard one, and at some point, we're going to have to figure it out but we don't know. Who knows?"
Nicholas Braun
Nicholas Braun took to his personal Instagram last night to address the Succession Season 4 news.
Marking the occasion, Braun reposted the official video announcement from the Succession Instagram account but made the unusual choice to include three eye-roll emojis (so very cousin Greg of him).
In a second Instagram story post, he attempted to rectify his first post by sharing a behind-the-scenes picture of Jeremy Strong as Kendall Roy in the Season 2 finale.
He captioned the picture: "Those are eyes looking up, not eyes-rolling.
"I never get these emojis right" following up the post with three eye-roll emojis.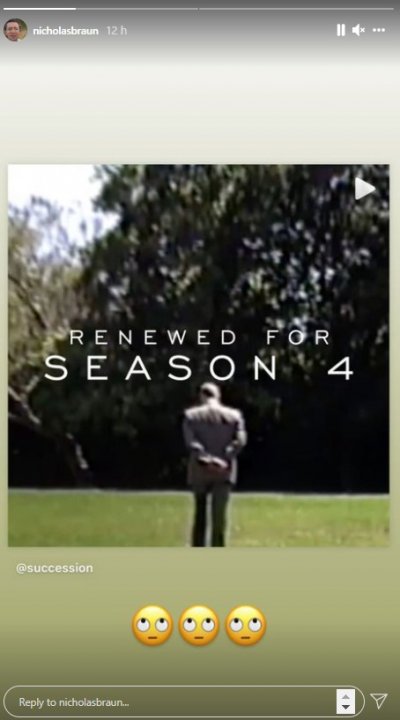 Succession fans spotted Braun's hilarious post and began drawing comparisons with Constance Wu's reaction on Twitter when Fresh Off the Boat had been renewed for a sixth season.
In the sitcom, Wu played the role of Jessica Huang since the show's inception but when the series was given the green light, Wu took to Twitter to express her dissatisfaction.
When one Twitter user congratulated her on the renewal, calling it "great news," Wu replied, "No, it's not."
She also tweeted less than an hour after the news was announced: "So upset right now that I'm literally crying. Ugh. F***."
In a lengthy Instagram post, Wu apologized for her comments, explaining she was upset that the show's renewal meant she missed out on working on another project.
She wrote on Instagram: "My words and ill-timing were insensitive to those who are struggling, especially insensitive considering the fact that I used to be in that struggle too. I do regret that and it wasn't nice and I am sorry for that."
One fan tweeted: "Nicholas Braun in his Constance Wu era," whilst a second fan penned: "yall rly thought Nicholas Braun was pulling a Constance Wu but he doesn't know how to work emojis plsssssss."
J. Smith Cameron and Arian Moayed
J. Smith Cameron, who plays the legendary Gerri in Succession, simply took to Twitter to repost a Deadline article that broke the news Succession would be returning for Season 4.
Arian Moayed, who portrays Roy family rival Stewy Hosseini, reposted Cameron's retweet to his own Twitter page, sharing the news with his 13,000 followers.
So far, Cameron's post has received over 2,400 likes and 145 retweets and counting.
As we patiently wait for the remaining cast and crew members to address the huge Season 4 news, you can watch the first two seasons of Succession via HBO Max now.
Succession Season 3 airs every Sunday evening on HBO Max in the U.S. and Mondays on NOW and Sky Atlantic in the U.K.