Sue Bird Celebrated by Megan Rapinoe, Steph Curry, Pau Gasol and Others
Sue Bird played what she said will be her final WNBA game on Tuesday when the Las Vegas Aces eliminated her Seattle Storm from the playoffs.
Bird will leave the sport as one of the most-decorated players in WNBA history with four championships and 13 selections to the All-Star team. Fellow WNBA stars, as well as those from the NBA, paid tribute to the future Hall of Famer on social media.
"Legend. Take a bow," Steph Curry of the Golden State Warriors wrote on Twitter.
Retired NBA champion Pau Gasol tweeted out a simple "#ThankYouSue" with a couple of emojis and a video of Bird taking in cheers from Tuesday's crowd.
Perhaps most notable, especially for Bird, was the public statement shared by Megan Rapinoe. Along with being one of the most well-known stars in women's soccer, Rapinoe is Bird's fiancé.
"The Greatest to ever do it. I am so proud of you," Rapinoe posted on Instagram.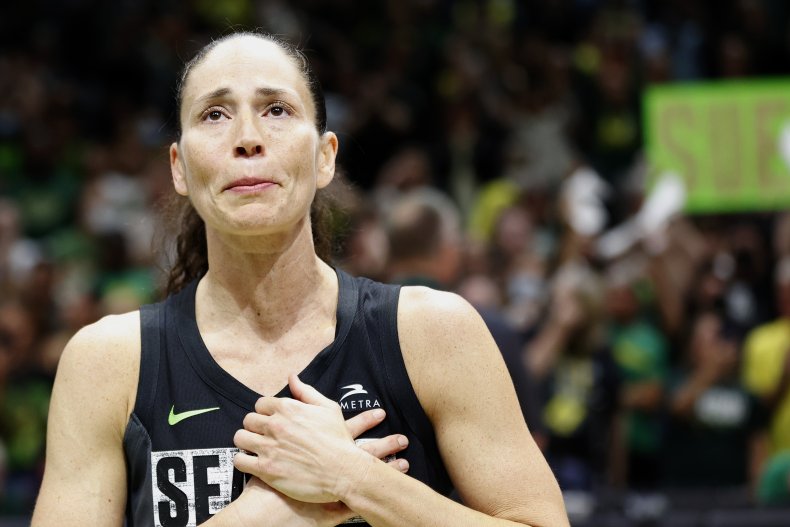 Jamal Crawford, whose storied NBA career lasted for 20 years, paid tribute to Bird and fellow retiring WNBA player Sylvia Fowles of the Minnesota Lynx, along with Serena Williams and the recently retired track and field athlete Allyson Felix.
"We may never see four of the greatest retire in the same year, from three different sports again," Crawford wrote on Twitter. "The impact will be felt for generations. Respect."
"Salute @S10Bird on a Legendary career!! 1 of the all time greats!! You are appreciated!!" retired NBA star Quentin Richardson posted on Twitter.
Layshia Clarendon of the Minnesota Lynx tweeted, "Thank you @S10Bird what an honor to share a team USA jersey with you, to witness your excellence throughout the years and compete against you at the highest level. You gave us all so much."
New York Yankees great C.C. Sabathia joined in on the praise. The retired pitcher wrote, "Left it all on the court. Legendary @S10Bird!!! 20 years of greatness. Thank you."
"One of the greatest to do it! One helluva basketball career Sue Bird! Can't wait to see what you do next," NBA legend Dwyane Wade tweeted.
The Twitter accounts for the Seattle Storm as well as the Las Vegas Aces posted tributes to Bird, as did the official account for the WNBA.
"Countless memories....Thank You for everything Sue," the WNBA's Twitter account posted.
The love for Bird extended past the sports world, with Jeopardy! host Ken Jennings joining in on the praise.
"GOAT. Thank you for everything," Jennings said in a post.
Newsweek reached out to Bird for comment.