Sue the T. Rex Roams the Halls of Chicago's Field Museum During Pandemic Panic
Chicago's Field Museum let one of its most famous residents explore the halls of the museum while it's closed to the public. That's right: During the coronavirus shutdown in Chicago, a representation of Sue the dinosaur roamed the museum to take in the educational sites.
This comes just days after Chicago's Shedd Aquarium, the Field Museum's neighboring museum, allowed its penguins to explore the aquarium's exhibits.
The Field Museum posted a photo of "Sue"—really just a person dressed in a T-Rex costume—admiring exhibits in the museum's once-public areas. At the moment, the museum is shut down until March 29 due to Chicago's coronavirus regulations, which have closed restaurants, bars and other public spaces in an attempt to limit exposure to the virus.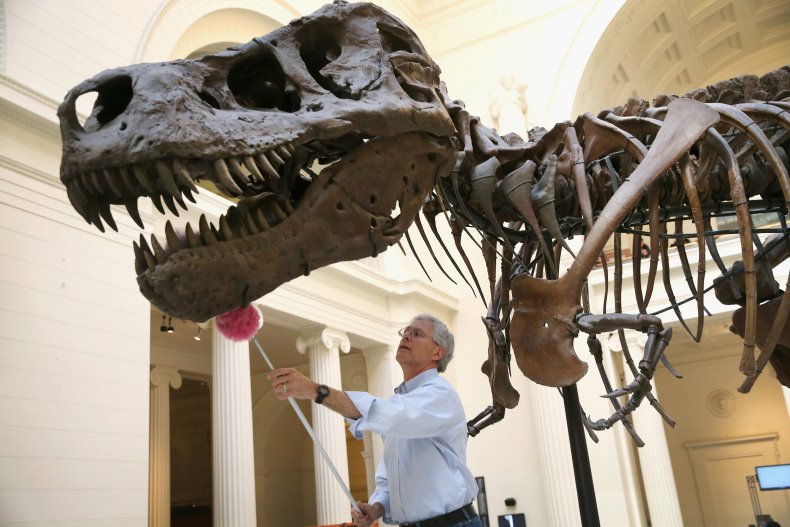 A video on the Field Museum's Twitter account showed "Sue" exploring a bird exhibit. "SUE learns birds are avian dinosaurs; demands we update the Museum map to 'Hall of B̶i̶r̶d̶s̶ Tiny Theropods,'" the account joked on Wednesday.
Twitter users were thrilled with Sue's exploration and the gag's general lightheartedness, particularly during such a hectic time.
It would be impossible for the actual Sue to explore the exhibits, though, given the famous T-Rex skeleton is over 40 feet long and 13 feet tall, according to the Field Museum website. (She's also a skeleton, made up of 250 individual bones.)
The Field Museum is just one of many Chicago resources to temporarily close its doors due to COVID-19. The Shedd Aquarium and Adler Planetarium are also closed and are expected to reopen on April 7. Even the outdoor Lincoln Park Zoo is closed until April 10.
At least it seems like other parts of the city's entertainment culture have been inspired by the Shedd Aquarium's original idea. The historic Music Box Theatre allowed its own "penguin," named "Tickets," to walk around the empty theater.
This trend started when penguins like Edward, Annie and Wellington went viral for their sweet reactions to the Shedd Aquarium's other exhibits. The aquarium's Twitter account asked for other suggestions to keep the penguins entertained while their normal visitors aren't around. "Our caregivers are constantly providing new experiences for the animals to explore and express their natural behaviors with. Let us know what penguin activities you would like to see!"
The Field Museum weighed in on the penguin explorations early and joked that they were making the popular tourist destination even more appealing. "Museum Campus: now 1,000% more adorable," the museum wrote.
As for Sue's field trip, that may have been inspired by a response from one user, @petro62: "So I expect to see @SUEtheTrex walking around and checking everything out."
Now we're just waiting for the Adler Planetarium to respond.