'The Suicide Squad' Box Office: How Much Has the Movie Earned so Far?
The Suicide Squad has been out for around a week in theaters across the world, meaning that we are starting to get a picture of how much money it is making in the box office.
There are several factors that make the James Gunn movie a particularly interesting movie to consider in terms of box office. We can compare it, for example, against the box office taking of the last DC movie Wonder Woman 1984 to see if there has been an increase of people willing to head to the theater since that movie came out in December 2020.
It also acts as a fascinating comparison to Birds of Prey, which also stars Margot Robbie as Harley Quinn and which opened just before theaters closed across the world.
Of course, people will want to also compare it to the original Suicide Squad, though that's a less useful comparison—that film was released in a very different climate, and was not also released on HBO Max at the same time it was in theaters.
How Much Has 'The Suicide Squad' Taken at the Box Office?
Per Box Office Mojo, the film made $26 million in the U.S. in its opening weekend of August 6 to August 8. Outside of America, the film made $45 million, making for a total of $71 million.
These takings give The Suicide Squad the best opening weekend of any R-rated movie since the pandemic closed theaters, ahead of Mortal Kombat ($23.3 million) and The Conjuring: The Devil Made Me Do It ($24.1 million).
Of course, those two films had smaller budgets. The Suicide Squad was made for $175 million, compared to the $55 million spent on Mortal Kombat and $39 million on The Conjuring 3.
However, this shows that theaters are far from back to normal attendance figures. Birds of Prey was considered a disappointment at the box office, and yet took $33 million in its opening weekend in February 2020 domestically and $48 million internationally, for a total of $81 million.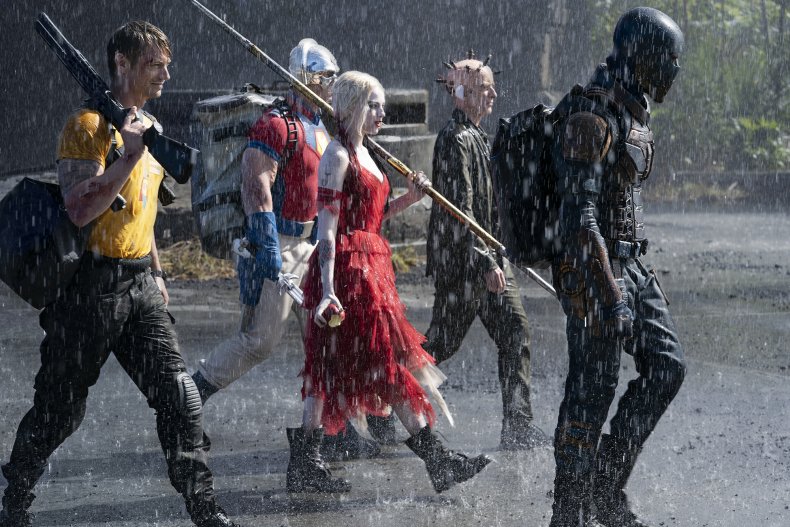 This compares to the $133 million domestic the original Suicide Squad took in its opening weekend in 2016. It is, however, an improvement on the $16 million Wonder Woman 1984 took in the U.S. on its opening weekend at the end of last year.
Though the varying states of COVID make it hard to make concrete comparisons, there is a general feeling that The Suicide Squad has underperformed at the box office, despite the new film getting a 91 percent fresh rating compared to the original's 26 percent.
Quite why the movie has underperformed is not really clear yet, though this not has stopped many people offering their theories. Chief among them is that Warner Bros. makes all their new movies available at no additional charge to HBO Max customers, who then face the choice of the whole family watching it as part of a $14.99 a month package or spending multiples of that going to a theater.
Per analytics firm Samba TV, 2.8 million households watched the movie on HBO Max, beating the opening weekends on the streamer of Zack Snyder's Justice League (1.8 million households) and of Wonder Woman 1984 (2.2 million). Though these numbers offer no guarantee that every one of those households would have bought a ticket to see it, had it not been on HBO Max, this surely represents a loss of millions in the box office.
In a Forbes article, 10 possible reasons that the movie underperformed were given. These included the claim that $175 million is too high a budget for an R-rated movie, especially as the sequel to a movie that was roundly hated. It also claimed that Idris Elba lacked the A-list status of the original movie's lead, Will Smith.
The Suicide Squad is in theaters and on HBO Max.