Who Is Adam Levine's Alleged Mistress Sumner Stroh?
Maroon 5 frontman Adam Levine has found himself in the spotlight for all of the wrong reasons.
On Sunday, September 19, 23-year-old Sumner Stroh went public on TikTok with allegations she had been having an affair with 43-year-old Levine in the past year.
Levine has been married to Victoria's Secret model Behati Prinsloo, 34 since 2014, and together they share two children. Prinsloo is also currently expecting the couple's third child. She announced the news of her pregnancy just four days before Stroh's viral video.
After much speculation, Levine addressed Stroh's accusations in a statement via his Instagram stories on Tuesday, September 20. In his post, he denied having an affair but admitted he had "crossed the line."
His statement read: "A lot is being said about me right now and I want to clear the air. I used poor judgment in speaking with anyone other than my wife in ANY kind of flirtatious manner. I did not have an affair, nevertheless, I crossed the line during a regrettable period of my life.
"In certain instances it became inappropriate; I have addressed that and taken proactive steps to remedy this with my family," he continues. "My wife and my family is all I care about in this world. To be this naïve and stupid enough to risk the only thing that truly matters to me was the greatest mistake I could ever make. I will never make it again."
In the wake of Stroh's bombshell accusations, everybody is curious to know who she is. Newsweek has everything you need to know.
Who is Sumner Stroh?
Sumner Stroh is a 23-year-old model, influencer, and YouTuber.
According to posts on her Instagram page, she attended the University of Texas and graduated in 2021 with a degree in marketing and advertisement.
Stroh also works alongside her sister Baylen Stroh and Baylen's jewelry company, Strung by Stroh.
In the confessional video Stroh uploaded to her TikTok on Sunday, September 19, she alleged she and Levine had engaged in a year-long affair and stated Levine wanted to name his next baby after her.
In the two-minute video, Stroh states she feels "exploited" and said she was"easily manipulated" at the time of the alleged affair.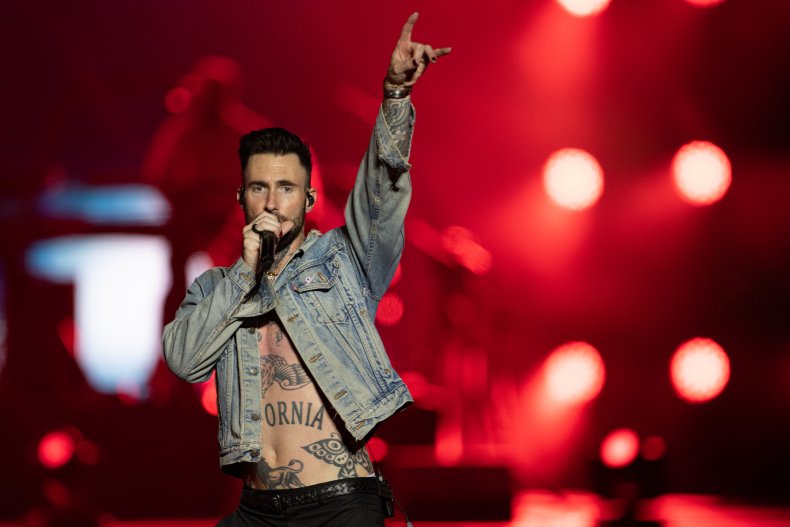 She began the video by saying: "Essentially, I was having an affair with a man who's married to Victoria's Secret model. At the time I was young, I was naive. I mean, quite frankly, I feel exploited. I mean, I wasn't in the scene like I am now, so I was definitely very easily manipulated."
She also shared screenshots of messages she claims she received from Levine.
"Maroon 5 is practically elevator music at this point, so I'm sure you know who Adam Levine is. But, Adam and I were seeing each other for about a year. After I stopped talking to him over a period of months, this is how he came back into my life", Stroh said before showing the text messages.
The messages, allegedly sent from Levine in June 2022 read: "it is truly unreal how f***** hot you are, like it blows my mind", "Okay serious question. I'm having another baby and if it's a boy I really wanna name it Sumner. You okay with that? DEAD serious" and more.
"My morals were unknowingly compromised", she continued, adding: "I was completely manipulated.
Stroh then explained she went public with her story after someone she knew attempted to sell the screenshots of Levine's messages.
"I wanted to handle this privately, I never wanted to come forward because obviously, I know the implications that come with doing what I do – making money the way I do and being an Instagram model," she said. "So being tied to a story like this...I know stereotypes. I had sent some screenshots, recklessly, to a few friends I thought I trusted and one of them had attempted to sell [the screenshots] to a tabloid, so here I am."
Stroh captioned the video: "Embarrassed I was involved w [sic] a man with this utter lack of remorse and respect."
Stroh uploaded a second video to TikTok stating she was "under the impression" Levine and Behati's marriage was over, stating: "I believed that they were keeping it quiet to avoid the negative press because as I said, I was new to L.A., so I just assumed that's with celebrities of that caliber, that's just how it was. That's why I feel exploited as I believed everything he said."
She added: "I am not the victim in this. I am not the one who is hurt here, it is Behati and their children and for that, I am so so sorry."
Newsweek has contacted Levine and Stroh's representatives for comment.