Super Bowl 2021 Predictions: Here's Who The Football Experts Are Picking to Win
Super Bowl LV in Tampa is finally here, and just about all of the predictions from NFL experts have been announced. The Kansas City Chiefs are a 3-point favorite over the hometown Tampa Bay Buccaneers for today's game at Raymond James Stadium in sunny south Florida
The pregame coverage has been going on for a couple of days, and CBS kicked off its coverage at noon ET. Kickoff for Super Bowl LV will be at 6:34 p.m. on CBS.
Predictions of the CBS members will happen during its pregame show, but many experts on other networks and national magazines have already made their picks. Here are the picks:
Newsweek
Dan Cancian, reporter — Kansas City 30, Tampa Bay 20
"The Bucs pass rush struggles to get the better of the Chiefs makeshift offensive line, as Patrick Mahomes throws two touchdowns and runs for another. For once, Kansas City doesn't fall behind and takes a 14-point lead. Tampa rallies but Tom Brady's comeback ultimately falls short."
Scott McDonald, sports editor — Tampa Bay 24, Kansas City 22
"A game that's supposed to be an offensive shootout will turn into a defensive gem. Tom Brady will march the Bucs downfield for a game-winning field goal, and he'll get a seventh Super Bowl ring. Look at Super Bowl history, and Brady wins games, and they're often low-scoring."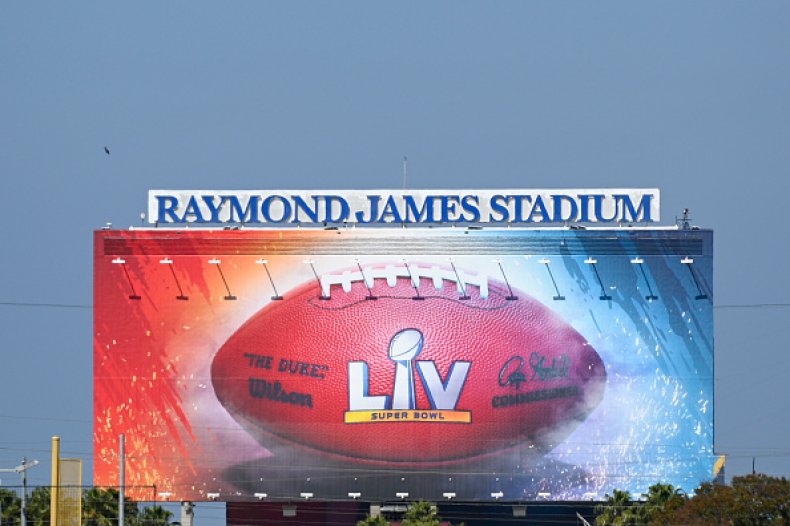 CBS
Ian Eagle: Chiefs, 31-27
Phil Simms: Chiefs, 30-24
Bill Cowher: Buccaneers, 24-20
Nate Burleson: Chiefs, 38-35
Boomer Esiason: Chiefs, 34-30
FOX Sports
Shannon Sharpe: Chiefs 38, Buccaneers 34
Nick Wright: Chiefs blowout
Colin Cowherd: Chiefs 31, Buccaneers 24
Emmanuel Acho: Chiefs 32, Buccaneers 24
Clay Travis: Chiefs 28, Buccaneers 27
Skip Bayless: Buccaneers 23, Chiefs 20
Marcellus Wiley: Buccaneers 29, Chiefs 27
ESPN
Chris Berman, NFL studio host: Chiefs, 30-20
Bill Barnwell, NFL writer: Chiefs, 31-24
Damien Woody, NFL analyst: Chiefs, 34-27
Dan Orlovsky, NFL analyst: Chiefs, 30-27
Ed Werder, NFL reporter: Chiefs, 34-24
Elizabeth Merrill, NFL writer: Chiefs, 31-30
Field Yates, NFL analyst: Chiefs, 34-26
Hannah Storm, SportsCenter anchor: Chiefs, 31-24
Kenny Mayne, SportsCenter anchor: Chiefs, 35-28
Kevin Negandhi, SportsCenter anchor: Chiefs, 41-37
Keyshawn Johnson, NFL analyst: Chiefs, 42-27
Laura Rutledge, NFL Live host: Chiefs, 35-31
Marcus Spears, NFL analyst: Chiefs, 31-24
Matt Hasselbeck, NFL analyst: Chiefs, 33-30
Michael Eaves, SportsCenter anchor: Chiefs, 42-30
Mike Golic Jr., ESPN radio: Chiefs, 31-27
Mike Greenberg, Get Up! host: Chiefs, 30-27
Mina Kimes, NFL analyst: Chiefs, 31-27
Nicole Briscoe, SportsCenter anchor: Chiefs, 35-32
Peter Burns, ESPN studio host: Chiefs, 31-17
Rex Ryan, NFL analyst: Chiefs, 28-21
Ryan Clark, NFL analyst: Chiefs, 34-30
Stephen A. Smith, First Take: Chiefs, 38-34
Suzy Kolber, NFL studio host: Chiefs, 28-27
Tim Hasselbeck, NFL analyst: Chiefs, 21-17
Todd McShay, NFL draft analyst: Chiefs, 30-26
Dan Graziano, NFL writer/reporter: Buccaneers, 35-31
John Buccigross, SportsCenter anchor: Buccaneers, 26-23
Katie George, reporter: Buccaneers, 31-28
Kirk Morrison, NFL analyst: Buccaneers, 31-27
Matt Barrie, SportsCenter anchor: Buccaneers, 31-27
Mike Clay, NFL analyst: Buccaneers, 30-27
Molly Qerim Rose, First Take host: Buccaneers, 31-27
Randy Moss, NFL analyst: Buccaneers, 32-30
Randy Scott, SportsCenter anchor: Buccaneers, 32-27
Sal Paolantonio, NFL reporter: Buccaneers, 27-23
Tedy Bruschi, NFL analyst: Buccaneers, 27-24
Sports Illustrated
Albert Breer: Chiefs 30, Buccaneers 28
Andrew Brandt: Chiefs 34, Buccaneers 23
Conor Orr: Buccaneers 31, Chiefs 30
Gary Gramling: Chiefs 27, Buccaneers 19
Greg Bishop: Chiefs 31, Buccaneers 21
Jenny Vrentas: Chiefs 27, Buccaneers 20
Michael Rosenberg: Chiefs 34, Buccaneers 24
Mitch Goldich: Chiefs 34, Buccaneers 26
NBC
Mike Florio, NFL analyst: Buccaneers, 30-27
Chris Simms, NFL analyst: Chiefs, 38-20