Super Bowl Announcer Joe Buck Gets Blasted on Twitter When Fans Realize He's Calling the Game
Joe Buck comes from broadcasting royalty. But when it comes to Buck calling some of the biggest sports championships in America, social media treats him like a pauper instead of a prince.
Joe Buck is the lead announcer for the Super Bowl on Sunday, the sixth time he's called the game since becoming Fox's lead play-by-play announcer in 2002. His Super Bowl call on Sunday in Miami is the sixth time he's called it alongside top analyst Troy Aikman.
Buck typically gets blasted on social media when calling a big game—something his father, Jack Buck, never had to endure while calling Major League Baseball and the NFL for so many decades in the 20th century.
Here are some of the hits aimed at Joe Buck on Sunday prior to kickoff.
Joe Buck is the son of former broadcaster Jack Buck, who did play-by-play at 17 Super Bowls for CBS radio. Joe became Fox's lead play-by-play broadcaster in 2002, and he calls the network's dubbed America's Game of the Week every Sunday during regular season, and he also calls the weekly Thursday night game.
In addition to his sixth Super Bowl, Buck is the lead play-by-play announcer for Fox's coverage of Major League Baseball. He has covered 21 World Series, 21 MLB All-Star Games and 23 MLB League Championship Series. Buck, who is a seven-time Emmy Award winner, is also the lead golf announcer for Fox.
Fox ran a series of commercials in 2002 that called Buck, Aikman and Chris Collinsworth the "A Team" of its broadcasters. Collinsworth has since left, and now calls games for NBC's Sunday Night Football.
The previous top duo on Fox was Pat Sumrall and John Madden, who called the 2002 Super Bowl following the 2001 season.
Buck and Aikman have called the following Super Bowls together (winner in bold):
Super Bowl XXXIX — New England Patriots vs. Philadelphia Eagles, in Jacksonville, Fla. (2005)
Super Bowl XLII — New England Patriots vs. New York Giants in Glendale, Ariz. (2008)
Super Bowl XLV — Pittsburgh Steelers vs. Green Bay Packers in Arlington, Texas (2011)
Super Bowl XLVIII — Denver Broncos vs. Seattle Seahawks in East Rutherford, N.J (2014)
Super Bowl LI — New England Patriots vs. Atlanta Falcons in Houston, Texas (2017)
The most recent World Series that Joe Buck called was between the Washington Nationals and Houston Astros, in which many Astros fans poked fun at Buck for constantly mentioning the age of Nationals outfielder Juan Soto—who is 21.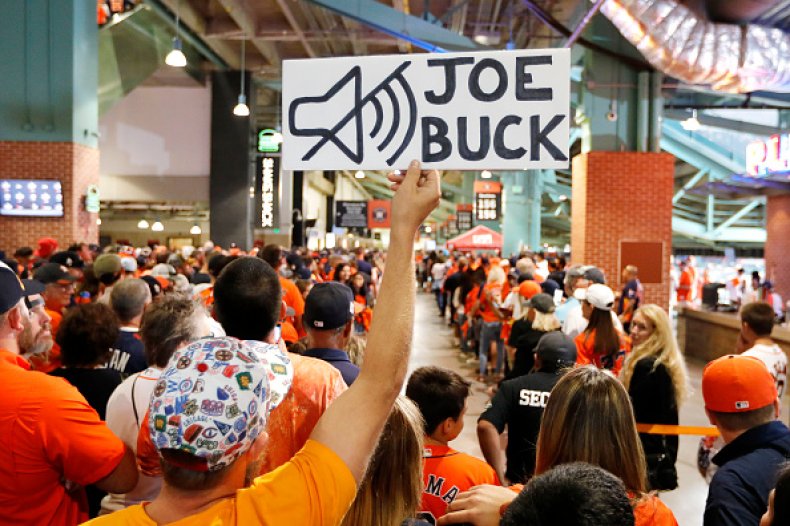 Super Bowl Announcer Joe Buck Gets Blasted on Twitter When Fans Realize He's Calling the Game | Sports