Super Junior Talk New Album, Super Show 9 and Share Hopes For a U.S. Tour
Super Junior are looking to the future and hope to perform in front of their U.S. fans one day soon, the group told Newsweek.
The iconic K-Pop boy band have been in the business for 17 years, which is no mean feat, and they recently released their 11th studio album, The Road : Keep on Going.
Members Leeteuk, Yesung, Shindong, Eunhyuk, Donghae, Siwon, Ryeowook and Kyuhyun spoke to Newsweek about their new album, their Super Show 9 concerts in Seoul, and their hopes to take the tour to the U.S. and beyond.
Super Junior Share Their Hopes For a U.S. Tour and Their Delight Over Super Show 9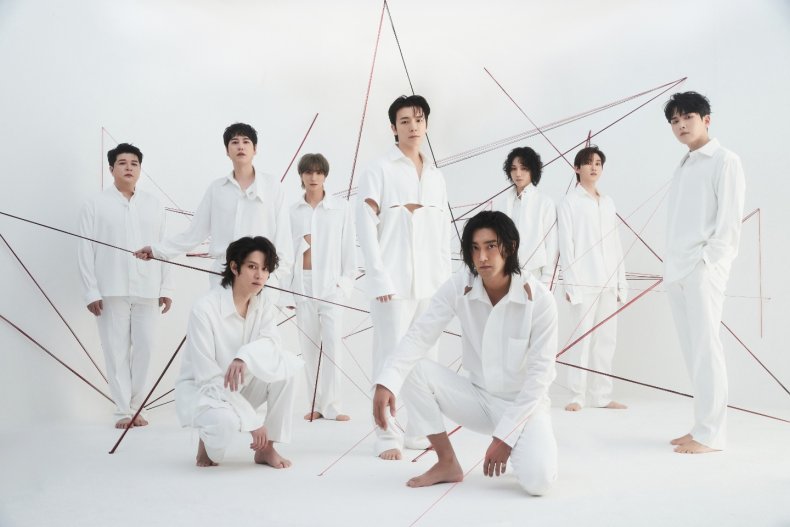 Super Junior have been hard at work with their first tour since "Super Show 8: Infinite Time" which finished in February 2020 before the COVID-19 pandemic stopped concerts and similar events from being held in-person.
The group welcomed fans over three nights at Jamsil Arena in Seoul, South Korea, from July 15 to 17, and the tour is titled "Super Show 9 : The Road" after their most recent album.
Donghae expressed his desire to take the tour on a more global scale when the situation allows for it, adding that the group would love to visit the U.S. and put on the show for their fanbase, known as E.L.F.
"We're interested in taking our Super Show 9 series to the U.S.," Donghae told Newsweek. "It's been a while since we've had a concert so we are ready to go wherever our E.L.F. wants us to be.
"Our E.L.F. are always supporting us and if they want it, we'll make it happen so that we can meet there!"
One of the concerts held in Seoul was available to stream online via Beyond LIVE, giving Super Junior's global E.L.F the chance to still enjoy the tour even though the group are currently unable to travel as widely as they'd like.
Shindong reflected on the way in which technology has allowed the group to stay connected with their fanbase around the globe, calling it a "very special moment" for the band to be able to share with them.
"It was an exciting and very special moment being able to meet our worldwide fans simultaneously," he explained, before adding: "But I am waiting for the day we'll be able to meet and perform face-to-face once the pandemic is over."
Making a promise to Super Junior's fanbase around the world, Shindong went on: "We'll come see you soon!"
Looking back at the shows that they did and what it was like to be in front of fans again, Kyuhyun told Newsweek: "It's been a while since we've last seen our fans so I was curious to see if they'd still be waiting for us or not.
"I'd have to say, it was exciting just thinking about being able to sing and dance right in front of our fans who had been watching us online until now."
Yesung went on: "Getting to perform together as a group on stage again was [as] exciting [as] when we debuted. It's a time that we, Super Junior, and our fans have been waiting for so I hope we'll be able to meet more often. I'd also like to take this moment to say thank you for waiting for us!"
When asked if there was anything they felt they'd learned from each other during their preparation for the show, Ryeowook chimed in by saying: "I've spent almost 20 years with Super Junior so there's definitely parts that I know and can predict, but one thing I realized was that everyone's got great stamina.
"We've all been working out and taking care of ourselves well, which is why we were able to have fun and fully enjoy the concert.
"We also have a huge heart for each other so we were always putting each other first when preparing for it. I was especially touched by Shindong when he gifted me new earphones to use. I probably sang better because of it, so thank you Shindong!"
Ryeowook went on: "Through this past offline concert in Seoul, we were able to breathe the same air, sing, dance, and chat together with our E.L.F. It was such a great moment, and I'm excited for the upcoming world tour."
Super Junior Talk New Album 'The Road : Keep on Going'
Super Junior's 11th album The Road : Keep on Going was released on July 12 and it features five tracks, with the summer pop hit "Mango" becoming the title track.
The album, according to Eunhyuk, is indicative of the band's thoughts for the future, and how they feel they have evolved as a group.
"The Road : Keep on Going is about 'The Road' that Super Junior is standing at and how it'll 'Keep on Going' just like the album's sub-title," Eunhyuk explained. "It's an album that combines the colors of Super Junior that we've shown before, along with new colors that we're trying out and developing. The album consists of various genres that express Super Junior well."
The album's release also saw the band make K-Pop history as they became the first group under record label SM Entertainment to reach such a feat.
Leeteuk was full of praise for his bandmates and what they'd achieved together, sharing: "It's a very exciting moment, and we're writing a good page in K-Pop history that's very valuable because it's something that came naturally for us."
"More than anything, I hope we'll remain consistent and continue moving forth the way we've been," he added.
Siwon explained that title track "Mango" was "very sweet" like the fruit the song was named after, which helped showcase a lighter, more fun side to the group.
"What I like best about the title track 'Mango' is the melody and exciting atmosphere," Siwon told Newsweek. "Like a mango, the lyrics are very sweet in how it describes wanting to be by your side and I like the meaning it holds—I'm the one you need.
"'Mango' is a track that I believe showcases that bright side of Super Junior well."
Reflecting on his favorite song from the album, Shindong named "Don't Wait," the first song the band released with a music video ahead of "The Road : Keep on Going" coming out.
Shindong explained that he chose the song because "it's a track that was able to show the playful sides of Super Junior on a whole new level."
Looking to the future, Leeteuk said: "My hopes for Super Junior is for us to continue on while maintaining our cool, classic-ness instead of growing old with time."
Correction 07.26.22, 04:11 a.m. ET: This article was updated to correct the title of Super Junior's tour.
Correction 07.27.22, 08:41 a.m. ET: This article was updated to correct the title of the album and the name of the streaming platform.