'Super Mario' Animated Movie: Release Date, Cast, Plot and More
New details have been revealed about the upcoming Super Mario animated movie, including its English language cast list and its North American release date.
These titbits come from Thursday's Nintendo Direct broadcast, during which the legendary game designer (and Mario's original creator) Shigeru Miyamoto spoke about the long-awaited project.
While we don't have an official plot synopsis yet, we do know that the movie is being produced by Illumination, the studio behind Despicable Me, Minions and The Secret Life of Pets. Nintendo also has a degree of oversight this time around, which is a big change after the 1993 live-action version of Super Mario Bros. (an extremely loose adaptation that the video game company had very little to do with).
If you aren't familiar with that infamous box office flop, it bore very little resemblance to its source material. King Koopa was essentially just a man with a forked lizard tongue, Yoshi was turned into a realistic-looking velociraptor and the Mushroom Kingdom was depicted as a subterranean, Blade Runner-esque metropolis that was overrun with gloopy fungus. In fact, according to that film Mario didn't even like to jump.
With Nintendo having more direct involvement with this new movie, it will presumably be a lot more faithful to the games. Miyamoto even talked about his role in the production during the livestream, saying: "This is a very collaborative project between Illumination and Nintendo. We have all been coming up with all sorts of ideas and I myself am enjoying a creative process that is a little bit different from making games."
'Super Mario' Animated Movie Release Date
In the Nintendo Direct, Miyamoto announced that the Super Mario animated movie will be a feature-length cinematic release.
It will be debuting in theaters in the holiday period of 2022. In North America it will come out on Wednesday, December 21, but there is no confirmed release date yet for Japan, Europe or any other region.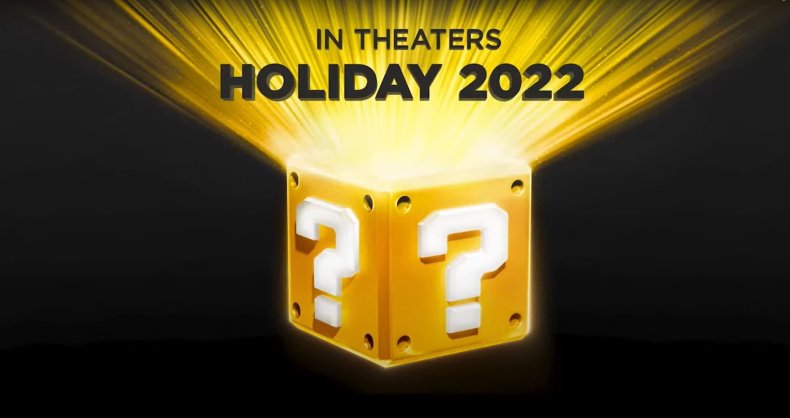 "Super Mario' Animated Movie Cast List
The other thing that Miyamoto revealed during the Nintendo Direct was the English language cast for the animated movie.
Star-Lord himself, Chris Pratt, will be lending his voice to the titular Italian plumber, while It's Always Sunny in Philadelphia's Charlie Day is playing his younger brother Luigi. Elsewhere, Anya Taylor-Joy (of The Witch, The Queen's Gambit and Split fame) is Princess Peach, Jack Black will be on villain duty as Bowser, Keegan-Michael Key is Toad and Seth Rogan will be voicing Donkey Kong.
Meanwhile, Charles Martinet, who has portrayed Mario in the video games since 1992, will have some form of mysterious cameo appearance.
The full cast list for the Super Mario animated movie is as follows:
Mario: Chris Pratt
Luigi: Charlie Day
Princess Peach: Anya Taylor-Joy
Bowser: Jack Black
Donkey Kong: Seth Rogen
Toad: Keegan-Michael Key
Cranky Kong: Fred Armisen
Kamek: Kevin Michael Richardson
Spike: Sebastian Maniscalco
If you don't know who the last three are on that list, they are all supporting characters from the various Mario and Donkey Kong games. Cranky Kong is Donkey Kong's ill-tempered grandfather, Spikes are generic enemies that originated in Super Mario Bros. 3 and Kamek is a villainous mage sidekick affiliated with Bowser.
The Chris Pratt casting has been met with a polarized response on social media, with many questioning if he is the right actor for the job, but some fans have pointed out an interesting detail from the Nintendo Direct.
If you look at the casting announcements, you will notice that many of the roles are listed in quotation marks. So, for instance, underneath Chris Pratt's name it says "Mario."
This has led to speculation that Pratt might not actually be voicing Mario himself (and that it will still be Martinet in the role). Of course, this could just be wishful thinking from those who aren't happy with the casting, but it's an interesting theory nonetheless.