A website that bills itself as the "leader in Christian fundraising" is continuing to allow a fundraiser benefiting Kyle Rittenhouse, the 17-year-old charged with murdering two protesters in Kenosha, Wisconsin on Tuesday night, after two mainstream crowdfunding sites shut down similar efforts.
Fundraisers for Rittenhouse had briefly appeared on GoFundMe and Fundly but were later taken down after being deemed unacceptable, with all collected proceeds being refunded. The fundraiser on Christian crowdfunding site GiveSendGo remained active as of Thursday night. "Friends of the Rittenhouse Family," the Atlanta, Georgia group who created the campaign, praised the alleged murderer for his "bravery" in their appeal for funds.
"Kyle Rittenhouse just defended himself from a brutal attack by multiple members of the far-leftist group ANTIFA – the experience was undoubtedly a brutal one, as he was forced to take two lives to defend his own," the group wrote on the campaign's page.
"Now, Kyle is being unfairly charged with murder 1, by a DA who seems determined only to capitalize on the political angle of the situation," they continue. "The situation was clearly self-defense, and Kyle and his family will undoubtedly need money to pay for the legal fees. Let's give back to someone who bravely tried to defend his community."
The self-described "#1 free Christian crowdfunding site" seems unlikely to follow in the footsteps of their secular competitors by taking down the page. Heather Wilson, GiveSendGo's co-founder and CMO, cited "political culture" while defending the company's decision to raise funds for the accused murderer.
"GiveSendGo is committed to giving both sides of the political culture in our society an equal chance to let their voices be heard," Wilson told Newsweek in a statement. "We will not be removing this campaign."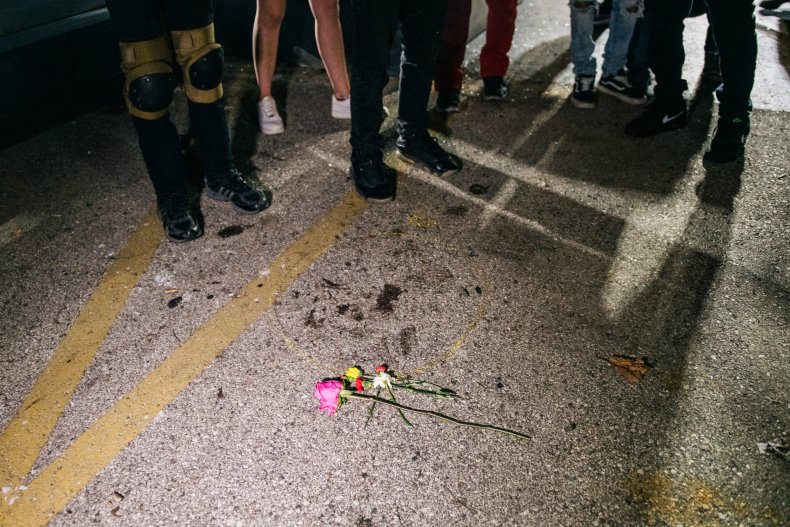 Authorities have not yet determined a motive for Rittenhouse's alleged crimes. Many of his social media posts reportedly showed him posing in police uniforms and frequently mentioning slogans like "Blue Lives Matter," along with posts indicating his enthusiastic support for President Donald Trump. He was also involved in a local police cadet program and attempted to join the Marine Corps in January but was disqualified, according to The Washington Post.
One of several videos presumed to be of Rittenhouse on Tuesday night shows him being chased before tripping, falling to the ground and then shooting some of those who could be seen pursuing him.
In addition, although there had been extensive property damage during the third night of protests, no shootings, serious injuries or deaths had been reported before Rittenhouse and others that have been described as armed vigilantes arrived at the demonstration.
Rittenhouse traveled from his hometown of Antioch, Illinois to attend the demonstration located about 30 minutes away in Kenosha, Wisconsin. Other armed vigilantes and self-described "patriots" have traveled to attend recent protests with the goal of combating property damage or "protecting" local police against unarmed protesters they deem to be "terrorists."
Protests in Kenosha and elsewhere have been ongoing since the Sunday shooting of Jacob Blake, a Black man who did not have a weapon on his person. The Wisconsin Department of Justice said he had a knife in his car. Blake was shot by Kenosha police seven times in the back as he attempted to enter his vehicle while his young children sat watching.
The shooting was the latest of many incidents involving police allegedly shooting or killing unarmed Black people, including the May 25 death of George Floyd, which have ignited massive worldwide protests against police brutality and racial injustice.
The Rittenhouse fundraiser had amassed over $67,000 of a $100,000 goal as of Thursday evening. Two GoFundMe fundraisers for the family of Anthony Huber, one of the two men Rittenhouse allegedly murdered, had raised more than $123,000.
Correction (8/27/2020, 11:15 p.m.): An earlier version of this article referred to the people chasing Rittenhouse being unarmed. Video shows one of the people chasing him holding a handgun. The article also described Blake as unarmed; though Blake did not have a weapon on his person, he had a knife in his car, according to the Wisconsin Department of Justice. We regret the error.