Supreme Court Must Allow Biden's Healthcare Vaccine Mandate—Ex Medicare, Medicaid Chiefs
The Biden administration's vaccine mandate for health-care workers is essential to protect patients and save lives, two former top federal health officials have argued as the Supreme Court weighs up whether the federal government has the power to enforce it.
The healthcare vaccine requirement applies to the approximate 10 million workers at hospitals and other health facilities that get federal funding through Medicare and Medicaid programs.
Mark McLellan, a former administrator for the Centers for Medicare and Medicaid Services (CMS) under President George W. Bush, and Andy Slavitt, an ex-acting administrator of CMS under President Barack Obama, said the mandate "should stand."
In an op-ed for The Washington Post published Friday ahead of a Supreme Court hearing into vaccine mandates, the former officials said Congress had authorized CMS to issue regulations to protect the health and safety of patients.
McLellan and Slavitt said that the "law makes each administration accountable for assuring patient health and safety."
"Imposing a new limitation on CMS's broad authority to protect patients would have substantial negative consequences for the success of Medicare and Medicaid," the pair wrote.
In the same way that the Defense Department "should ensure that a taxpayer-funded fighter jet... is safe, so, too, must CMS make sure that participating health-care providers are delivering care in a safe environment," they added.
But lawyers for two different sets of states said that CMS did not have the authority to issue the mandate because Congress never specifically authorized it, and that the agency bypassed normal procedures allowing stakeholders to give their views.
In the op-ed, McLellan and Slavitt rejected claims facilities like nursing homes would lose workers not wanting shots, and said evidence showed vaccine requirements increased vaccination rates up to 20 percent.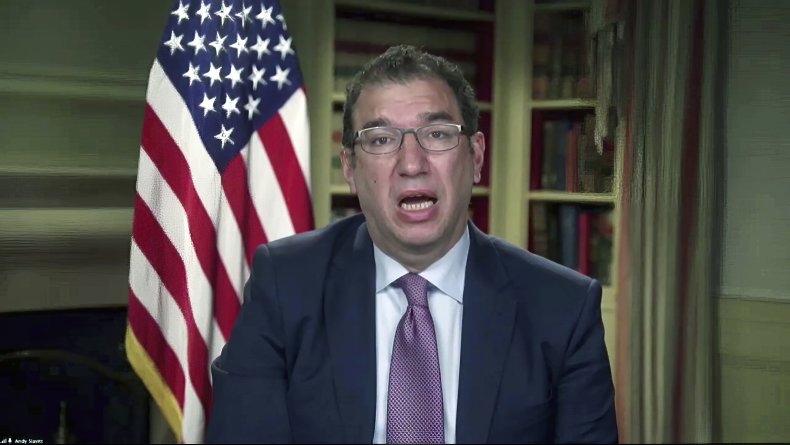 "We believe there is a greater risk to the labor pool from illness from COVID-19 than from a vaccine requirement," the op-ed read.
In Friday's hearing, justices appeared to be receptive to the healthcare vaccine mandate.
However, conservative justices on the Supreme Court appeared skeptical about a COVID-19 vaccine-or-test requirement being imposed on those working for companies with 100 employees or more.
Many Republican-led states have obtained injunctions against such a move, which would affect more than 80 million Americans.
And on Friday, Chief Justice John G. Roberts Jr. said states and Congress, rather than a federal agency, could be better suited to coordinate the COVID response in workplaces.
But McLellan and Slavitt said that the argument against a mandate not being a federal matter which should only fall within the remit of state and local governments had been sullied by "our contentious political environment" in which "political divisions do have an impact."
"This has been compounded by misinformation about the vaccines."
It is unclear when the Supreme Court will make a decision on either mandate.
Because the cases are in an emergency posture, the nine justices will not do a full review of the merits of each case. Instead, they are being asked to temporarily put on hold lower court orders while they proceed in those lower courts.
The legal challenges come as the number of infections soars and around 40 million adults in the U.S. are still declining to get vaccinated.