Supreme Court Declines to Wade Into Military Legal Battle Over Vaccine
The Supreme Court has ruled against an Air Force Reserve lieutenant colonel who was relieved of duty after refusing to get the COVID-19 vaccine, citing religious reasons.
Lieutenant Colonel Jonathan Dunn filed a complaint in February challenging the Biden administration's COVID-19 vaccine mandate for military personnel who were denied exemptions for "sincere held religious beliefs." Dunn was removed from his command and faces additional repercussions and the Supreme Court has now ruled against intervening with disciplinary actions against him.
The court's ruling on Monday was brief and gave no reasons behind the decision against Dunn. However, the three conservative members—Justices Clarence Thomas, Samuel Alito and Neil Gorsuch—indicated they would have granted Dunn's request to block the Pentagon from disciplining him.
While the court denied his application for an injunction to prevent the Air Force from taking action, Dunn's attorney said they will continue fighting the case.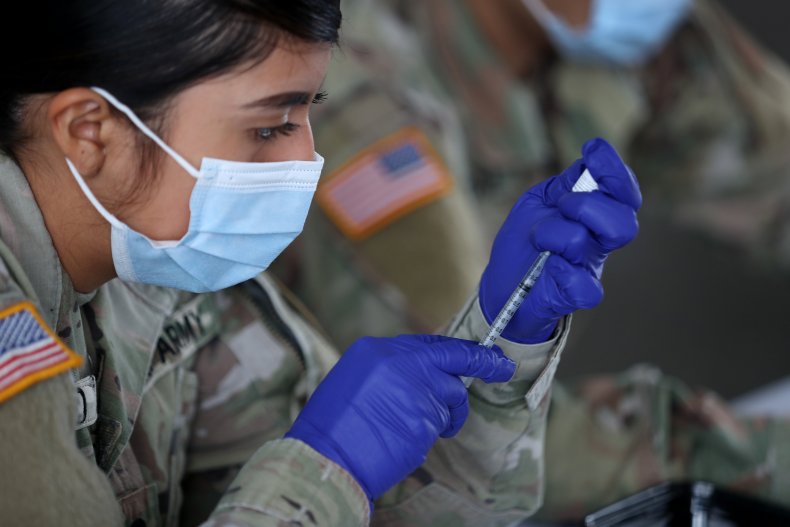 "Although we are disappointed that the Supreme Court did not step in to grant extraordinary relief at this early stage, we look forward to litigating the merits of our expedited appeal in the Ninth Circuit," Dunn's attorney Donald Falk told Newsweek. "We are confident in both the justice and the legal strength of our position, which now will receive full consideration."
Nearly a week ago, a coalition of 23 attorneys general filed an amicus brief in Dunn v. Austin to support Dunn's objection to the vaccine.
The attorneys general agreed that the Pentagon is infringing on Dunn's right to religious liberty.
"This is yet another legal red flag on the Administration's vaccine mandates," said Utah Attorney General Sean Reyes. "Ignoring an individual's religious objection is a violation of that person's civil rights, even in the armed services. The Administration has again overstepped its authority, and we are again standing up for our citizens."
However, according to the Pentagon, Dunn was removed for reasons besides his refusal to get vaccinated.
"Applicant also failed to establish any irreparable harm," the Justice Department wrote in court papers on the Pentagon's behalf, according to The Hill. "He has already been removed from his former command—including for reasons of poor judgment and abuse of authority, which justified the removal independent of his refusal to be vaccinated."
On August 24, 2021, the Pentagon announced plans to implement a COVID-19 vaccine mandate for all active duty and ready-reserve service members with "ambitious timelines for implementation." While the mandate does include a religious liberty exemption, few have been granted, according to Military Times.
Newsweek reached out to the Pentagon for comment.