Brandon Bernard Executed After Supreme Court Denies a Stay of Execution
Brandon Bernard was put to death Thursday night, after a final legal petition brought to the Supreme Court to stay the execution failed. Bernard, 40, received a lethal injection at the Federal Correctional Complex in Terre Haute, Indiana.
The execution received widespread national attention, partly because of Kim Kardashian West championing Bernard's cause on social media, in addition to public pleas from Senators Cory Booker and Richard Durbin. Along with general criticism of the death penalty, the conversation around Bernard involved an argument about the fairness of his sentencing. Thursday afternoon, Alan Dershowitz joined in arguing that the execution should not take place.
Though his execution was scheduled for 6 p.m., it was delayed several hours for the legal challenges to be wrapped up. The Supreme Court ruled at approximately 8:20 p.m. to deny the stay of execution. Justices Stephen Breyer, Elena Kagan and Sonia Sotomayor dissented in the ruling.
"Bernard has never had the opportunity to test the merits of those claims in court. Now he never will," Sotomayor wrote.
Bernard was pronounced dead at 9:27 p.m.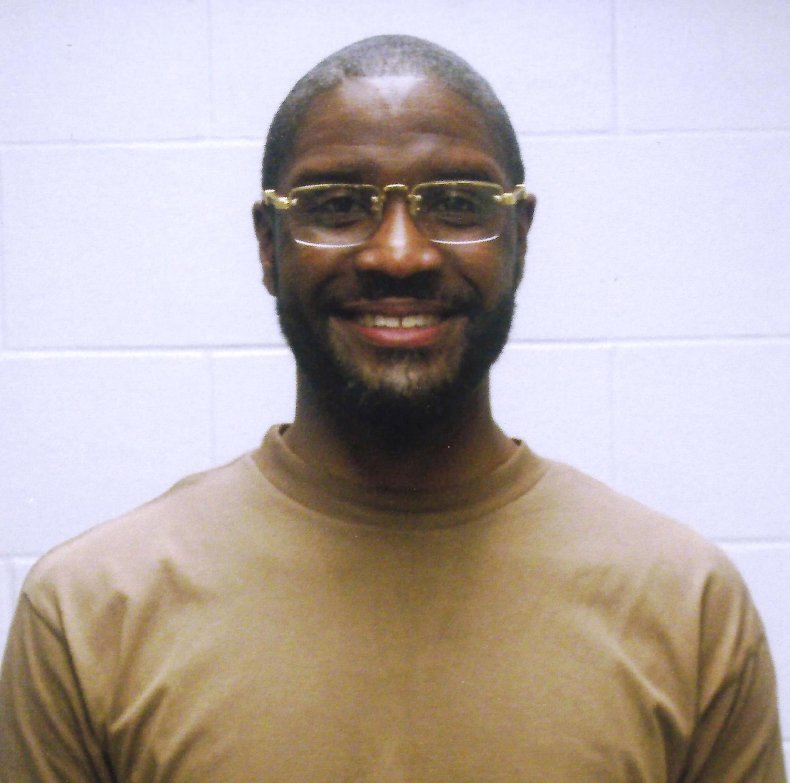 Bernard, 40, was convicted of the murder of two youth ministers when he was 18 years old. He was one of five teenagers in a local Texas gang who were found responsible in the double murder of two youth ministers following a carjacking. Three other accomplices weren't eligible for the death penalty, though, because they were minors at the time of the crime. Since the murders took place on Fort Hood's military reservation, it was deemed a federal crime.
Bernard, according to his original court ruling, helped burn the ministers' car, and it was his gun used for their killings. The person responsible for the actual shootings was then-19-year-old Christopher Vialva, who was put to death by lethal injection in September.
The petition to the Supreme Court on Bernard's behalf was submitted to Justice Samuel Alito by Bernard's counsel, Robert Owen and John Carpenter. In the filing, his attorneys argued, "At the time of his trial, the government was in possession of favorable information relevant to his sentence, but not to his guilt of the underlying offenses. The government never disclosed that information to Mr. Bernard's trial attorneys, either prior to trial or during the initial proceeding."
Citing two other cases that set the precedent for a stay of execution, the petition states the original judgment against Bernard was obtained in a proceeding that didn't meet the standards of justice. Furthermore, the petition argued, his case presented "a significant possibility of reversal of the lower court's decision" and thus the execution must not proceed. The Supreme Court's 7th Circuit, which is responsible for hearing appeals from circuit courts, did not agree with his attorney and upheld the execution order.
Before the court's ruling, Bernard's chances for a stay weren't promising. His lawyers tried to halt the execution with two prior motions, one of which was decided just this week in the U.S. District Court of the Southern District of Indiana. In his decision on that motion on Tuesday, Judge James Sweeney ruled that an expert witness' statement that Bernard was only a low-level member of his gang wasn't compelling enough to challenge the jurors' death sentence conviction.
Bernard was the ninth prisoner put to death since President Donald Trump resumed executions in July following a 17-year hiatus. A tenth prisoner, Alfred Bourgeois, is scheduled for execution on Friday, but the Supreme Court must first rule on a petition for clemency in his case.
A Change.org petition requesting a stay of execution for Bernard gained more than 500,00 signatures. That request, and many social media messages, asked Trump to halt the execution but to no avail.