Supreme Court Justice Clarence Thomas reiterated his call for the court to revisit abortion rights on Friday, writing in an opinion that the high court's decisions on the issue has "spiraled out of control."
The remark was in response to the court's decision not to hear a case on an Alabama law that banned surgical abortions during the second trimester of pregnancy. A lower court had previously struck down the measure, finding that it was in violation of the precedent set by Roe v. Wade.
While Thomas agreed with his fellow justices that the case shouldn't be taken up, he slammed his colleagues on their abortion-related rulings.
"Today, we are confronted with decisions requiring States to allow abortion via live dismemberment," he continued. "None of these decisions is supported by the text of the Constitution."
"Although this case does not present the opportunity to address our demonstrably erroneous 'undue burden' standard, we cannot continue blinking the reality of what this court has wrought," Thomas wrote in his short but scathing opinion.

The "undue burden" standard is the test court's have been using since the early 1990s to evaluate whether state abortion laws are constitutional. In Planned Parenthood v. Casey, the Supreme Court declared that "an undue burden exists and therefore a provision of law is invalid if its purpose or effect is to place substantial obstacles in the path of a woman seeking an abortion before the fetus attains viability."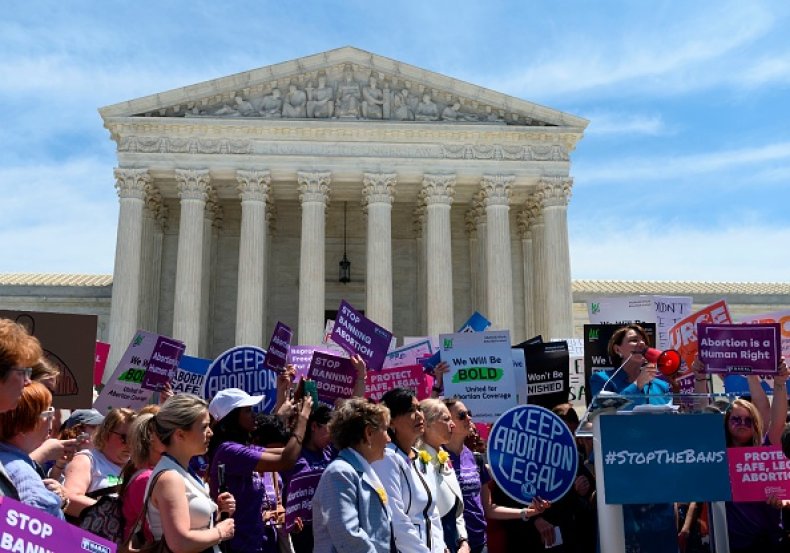 In May, Thomas urged the Supreme Court to more clearly address reproductive choice issues during the court's ambivalent review of a 2016 Indiana abortion law. It was their first major reproductive health case since the addition of conservative Justice Brett Kavanaugh to the bench.
The court ruled to reinstate Indiana's fetal burial provision, but refused to hear the state's appeal to revive a measure banning abortion based on fetal disability, sex or race. Their reasoning for declining to take on the case was that no other circuit court had ruled on the subject.
While Thomas agreed with the court's decision, he wrote in a concurring opinion that the bench will have to start ruling on abortion-related cases in the near future. The comment came as a flurry of strict anti-abortion measures passed in conservative states, including near-total bans of the procedure.
"Given the potential for abortion to become a tool of eugenic manipulation, the Court will soon need to confront the constitutionality of laws like Indiana's," Thomas wrote in his opinion. "But because further percolation may assist our review of this issue of first impression, I join the Court in declining to take up the issue now."
Nearly a dozen states have approved laws restricting access to abortion so far in 2019, including Alabama, Arkansas, Georgia, Indiana, Kentucky, Louisiana, Mississippi, Missouri, North Dakota, Ohio and Utah. Many of these laws are currently being challenged in court.