Not Sure if it's Safe to Visit Brussels? Ask a Random Belgian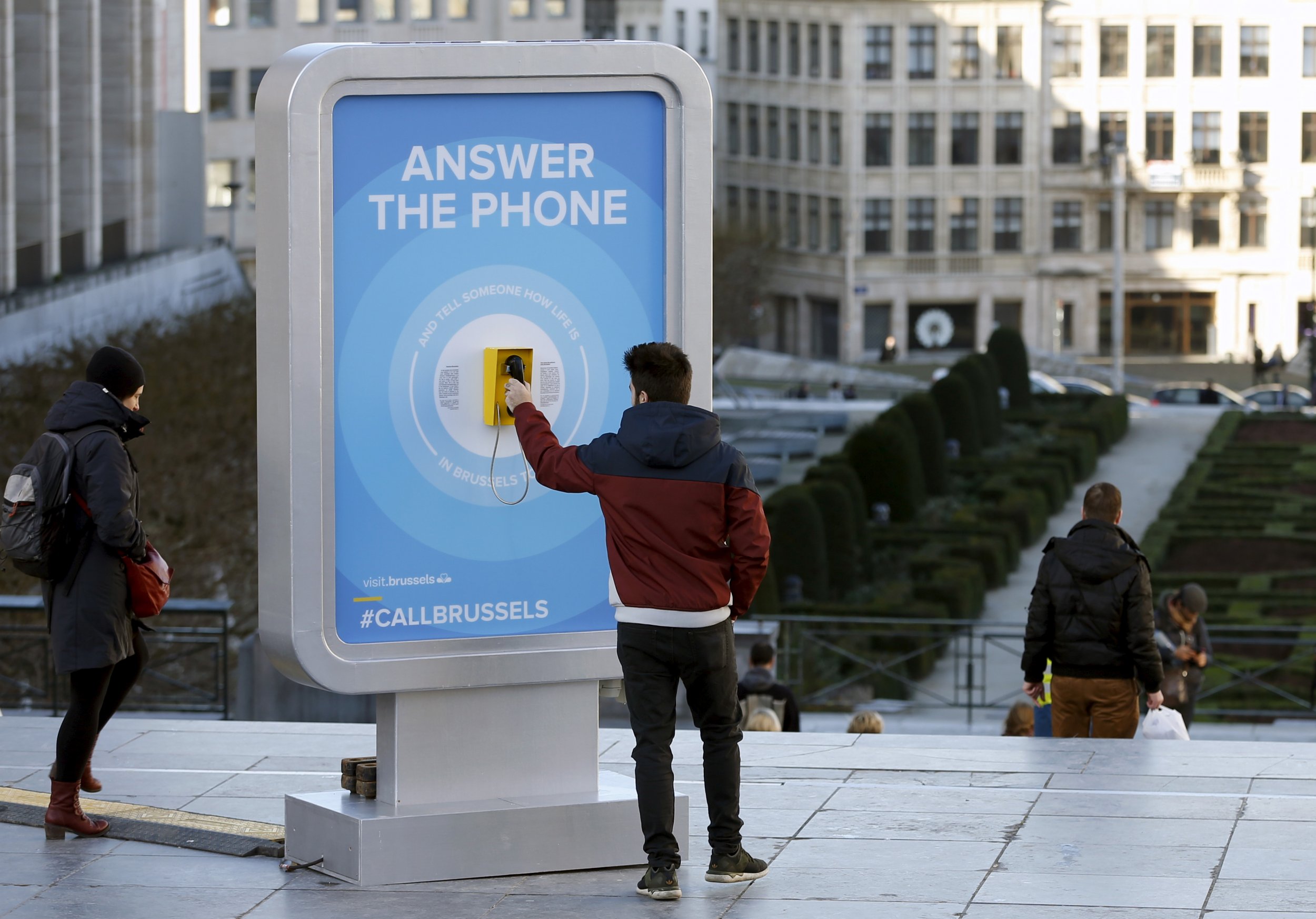 Do you want to travel to Brussels, but wish there was some way to check whether it's safe? Have you been put off by media reports describing the city as a hotbed of terror because November's Paris attacks were allegedly partly planned there?
Maybe a chat with a random stranger will put your mind at ease. That's what the Brussels tourist board is hoping. With its new #CallBrussels, you can call—for free—any of three phones stationed around the Belgian capital and have awkward, confused conversations with ordinary passersby about what the city is like these days.
"Over the past few weeks, the international media has portrayed Brussels as a war zone that tourists would do well to avoid," tourist board Visit Brussels said in a statement. "This has obviously had dire consequences for the tourist sector, which is currently experiencing a noticeable decline...With the international #CallBrussels campaign, visit.brussels aims to convince tourists intending to visit Brussels that there is no reason to revise their travel plans."
So Newsweek picked up the phone and asked people why they thought we should jet over to Belgium. It's a strange experience. Those answering the phones, which are placed in three prominent locations around the city, usually initially had little idea of what was going on. But they were all remarkably polite and helpful for people who'd just answered a yellow phone in the middle of the street for no real reason. In all, we spoke to four people. Here's some of what they told us:
Why should I come to Brussels?
A caller in Flagey, near the city centre says:
"You have cheap waffles, you have beautiful girls, you have the best beer in the world."
OK!
Do you worry about the perception of the city as a terror hotbed?
A serious response from Molenbeek suburb, home to Abdelhamid Abaaoud, the mastermind of the Paris attacks:
"This is a big problem here in Brussels... everybody here in Brussels thinks that foreign people are terrorists. They don't like for example people who come from North Africa… it's not right."
Fear of extremism runs deep in the city.
Why did you even pick up the phone?
From Mont Des Artes, a popular tourist spot:
"I was like: what's that annoying noise?"
Inspiring
Kiss, marry or avoid? : Belgian Prime Minister Charles Michel, French President Francois Hollande, British Prime Minister David Cameron?
The response from Flagey:
"I would leave them all alone…Come on, man."
Fair enough