Surfside Collapse Site Sold to Trump Business Partner To Build New Condo
This Friday marks a year since a 12-story condominium partially collapsed in south Florida, killing 98 people.
Most of Champlain Towers South crumbled to the ground suddenly while many residents slept in the early hours of June 24, 2021, sparking a weeks-long search in the rubble for survivors.
In May, the prime oceanfront site on Collins Avenue was sold to billionaire developer Hussain Sajwani for $120 million, who made the sole bid for the land.
Sajwani's Dubai-based DAMAC Properties has previously partnered with the Trump Organization to build the Trump International Golf Club in Dubai that opened in 2017.
Now, in its first foray into the U.S. real estate market, DAMAC Properties is planning to build an "ultra-luxurious" Cavalli-branded condominium on the land where Champlain Towers once stood, according to a press release announcing the purchase.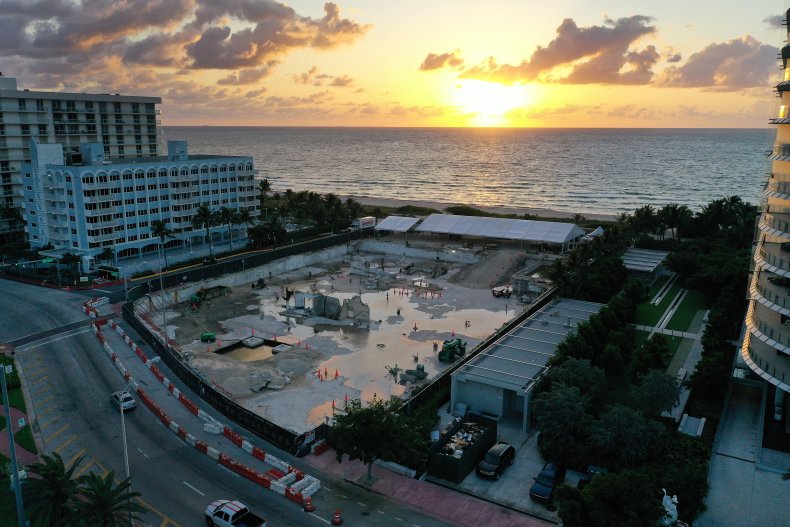 The release said the land, comprising 1.8 acres, offers residents "200 feet of direct beach frontage" and noted that Surfside has become a "hotspot for ultra-luxury condominium developments."
It did not reveal details about the upcoming project, such as the number of units planned or how many stories the building would be. It also made no mention of the history of the site.
Families of the victims have been pushing for a memorial on the land that is now a graveyard for their loved ones.
"The only reasonable and respectful thing that can go on this piece of land is a memorial," Martin Langesfeld, whose sister and brother-in-law died in the collapse, told NPR this week.
Langesfeld said he does not wish to block the sale, but wants DAMAC Properties to work with the families to build a memorial. "It's happened before," he said. "There are ways to work around it, so we please ask DAMAC to work with us."
Langesfeld and DAMAC Properties have been contacted for comment.
In May, the families of the victims reached a tentative settlement for almost $1 billion with local officials, the developers of an adjacent building and others they hold responsible for the collapse.
The tragedy trigged lawsuits from victims, families and condo owners. Federal and state investigations are underway.
In October 2021, a coalition of engineers and architects advised Florida to require high-rise buildings near the coast undergo safety inspections every 20 years. Champlain Towers was in the midst of its 40-year structural review when it collapsed.
Two months later, a Florida grand jury released a lengthy list of recommendations to prevent another condominium collapse.