Miami Building Collapse Photos, Videos Show Champlain Towers Reduced to Rubble
A massive search-and-rescue effort is underway after a 12-story tower partially collapsed in Florida, killing at least one person.
Part of Champlain Towers, a condo building located at 8777 Collins Avenue in Surfside, collapsed early Thursday morning, the Miami Beach Police Department confirmed on Twitter.
"Multiple police and fire agencies from across Miami-Dade are assisting," the department tweeted.
Miami Dade Fire and Rescue (MDFR) said crews were at the scene at 88th Street and Collins Avenue.
"#MDFR is on scene of a partial building collapse near 88 Street & Collins Avenue," the agency tweeted. "Over 80 MDFR units including #TRT are on scene with assistance from municipal fire departments. Updates will be provided on Twitter as they become available."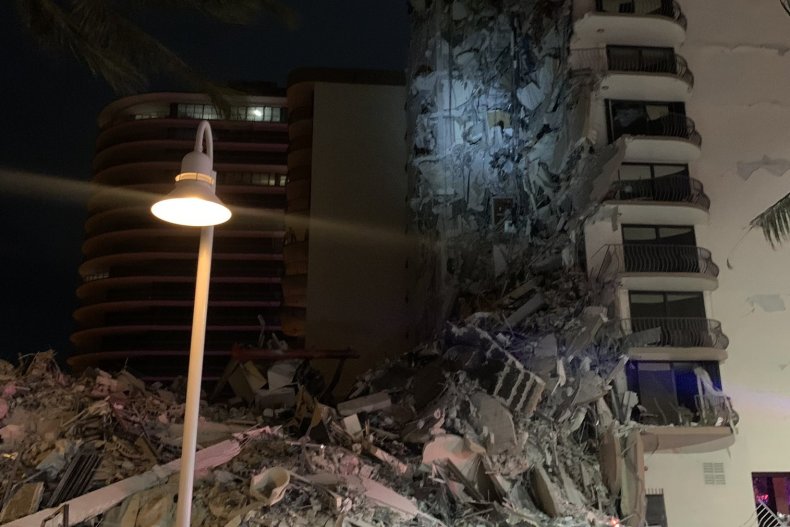 Authorities have not revealed details about how many people may be hurt, but the Miami Herald reported that a firefighter on the scene was heard saying there are multiple casualties.
CBS Miami reported at least one person is dead, citing sources, and that several people had been pulled from the rubble, including a boy, around 10 years old.
Miami-Dade Commissioner Sally Heyman, of district 4, told the Herald that multiple people have been taken to Jackson Memorial Hospital and other nearby hospitals.
Miami-Dade Mayor Daniella Levine Cava told the newspaper that the cause of the building's collapse was not known.
Several people took to social media with pictures and video showing the damage at the scene of the collapse.
Jamal Akakpo, an actor and producer, tweeted video from the scene saying he had been staying in a hotel next to the building when it collapsed.
In a Twitter thread, Akakpo wrote: "We had to evacuate our hotel obviously and as well as the surrounding area so that they can do the search and rescue. People from our hotel and the collapsed building are at a nearby rec center."
Local reporters also tweeted footage of the emergency response after arriving at the scene.
"We just got to scene of a partial building collapse in Surfside," Brooke Shafer of CBS Miami tweeted alongside video. "This is as close as we can get, can't see the building from here. Still waiting to hear how many hurt and if anyone trapped inside."
The incident comes after a building collapse in Chipley, Florida in January left one person dead and two others injured. Three construction workers were trapped in rubble following the collapse at the intersection of Highway 77 and Highway 90, according to WKRG, as the roof of the building was being demolished.
In 2018, a 46-year-old man, Samuel Landis, died following the collapse of a 13-story building in Miami Beach. Landis was working there as part of a planned demolition of the building.
This is a breaking news story and will be updated.
Update 6/24/21, 7:15 a.m. ET: This article has been updated with additional information on rescue efforts. The headline was modified to indicate the location of the building is in Surfside, Florida.