Surging Crypto Interest from Individual Investors Spurs New Investment Funds
Grayscale Investments of New York announced on Wednesday the start of five new digital currency investment trusts, underscoring increased retail interest in Bitcoin and other cryptocurrencies.
The New York company now manages 14 cryptocurrency investment funds.
"Investor demand has never been higher, and every day we're seeing new entrants to what has surely become a bona fide asset class," Michael Sonnenshein, Grayscale's CEO, said in a statement. "Grayscale has long been the leader in creating novel pathways for investors to access the opportunities that digital currencies may offer, and this announcement carries on that tradition."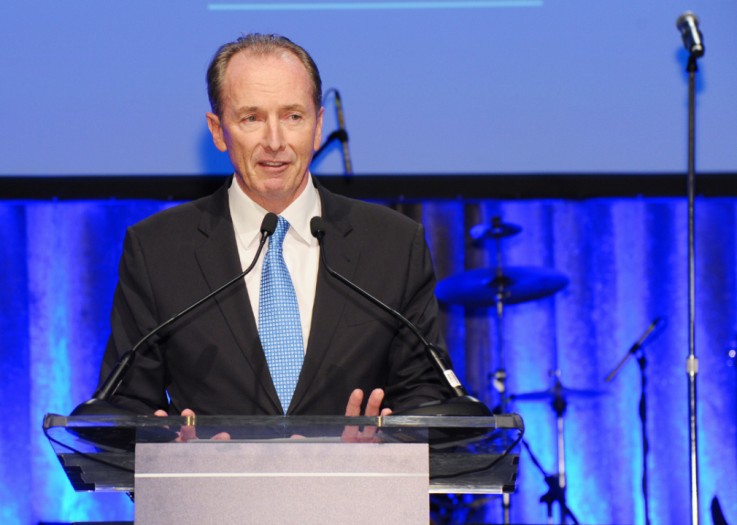 James Gorman, CEO,, Morgan Stanley
Owen Hoffmann / Getty Images
In a related action, New York investment bank Morgan Stanley said it would make Bitcoin investments available to select clients, CNBC reported. The new service will be available only to those who have had at least $2 million in a Morgan Stanley account for at least six months.
The Grayscale Bitcoin Cash Trust requires a minimum investment of $25,000.
Morgan Stanley, which holds about $4 trillion in client assets, didn't formally announce the move. CNBC said it learned of the action after it obtained an internal memo.
The investment bank said investing in Bitcoin is suitable only for those with an "aggressive risk tolerance."
Grayscale's newly launched trusts are: Basic Attention Token, Chainlink, Decentraland, Flipcoin and Livepeer.
Grayscale also offers single-asset investment trusts devoted to Bitcoin, Bitcoin Cash, Ethereum, Ethereum Classic, Horizon, Litecoin, Stellar Lumens and Zcash. The Cigital Large Cap offers a way to invest in the top digital currencies by market capitalization.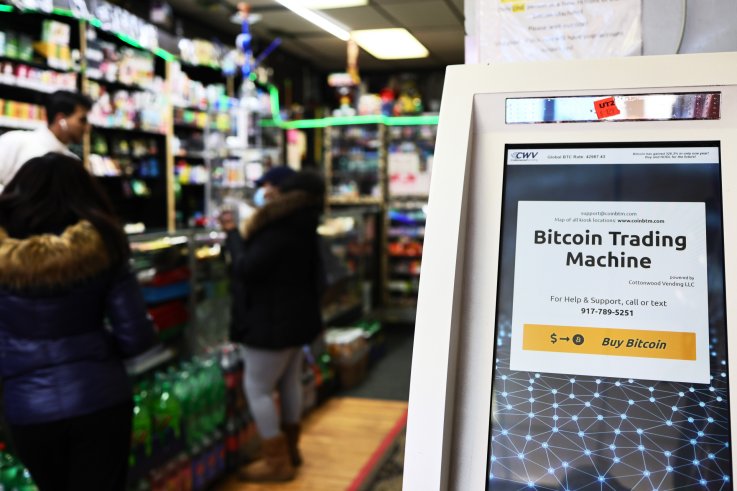 NEW YORK, NEW YORK - FEBRUARY 08: A bitcoin ATM is seen inside the Big Apple Tobacco Shop on February 08, 2021 in New York City.
Michael M. Santiago/Getty Images
The Grayscale Bitcoin Trust is the first digital currency investment registered with the U.S. Securities and Exchange Commission. It allows institutions and accredited individuals to buy and sell the trust's shares over-the-counter.
Grayscale Investments manages about $42.2 billion. It's a subsidiary of Digital Currency Group, which also owns media company CoinDesk.
Unsurprisingly, Dogecoin—a crypto started as a joke and valued at about a nickel —isn't included in Grayscale's lineup. While some, including value investor Warren Buffett, remain skeptical about Bitcoin because they believe it represents nothing but hope for future price appreciation, Grayscale believes cryptocurrencies will alter the concept of money by offering "comparative advantages" that will change current banking systems.
"For the first time in history, value can be sent anywhere in the world at the same speed as information, in a secure and trust-minimized way," the company said.
They touted the power of "millions of peers" in the world of cryptocurrency.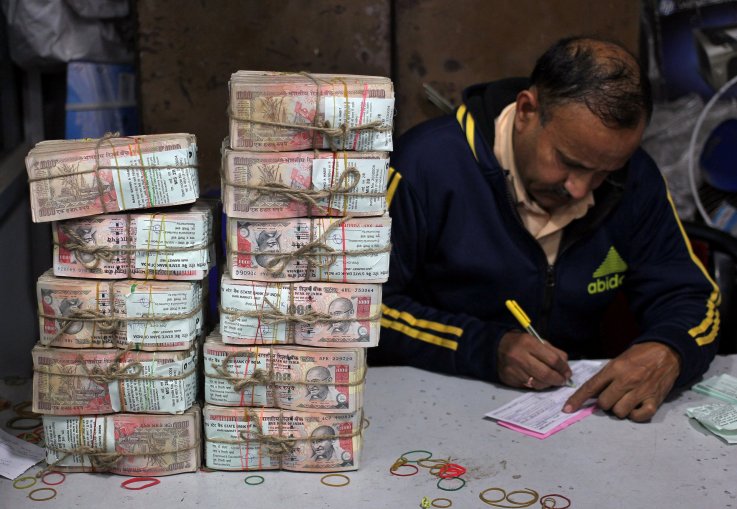 A bank teller counts stacks of 1,000 rupee banknotes inside a bank in Jammu, India.
Mukesh Gupta/reuters
"A departure from conventional economic, political, and social systems run by a handful of large centralized institutions," Grayscale said, "digital currencies are powered by millions of peers within a globally distributed network, democratizing information and value in incredible new ways."
Meanwhile, India may ban cryptocurrencies.
In mid-day trading Wednesday, Bitcoin fetched $55,362.59, down 10.06% from the record high of $61,556.59. But the cryptocurrency is up 89.97% in 2021, CoinDesk reported.
Market Pulse
The National Association of Homebuilders (NAHB), a Washington, D.C.-based trade association, said lumber prices have jumped about 180% since last spring.
That's added about $24,000 to the cost of an average new single-family house and could price some first-time buyers out of the market if costs continue to climb.
But that hasn't happened yet.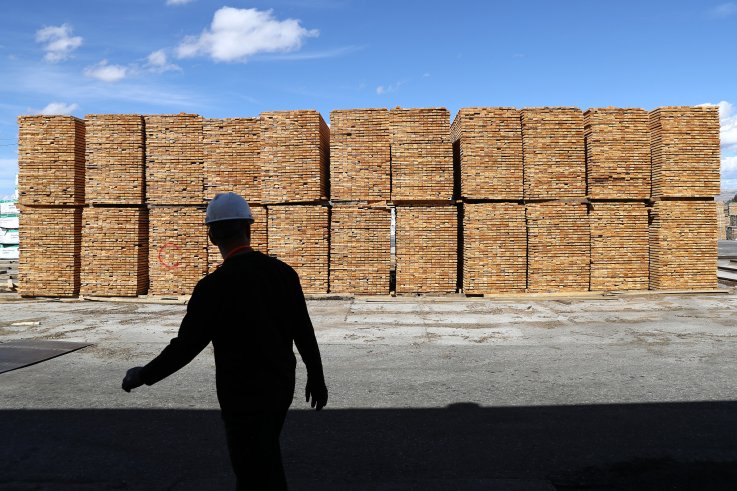 Sun Mountain Lumber Superintendent Nelson Bohrer walks past stacks of cut lumber at the saw mill September 12, 2019 in Deer Lodge, Montana.
Chip Somodevilla/Getty
The NAHB/Wells Fargo Housing Market Index showed that first-time homebuyers now account for 43% of the new house market.
The price of crude oil, a key element in paint, plastic drainage pipe, shingles and flooring, has increased about 80% since October.
Copper, used in electrical wiring and plumbing, is up about 33%.
Paint and floor manufacturers have raised prices and major builders, including D.R. Horton and Hovnanian Enterprises, have passed the cost onto buyers.
Rising costs for materials quickly becomes higher costs for consumer goods and could indicate the rising inflation investors have fretted about as the economy reopens after the COVID-19 lockdown.
Mortgage rates have ticked up recently, but remain low by historical standards. The yield on the 10-year U.S. Treasury bond rose Wednesday to 1.68% in intraday trading, the highest in a year.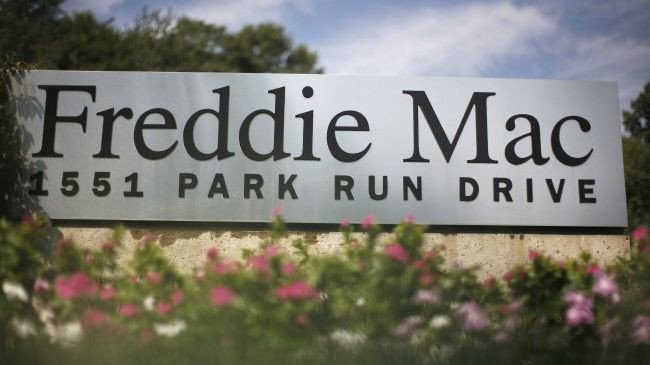 Freddie Mac logo in business park
The Federal Reserve, the nation's central bank, doesn't yet see inflation as a threat and will continue to hold interest rates near zero and pump money into the economy still beset with high unemployment.
But rising prices benefit those who own a house and want to trade up. Demand for housing is strong and owners can use the rising value of an existing house as their personal ATM as they shop around.