Surging Delta Variant Leads to Record Number of Child COVID Hospitalizations in U.S.
The number of children hospitalized with COVID-19 has reached a record high in the U.S., as the Delta variant continues to drive a nationwide wave in new infections.
Data from the Department of Health and Human Services showed that just over 1,900 children were hospitalized with COVID-19 as of Saturday, Reuters first reported. The number of hospitalizations related to the novel coronavirus has spiked particularly in the South, with the latest HHS data showing that nationwide the number of those aged 18 to 29, 30 to 39 and 40 to 49 going to the hospital in the past week also reached record highs.
Children currently make up about 2.4 percent of the nation's hospitalized COVID-19 patients. More than 72,500 people are currently hospitalized with COVID-19 across the country, according to a New York Times tracker. That represents a surge of nearly 75 percent over the past two weeks.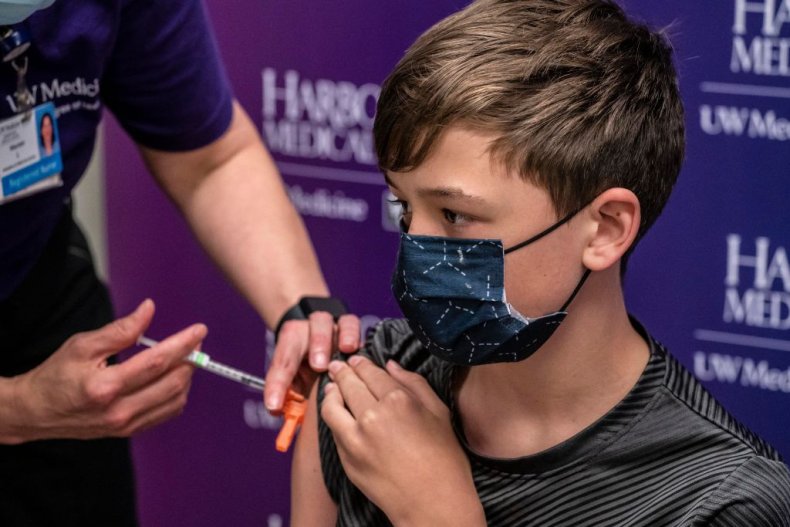 Nationwide, the U.S. is seeing an average of more than 128,000 new infections each day. Florida, Texas and California are seeing the biggest surges in terms of numbers. In Florida, an average of more than 21,000 infections are being reported each day, while Texas has been seeing nearly 14,000 and California has been reporting nearly 12,000.
Meanwhile, just under 60 percent of the U.S. population has received at least one dose of a COVID-19 vaccine. Half the population has received both shots. Children under 12 are not eligible to receive any of the vaccines, but the Pfizer vaccine has been granted emergency approval for children ages 12 and up.
"This is not last year's COVID. This one is worse and our children are the ones that are going to be affected by it the most," Sally Goza, former president of the American Academy of Pediatrics, told CNN in a Saturday interview.
The Centers for Disease Control and Prevention (CDC) has issued guidance that schools should require students, teachers and staff to wear masks as classes resume to curb the spread of the virus. But some Republican governors have dismissed this guidance, even working to ban schools from requiring masks.
Florida's Governor Ron DeSantis, who is widely seen as a 2024 presidential hopeful, has received significant backlash for his efforts to prohibit mask mandates in schools in his state. More than 800 doctors associated with a left-leaning political group slammed DeSantis in an open letter this week.
"As the virus burns through Florida, health care providers feel we are fighting this fire without any leadership from Gov. Ron DeSantis. Blocking communities from making local decisions to protect themselves with his top-down, one-size-fits-all edict will only make matters worse," the doctors wrote.
Newsweek reached out to the Department of Health and Human Services for further comment but did not immediately receive a response.