Maine Republican Senator Susan Collins said she has no regrets about her vote to confirm Supreme Court Justice Brett Kavanaugh last year, even though that decision has put her seat — and, by extension, GOP control of the Senate — at risk.
Collins laid out how she is one of very few moderate members left in Congress as she fended off criticism from past supporters for her vote in favor of confirming Kavanaugh that irked abortion rights advocates.
Speaking with The New York Times for an article published Saturday, Collins declared, "I do not regret my vote in the least," with regard to the Kavanaugh confirmation. Her decision to support the controversial judge's nomination was reportedly key in keeping other Republican senators who were on the bubble from voting against Kavanaugh.
The senator recalled how she received death threats after voting "yes" to confirm Kavanaugh despite intense testimony from professor Christine Blasey Ford accusing the judge of sexual assault decades before.
Kavanaugh has since voted to uphold a restrictive Louisiana abortion law but also declined to take up a case earlier this year that would have challenged the landmark 1973 Roe v. Wade ruling legalizing abortions on the federal level. Collins said she is still debating whether to run for re-election in 2020 in such a polarized, Trump-driven Washington environment.
Collins easily won her fourth senate term in 2014 with a solid 68 percent of the vote in Maine. And according to Federal Elections Commission data as of March, Collins has already raised $4.4 million for her potential 2020 campaign.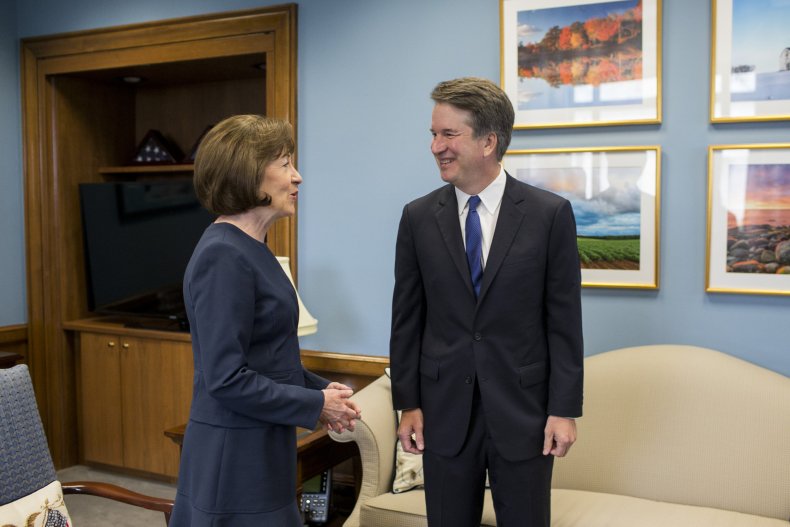 Sara Gideon, the Democratic Speaker of the Maine House of Representatives, has emerged as a challenger to Collins' seat in 2020, and has used the Kavanaugh vote as a rallying issue.
"At one point, maybe Sen. Collins was different, but she doesn't seem that way anymore: taking over a million dollars from drug companies and the insurance industry and voting to put Brett Kavanaugh on the Supreme Court," Gideon said in a recent campaign announcement.
Republicans currently control 53 of 100 U.S. Senate seats, so the GOP can not afford to lose seats in the 2020 election, when one-third of the chamber will be running for office. If a Democrat is able to unseat Trump in the election, Republicans could only afford to cede two seats, as they would no longer have the luxury of a GOP vice president breaking 50-50 ties.
A number of Maine residents have expressed their disappointment in Collins, a senator they once lauded as a thoughtful moderate but who has continued to back legislation supported by the Trump administration. FiveThirtyEight reports Collins has voted alongside Trump about 70 percent of the time during the president's tenure.
When asked if she believes the sexual assault allegation made against Trump last month by author E. Jean Carroll, Collins replied, "I have no information on it, beyond what she says and beyond what he says. It's an impossible allegation to evaluate."
Collins defended her record as a moderate dating back to when she was first elected to the Senate in 1997. "I'm an important voice for the nation in an increasingly polarized environment," she told the Times. "There are so few members left in the center."
"She hasn't changed," said Chris Gardner, the executive director of the Eastport Port Authority. "The ugliness of politics is what's changed. She's been a tether to civility."