Susan Collins Edits Trump Signage Out of Social Media, Despite Endorsement
Sen. Susan Collins' campaign posted a photo on social media that appears to have been digitally altered to blur out a Trump campaign sign, despite the president expressing support for her reelection bid.
The Maine Republican is facing a significant challenge while attempting to retain her U.S. Senate seat for a fifth term, with polls consistently showing her trailing behind Democratic challenger Sara Gideon. Collins has positioned herself as a moderate and has recently struggled to publicly express any clear opinions on President Donald Trump.
A photo posted to Twitter shows Collins posing with supporters while standing in front of Sanford Republican Committee headquarters in Springvale, Maine on Saturday, in front of a doorway with a Trump campaign sign posted to it. A second photo posted to the Collins campaign Twitter account from the same event includes the same doorway, but with the partially visible Trump sign blurred out.
"Unfortunately for Senator Collins even this tragic photoshop job blurring out the Trump sign can't obscure her record of voting with him 94% of the time and refusing to hold him accountable," tweeted Maeve Coyle, Gideon's communications director, while sharing a comparison of the two photos.
"It's not surprising that Sara Gideon's campaign would want to try and distract from the real issue in this race - that Gideon's $4 million family business skipped taxes for 4 years, was levied 77 tax liens, and ended up in foreclosure," Collins spokesman Kevin Kelley said in a statement to Newsweek. "And then Gideon lied about it to the Maine press."
Kelley was apparently referencing now-defunct real estate firm Concord Brook, LLC, which was co-managed by Gideon's husband years ago and fell behind on $57,000 in property taxes that were later paid in 2012. Although the business Gideon's husband formerly managed failed to pay taxes on time, no similar allegations have been made against Gideon or her husband in terms of their own, personal taxes.
In 2016, Collins refused to support Trump, who she deemed "unworthy" of being president despite winning the GOP nomination, while penning an opinion piece published by The Washington Post that explained she had "become increasingly dismayed by his constant stream of cruel comments and his inability to admit error or apologize."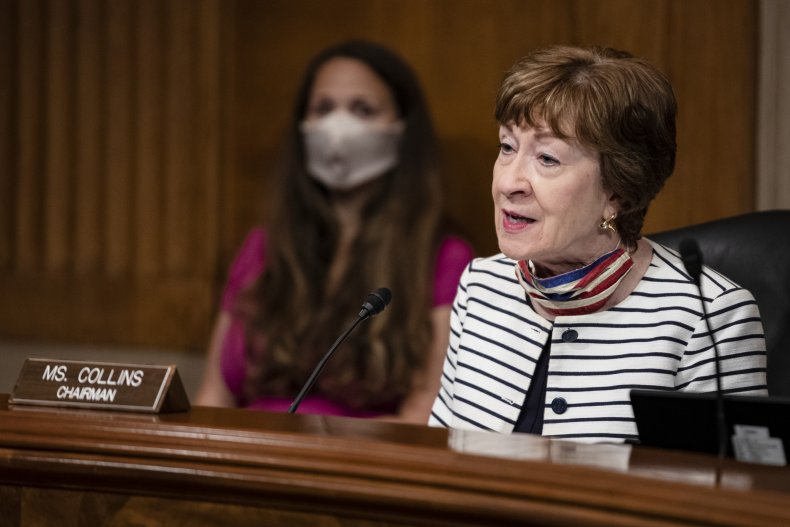 Her position in 2020 has been less explicit, although Trump has publicly expressed support for her. The president commented that he agreed "100%" with a December 2019 tweet from Senator Lindsey Graham urging Collins' reelection while praising her "unbelievable courage" in voting to confirm Supreme Court Justice Brett Kavanaugh.
When questioned about the race for president, Collins has insisted on remaining neutral, refusing to endorse Trump or say whether she will vote for him, while also refraining from speaking against former Vice President Joe Biden.
Demi Kouzounas, chair of the Maine Republican Party, reportedly insisted on Tuesday that Collins does support Trump despite her silence on the issue and her notable absence from this week's Republican National Convention.
"They're not mutually exclusive," Kouzounas said during a Trump Victory call with the press, according to Roll Call. "I think they both have their jobs to do. They both support each other."
Democrats have criticized Collins for largely voting in Trump's favor while attempting to maintain support from moderates by publicly claiming she was struggling to decide, especially with regards to high-profile decisions like her vote to confirm Kavanaugh or to acquit Trump during his Senate impeachment trial.
"Senator Collins may be able to skip her party's convention, but she can't escape her record of having voted with Trump 94% of the time," Maine Democratic Party Chair Kathleen Marra said in a statement. "With even the head of her party confirming that she supports Trump, Maine voters can see through this flimsy facade, and they're ready to replace both Collins and Trump this November.
Update 8/25, 8:20 p.m.: This article has been updated to include added context and a statement from Collins spokesman Kevin Kelley.