Susan Wright Joins Julia Letlow in Campaigning for Late Husbands' House Seats
A second widow of a member of Congress who died of COVID-19 is running to fill her husband's vacant seat at the U.S. Capitol.
Rep. Ron Wright of Texas was the first sitting member of Congress to die of COVID-19 earlier this month. Now his wife, Susan Wright, announced her campaign on Wednesday to represent Texas' 6th District and is "running to preserve her husband's commitment to bring conservative values to Washington," according to her campaign website.
Wright previously served as district director for state Rep. Bill Zedler and his successor, Rep. David Cook, and she is a member of the Texas State Republican Executive Committee and a former airline training director, her website says.
"Ron always fought for the people and conservative values of the sixth district," Wright said in a statement released Wednesday. "I'm asking the voters of Ellis, Navarro, and Tarrant counties to help me continue the fight for stronger borders, lower taxes, and the precious right to life in Washington."
Wright joins Julia Letlow, another conservative widow, who is currently running for her husband's vacant seat in Louisiana's 5th District. Congressman-elect Luke Letlow died of COVID-19 last fall, five days before he was to be sworn into office.
Now Wright and Letlow are both considered front-runners in their respective races, and they could be the next chapter in a record number of Republican women who are getting elected.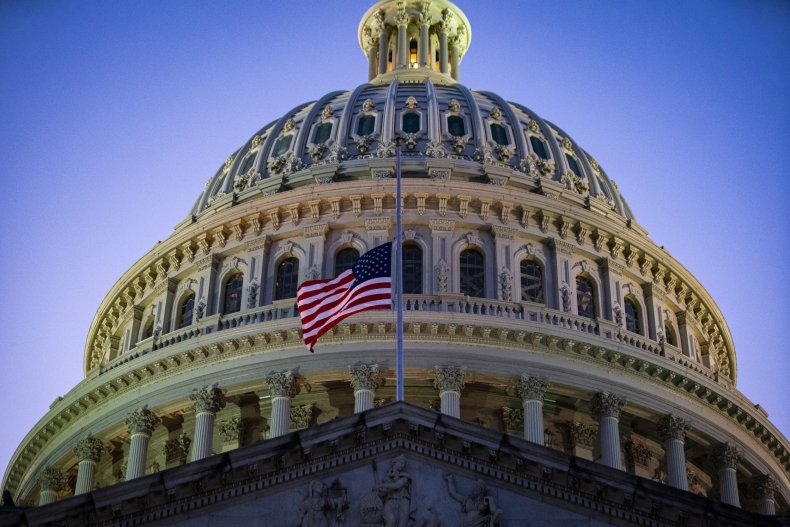 Wright and Letlow's campaigns share a number of similarities. Both women have developed platforms around issues that were close to their husbands'. Letlow and Wright echo their husband's pro-gun, anti-abortion stances, are openly Christian and emphasize the importance of family.
According to Wright's campaign website, "basic freedoms like the right to bear arms, the right to worship, and the right to raise a family are under attack across Texas."
Family is also an important issue for Letlow, who said to Newsweek there is "no better example" to her two children than for her to take on the challenge of a congressional campaign.
In their respective districts, Wright and Letlow are also both appealing to voters in majority-Republican communities that are mostly white and have populations of less than 800,000, according to Ballotpedia.
Ron Wright served on the House Foreign Affairs Committee as well as the House Committee on Education and Labor. Susan Wright is following her husband in prioritizing education, while Letlow is developing her own approach by promoting schools.
"That's where I come in with a little bit more of a twist to what Luke ran on," Letlow said to Newsweek earlier this month. "I truly have always believed that education is the answer and can be a catalyst to help elevate a region out of poverty.
Matt Langston, a spokesperson for Wright confirmed to Newsweek that she won't be pursuing any new policy areas.
"She's not prioritizing new platform areas, but her priorities are prioritizing jobs in the district, health care (she knows firsthand the failure of Obamacare based on the experience the Congressman had during his fight [with] cancer), and keeping Trump's economic policies in place," Langston said.
One key difference between the women is that Letlow is a relative newcomer to the political stage, whereas Wright has been working among local leadership for years.
"Working side by side with the people of Ellis, Navarro, and Tarrant County for decades to connect citizens to their government has been an honor," Wright said in her statement. "I look forward to asking them for their vote."
"While I'm still heartbroken at the passing of Congressman Ron Wright, the torch he carried must be taken up and representation of the people of the sixth district must continue," Tarrant County Republican Party Chairman Rick Barnes wrote to Newsweek. "There is no better suited or more qualified person to carry on his great legacy than his wife, Susan Wright. Having resided in the district for more than 30 years, Susan knows the needs of people there. By serving as the District Director for State Representatives Bill Zedler and David Cook, she has been working on behalf of constituents for several years. She knows the issues they face at every level of government and is perfectly suited to be their voice in Congress. Therefore, I fully endorse Susan Wright to be the next member of the United State Congress from Texas' 6th District."
Wright and Letlow are the latest American women who have run for their deceased husband's seats. Lindy Boggs won her late husband Hale Boggs' seat after he died in 1972. Jean Carnahan also became the first female senator from Missouri when she was appointed to fill her late husband's seat, Mel Carnahan, who died in 2000.
"I very intimately see why those women—they stood up and said, 'I want to carry the torch forward,'" Letlow said to Newsweek. "It is truly a shared dream that you create when you're in a partnership with someone—you're working side by side with that person."
Letlow's race will take place March 30. Texas Governor Greg Abbott has yet to announce to date of Wright's open primary.
Newsweek has reached out to Letlow's campaign for comment.