Suspect Linked to NYC Subway Stabbings Arrested and Charged With Murder, Authorities Say
New York City Police Department (NYPD) personnel have arrested one suspect in connection to four stabbings that took place along the subway system's A train line on Saturday, which left two people dead.
The individual, Rigoberto Lopez, was taken into custody on Sunday.
"Rigoberto Lopez has been arrested and charged with murder and attempted murder related to the four stabbings/slashings on the A line yesterday. This investigation continues, and we thank everyone for the help they provided in this case," read a statement shared to the NYPD Transit bureau's official Twitter account on Sunday afternoon.
An NYPD spokesperson identified the suspect as a 21-year-old male and Brooklyn resident in additional information sent to Newsweek. The spokesperson confirmed that the individual is charged with one count of first-degree murder, two counts of second-degree murder, and two counts of attempted murder for his alleged involvement in the crimes.
The police department deployed 500 additional officers to subway stations across New York City on Saturday, following reports of a series of stabbings that occurred within the span of 24 hours.
"We will immediately commence a surge of officers to patrol both above and below ground," said NYPD Commissioner Dermot Shea during a press conference. At the time, Shea noted that the department was aware of "four separate incidents" involving "individuals being cut with a sharp object in our transit system."
"The common denominators we see in these four incidents are the proximity of the crimes as well as all four occurring on the A line," the commissioner added. "Two of the victims have passed away from their injuries and two are recovering."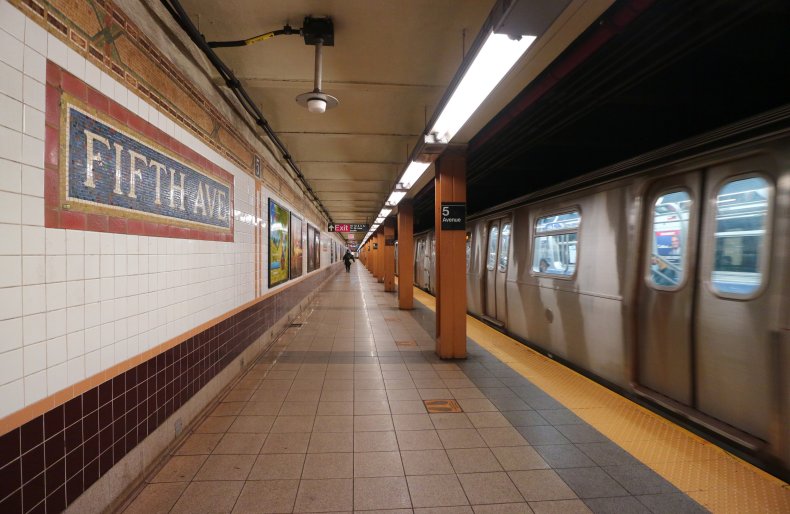 Police received reports of two fatal stabbings inside subway cars at opposite ends of the A train line, which runs between Inwood, at the northern tip of Manhattan, and Far Rockaway in Queens, just before midnight on Friday and into the early hours of Saturday morning.
The first victim, reportedly identified as a 40-year-old man, was discovered around 11:20 p.m. on Friday night at Far Rockaway's Mott Avenue station, according to NYPD. At around 1:20 a.m. on Saturday, a second victim, identified as a 44-year-old woman, was found at Inwood's West 207th Street station. Emergency services units pronounced the victims deceased upon arriving to the scenes. The other, non-fatal stabbings reportedly took place during that two-hour time period.
Later on Saturday, police acknowledged that the four incidents seemed to be related, and could have been carried out by a single suspect. Officials said that the individual who perpetrated the crimes appeared to be unprovoked, and suggested all four victims were experiencing homelessness when the stabbings occurred.
Updated 3:47 PM ET, with additional information.