Suspect in Young Dolph Murder Investigation Mistakenly Released From Jail
A man alleged to be connected to the murder of rapper Young Dolph has been reported missing after he was released from an Indiana jail last month.
Young Dolph, real name Adolph Robert Thornton Jr., was fatally shot on November 17 at Makeda's Homemade Cookies in Memphis, Tennessee. The 36-year-old musician was pronounced dead at the scene.
Shundale Barnett, 27, had been arrested along with the two primary murder suspects Justin Johnson, 23, and Cornelius Smith, 32, in January. However, before the end of the month, Barnett—who was charged as an after-the-fact accessory—was released.
According to local CBS affiliate WREG-TV, law enforcement arrested Johnson amid accusations he aided Smith in fleeing Memphis after the murder.
Following his arrest, Barnett was held in Clay County, Indiana, and was set to be extradited to Memphis, per WREG-TV. Instead, he was released from custody on January 21.
With Barnett's whereabouts now unknown, the Shelby County Sheriff's Office in Tennessee has issued another warrant for his arrest on the original accessory-after-the-fact charge. Attempted first-degree murder and theft of property have been added as new charges to the warrant, according to reports.
He was held in Indiana and was supposed to be extradited to Memphis with Johnson but officials say that did not happen. He is now wanted by the Shelby County Sheriff's Office.
Clay County Sheriff Paul Harden said that they were instructed by Shelby County to release Barnett following his arrest.
"On January 11, Mr. Shundale Barnett was brought to the Clay County Jail by the Indiana State Police from an arrest on I-70. He was booked in the Clay County Jail on an outstanding warrant from Shelby County, Tennessee," said Sheriff Harden.
Harden went on: "We held them [Barnett], contacted Shelby County, and held him on their warrant and we were contacted on January 21 and they told us that they were no longer wanting to come up and pick up Mr. Barnett and that we were to release him at that time."
According to WREG-TV, Harden added that they have "no idea" where Barnett is.
A representative of the Shelby County Sheriff's Office told Newsweek: "On January 11, 2022, the U.S. Marshals Service issued a warrant for Shundale Barnett for Accessory After the Fact. Due to an ongoing investigation and prosecution, we cannot comment further."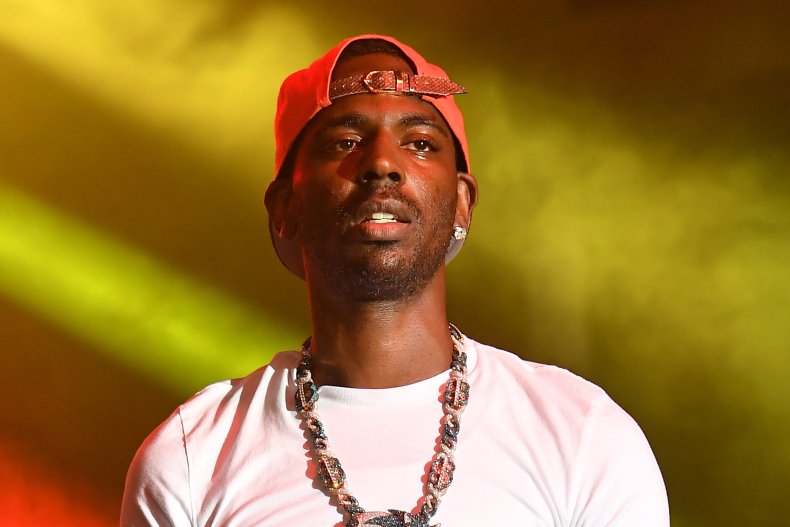 Meanwhile, another man named as a suspect in the shooting death of Young Dolph has been taken into custody, it was reported on Tuesday.
Devin Burns, 27, has been booked in the Shelby County Jail on several counts of aggravated assault and one count of theft of property, per WREG-TV.
Over the weekend, Burns and a man called Joshua Taylor were named by police as possible persons of interest in connection to the fatal shooting. Police have not specified how Burns is suspected to have been involved in the incident.
Maurice Hill, owner of Makeda's Cookies, where Young Dolph was shot, told local Fox affiliate WHBQ-TV that the father of two was fatally wounded inside the store by a person who drove up outside the business premises.
Following the shooting, Makeda's said in a statement that it would be briefly closing in light of the "senseless tragedy."
"We are heartbroken and saddened by the passing of Young Dolph. He was a regular customer and loved Makeda's Cookies. Our hearts and condolences go out to his family," read a post on the business' Facebook page.
Young Dolph, who was born in Chicago and raised in Memphis, was well known locally for his philanthropic efforts. The rapper had organized a Thanksgiving food giveaway days before his sudden death.
Update 02/22/22, 1:00 p.m. ET: This article was updated to include a statement from the Shelby County Sheriff's Office.