LGBT activist Yelena Grigoryeva's body was found in St. Petersburg, Russia on July 20, with evidence she had been choked, stabbed and thrown into the bushes near her home. Police claim to have obtained a confession from a suspect, but Grigoryeva's friends are dubious.
Grigoryeva, 41, had received numerous death threats from anti-gay groups since beginning her activism on behalf of Russia's marginalized queer community, including pictures of knives sent on social media. Her name appeared on a list of LGBT activists prepared by the group Pila (Russian for "Saw," a reference to the infamous horror-movie franchise). Pila has previously called for Russian homosexuals to be rounded up and deported to Chechnya, and launched an online game in which gay people were hunted like prey.
"All gays, trans and bisexuals will feel real pain," read a post about Saw: A Hunt For Gays In Ufa. "More homophobia. More set-ups. More violence."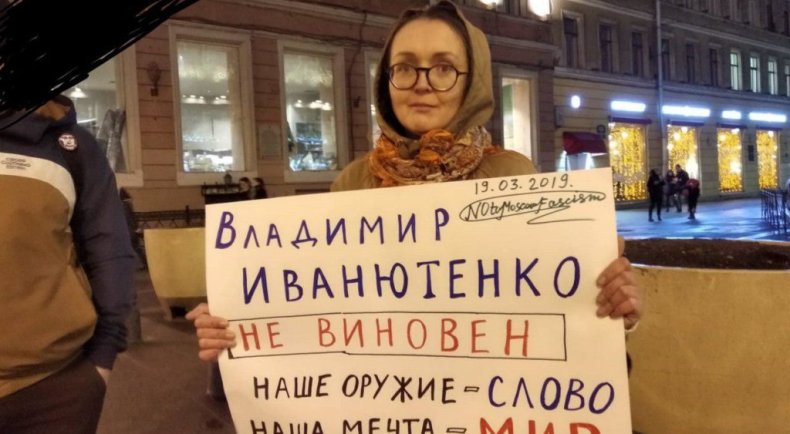 Grigoryeva, who identified as bisexual, had felt targeted by the group: Before her murder, she asked fellow campaigner Alexander Mironov to take care of her cat if anything happened to her, according to The Independent.
On August 2, Russia's Investigative Committee published a video confession to the murder from Aleksei Volnyanko, who reportedly had no connection to Grigoryeva.
In it, Volnyanko stands near the scene of the crime and recounts his alleged actions and motives: "She insulted me too much. And I, being in a state of alcoholic inebriation, lost my temper."
In the confession, Volynyanko reportedly states that he invited Grigoryeva to his home for a drink. When she declined, he pressed the issue and she called him a "loser."
The homicide was not motivated by Grigoryeva's LGBT activism, authorities insist. But people who knew Grigoryeva cast doubt on the official story.
"I think it's immediately clear that this was a contract killing," Aleksandr Khmelev, a friend, told Radio Free Liberty . We've had them before."
Pila's website was taken down by the Russian government in the spring. One of its final posts was a list of 19 people who the group promised would get "very dangerous and harsh gifts." Along with Grigoryeva, the list included four other well-known LGBT campaigners from St. Petersburg.
Though Pila's target list was removed, the organization has reportedly continued to communicate via the encrypted social-media service Telegram and through emails sent to potential victims.
Grigoryeva's friends point to the official Russian media coverage of her death as evidence that the true motive for her death is being covered up. After Volnyanko's confession was published, state-run news channel Russia-24 reported her death was a natural outcome of a drinking and a "antisocial lifestyle."
Russia's LGBT community has been increasingly under siege since the passing of a "gay propaganda" ban in 2013 law. The law has been used to bar demonstrations, shut down queer websites and prevent LGBT people from filing anti-discrimination lawsuits. Activists say it also fuels discrimination, harassment and violence in the country.