An SUV With an NFT: 2023 Alfa Romeo Tonale Debuts
The debut of the 2023 Alfa Romeo Tonale signals a coming of age for the automaker, which is part of the large footprint of the Stellantis global brand structure. Tonale is a new, electrified two-row SUV that will arrive in America early next year.
The automaker will sell the 2023 Tonale in Sprint, Ti and Veloce trim levels. Tonale Sprint can be customized for a sporty look. Tonale Ti is designed to offer an elevated level of elegance. Tonale Veloce combines both.
Tonale stands in very nearly the same footprint as the existing Alfa Romeo Stelvio. It's a few inches shorter and thinner. Tonale looks borrow from the Stelvio and its sister, the Alfa Romeo Giulia sedan, with the company's traditional shield design up front and strong character lines on the body panels. New headlight and taillight design completes the aggressive look.
Alfa will offer the model with two powertrain options in the U.S. A turbocharged 2.0-liter four-cylinder engine that is rated at 256 horsepower and 295 pound-feet of torque is paired with a nine-speed automatic transmission.
A more efficient 1.3-liter four-cylinder engine is paired with a hybrid system. The 2023 Alfa Romeo Tonale PHEV (plug-in hybrid) model has an all-electric range of 30 miles and can achieve a total of 272 horsepower. It is paired with a six-speed automatic transmission.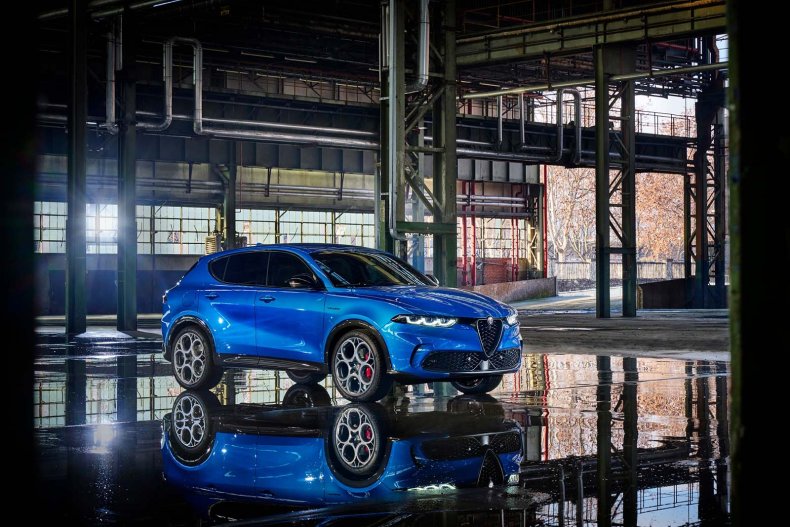 With Tonale, Alfa Romeo strives to deliver best-in-class driving dynamics.
Drivers will be able to choose from Comfort and Sport suspension modes and Advanced Efficiency, Normal, Dynamic and ESC Off drive modes.
Alfa Romeo will issue a non-fungible token (NFT) with every Tonale. This is the industry's first use of NFTs linked to a car. Lamborghini recently debuted artwork that incorporated the technology.
The Tonale NFT will serve as a comprehensive tracker of the car's features and specifications, warranty, service, and technology. Alfa Romeo says that this will have "a positive impact on residual value" as it serves as a certificate that a vehicle has been properly maintained.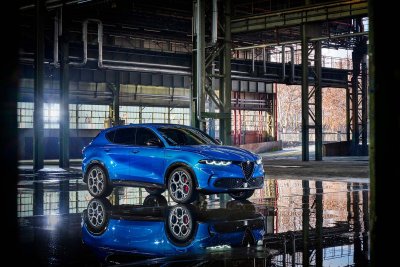 Tonale is the beneficiary of the Stellantis Uconnect 5 infotainment system. Though ostensibly the same as in the Dodge Durango and Jeep Grand Cherokee L, the looks and some menus have been changed to accommodate Alfa Romeo branding.
It comes complete with wireless Apple CarPlay and Android Auto, Amazon Alexa, and mobile app connectivity.
Alfa Romeo's foothold in the U.S. market is tenuous at best. The company sold just over 4,000 vehicles in the country in 2021, the equivalent of two days of Ford F-Series truck sales during the same period.
However, the automaker is not the least popular of the Stellantis U.S. brands. Fiat holds that title, having earned it with just 267 model sales in 2021.
Alfa Romeo will build the Tonale at the Giambattista Vico Stellantis plant in Pomigliano d'Arco, Naples, Italy.