'Shark Tank' Investor Points to 'Simple' Lesson Learned From SVB Fall
Shark Tank investor Kevin O'Leary said there's a "simple" lesson to be learned from the collapse of the Silicon Valley Bank (SVB) last week.
SVB, established in 1983, served for decades as a go-to financial institution for startup businesses and technology companies in the United States, despite being little known outside of California's Silicon Valley.
But increased interest rates and other factors prompted its customers to begin a run on their deposits, sparking a chain of events that ended in federal regulators shutting down the bank and leaving its customers in financial peril.
Following the collapse, viewed as the largest failure since the 2008 financial crisis, questions about the bank's future have emerged, with finance experts debating about whether the federal government should bail out the bank amid concerns the fallout could further devastate the U.S. economy.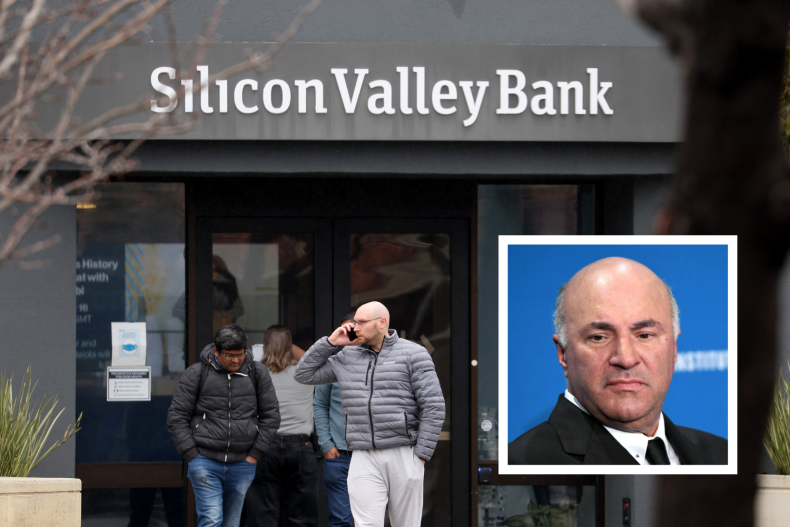 O'Leary, perhaps best known for his role as the investor nicknamed "Mr. Wonderful" on ABC News' Shark Tank, weighed in on the crisis Sunday afternoon, arguing taxpayers should not bail out the bank while offering one takeaway from the crisis. In addition to being a popular television personality, O'Leary's career in business spans decades.
"The combination of a negligent board of directors @SVB with idiot management is the potent cocktail that led to a disastrous outcome. Why should taxpayers bail them out?"O'Leary tweeted, also offering a "simple" lesson for his followers about how to mitigate damage from future potential bank meltdowns.
"The lesson is simple, never put more than 20% of your liquid assets in any one financial institution!" he tweeted.
Mary Eschelbach Hansen, a professor of economics at American University, told Newsweek on Monday that his suggestion of 20 percent is arbitrary but that she was "surprised' by businesses' cash management strategies.
"Like many folks, I was surprised to hear that any person – much less so many silicon valley businesses – had cash management strategies that did not account for the limits of deposit insurance," she said in a written statement.
"I have served on boards of not-for-profits that were quite careful to sweep cash above the insurance limit out of account at close of business each day."
SVB Collapse Latest Updates: Biden Reassures Banking System 'Safe'
The SVB collapse has sparked concerns about a larger economic crisis that many fear could strike the U.S., but the Biden administration on Sunday said it would guarantee that depositors with money in SVB will be paid back in full.
President Joe Biden delivered brief remarks about the collapse on Monday, reassuring Americans that the banking system is "safe" and that "no losses will be borne by the taxpayers." He said customers would have access to their money as early as Monday but warned investors that they would not be protected as they "knowingly took a risk."
Two days after SVB was shut down, a second financial institution, Signature Bank was also closed due to concerns that keeping the bank open could threaten the stability of the entire financial system.
Biden said former President Donald Trump's scaling back of Obama-era rules implemented to prevent further shutdowns was partly to blame, noting that "the last administration rolled back some of these requirements."
Newsweek reached out to SVB public relations and O'Leary via email for comment.
Update 03/13/2023 12:17 p.m. ET: This story was updated with comment from Mary Eschelbach Hansen.