SVB Collapse Set to Completely Upend the Housing Market
The collapse of 40-year-old California-headquartered Silicon Valley Bank (SVB) last week will have a significant impact on mortgage rates and the U.S. housing market, Newsweek has been told.
Commenting on the meltdown of the SVB—which had grown to be the 16th largest in the U.S. and a favorite among tech startups, and the following shut down of New York-based Signature Bank, which regulators feared could threaten the stability of the entire financial system if left open—Armada ETF Advisors' Portfolio Manager Al Otero said that this apparent earthquake in the banking sector could translate into positive change for the housing market.
"The collapse of SVB late last week coupled with reports over the weekend that the Fed will undertake a major policy shift to guard against the risk of contagion, has put interest rate markets into a tailspin ... causing a rally in rates across the yield curve and an expectation that the Fed will now 'pause' raising the funds rate at its March 21-22 policy session," Otero told Newsweek.
"The implications are that we could see a material reduction in mortgage rates going into the spring sales season, which would be a substantial positive for the housing market."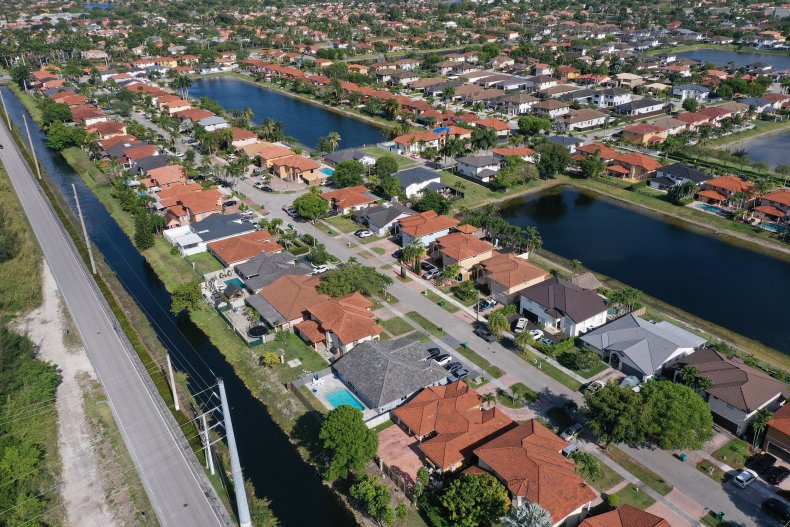 In a bid to slow down the economy and record high inflation, the Federal Reserve drastically increased interest rates last year, causing mortgage rates to dramatically surge.
As of October, the average 30-year fixed rate was around seven percent, having more than doubled from January 2022, when it was estimated at three percent.
These policies, in turn, profoundly impacted the housing market.
Faced with suddenly higher mortgage rates and higher repayments—worth hundreds of dollars more than they were only a few months before—many homebuyers were squeezed out of the market entirely, especially as home prices remained exceptionally high and inventory low.
The Fed's Chair Jerome Powell recently said the central bank would have had to increase interest rates higher than previously anticipated as inflation remained well above the bank's target for 2023 of four percent.
The bank's long-term inflation target is two percent.
But as investors remain spooked by the collapse of SVB and fears surrounding a crisis expanding to the entire banking sector remain, the Fed is widely expected to raise interest rates by 0.25 percent only—which could be good news for the housing market too, at a time when the sector is already showing some signs of recovery.
On the other hand, troubles in the tech industry could mean that the ongoing price correction in the Western housing market might be far from over—and just about to get a lot worse.
Many Western cities have already seen sharper home price corrections than other places across the U.S., generally less overvalued cities.