SVB CEO Tim Mayopoulos Rushes To Calm Customers as They Take Money Out
The new, federally-appointed CEO of Silicon Valley Bank (SVB) has sought to calm depositors, telling clients that it is "business as usual" following the bank's collapse on Friday.
Tim Mayopoulos replaced Greg Becker as the financial business's chief on Monday. In a letter, he said he recognized that the previous few days had been "extremely challenging" but that he came to the role with "humility."
The failure of SVB—the second-largest in U.S. history—led to a federal intervention to guarantee the funds of depositors with the bank, as it did with Signature Bank when it failed 48 hours later. The Biden administration's pledge to cover deposits—including those exceeding the $250,000 federally insured limit—looked to limit the impact of the collapse on the wider economy.
On Monday, the Federal Deposit Insurance Corporation (FDIC) transferred all deposits held by SVB into a newly-created "bridge bank" run by the agency and announced Mayopoulos's appointment. This, it said, would allow customers to access their funds.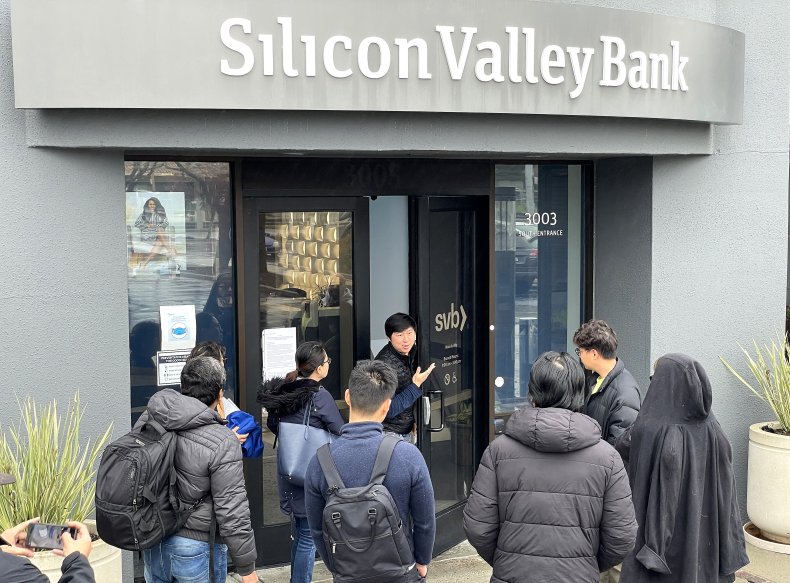 SVB had primarily served technology companies and start-ups, and there were many big brands with billions tied up in deposits: from gaming firm Roblox to streaming giant Roku, media outlet Buzzfeed to financial tech company Circle.
Analysts had warned that without government intervention, the collapse of SVB would have precipitated the closure of potentially thousands of businesses which rely on their deposits for day-to-day business.
In his letter, published in full by Business Insider, Mayopoulos stressed that all existing deposits with the bank had been protected, and noted that all new deposits would be as well. He noted, though, that any unprocessed wire payments on March 9 and 10—the days leading up to the bank's collapse—had been canceled and would need resubmitting.
As part of the business-as-usual effort, Mayopoulos said that he expected that cross-border transactions would resume "in the coming days."
"We look to restore your confidence and support you and your companies at this time," he wrote.
Federal regulators closed SVB on Friday after a run on the bank in which depositors rushed to withdraw their funds all at once. This was sparked by an announcement on Wednesday that it had sold securities at a loss to plug a hole in its finances, according to CNN.
The hole emerged after the Federal Reserve drastically increased interest rates to tackle inflation, which also saw bond prices fall. SVB was among many banks which invested in government bonds when interest rates were close to zero during the pandemic.
Who Is Tim Mayopoulos?
Mayopoulos is president of Blend, a financial software firm, which he joined in 2019, and is a member of FDIC's systemic resolution advisory committee, which provides the regulator with advice on the resolution of "systemically important financial companies," the agency says.
Prior to his appointment at San Francisco-based Blend, Mayopoulos was the president and CEO of the Federal National Mortgage Association, known better as Fannie Mae.
In his letter, he referenced this experience as "part of the new leadership team that joined Fannie Mae in the wake of the financial crisis" in 2008.
"I am very proud of work we did there to restore the company to profitability and to stabilize the housing finance system in a period of unprecedented challenge," Mayopoulos said.
His experience working at a tech start-up has given him "an appreciation for the innovation economy," he wrote.
Prior to the financial crash, Mayopoulos worked at several large financial institutions, including the Bank of America, Deutsche Bank and Credit Suisse. He studied English at Cornell University and law at New York University, according to his LinkedIn profile.