Swalwell Posts Texts Appearing To Show Tucker Carlson Call Him 'Coward' for Not Returning Call
Democratic California Representative Eric Swalwell has shared a screenshot of text messages purportedly showing Fox News host Tucker Carlson calling him a coward for not calling Carlson on the phone.
Swalwell shared the screenshot in a Twitter post published Friday night.
"After years of lying about me and my family, @TuckerCarlson is losing his mind that I won't return his calls," Swalwell wrote. "Sorry, Tucker, I'm just not that into you. Who knows what lie he'll tell next? #TuckerTantrum".
The alleged text exchange begins with the message, "Eric, it's Tucker Carlson. Please give me a call on this number."
Swalwell responds, "Tucker, I'm hesitant to do that. You falsely smeared my wife on Tuesday and she's getting death threats. That's way out of bounds. She's a pregnant mom of a 4 year old and a 2 year old. Hit me all you like. But to go after her. That's just wrong."
In response, Carlson allegedly texted back a single word: "Coward."
On Carlson's June 20 broadcast, the Fox News host referred to Swalwell as "a not very bright third-string Democratic congressman from the East Bay" looking to "sell out to China."
Carlson then said that campaign finance records obtained by Fox News showed that Swalwell had illegally spent thousands in campaign contributions on personal uses like "limo rides, booze deliveries [and] high-end steakhouses."
The Fox News host also said Swalwell also spent $20,000.00 at the Ritz Carlton Hotel in Half Moon Bay, California. Carlson said that Swalwell's wife is an executive at that hotel.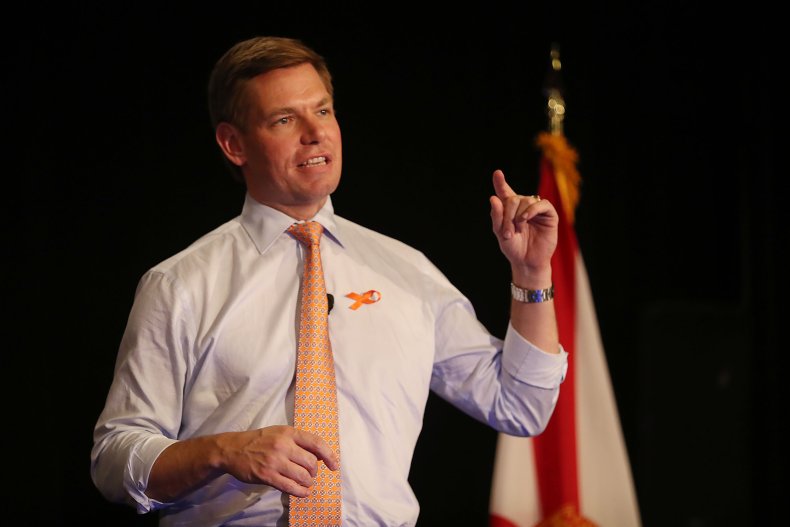 Such hotel and food expenditures are sometimes common in political campaigns. Carlson didn't offer any proof that they were actually illegal.
Carlson also mentioned that former Democratic Congressman Jesse Jackson, Jr. went to prison in 2013 for illegally using campaign funds. However, the allegations against Jackson arose after federal prosecutors and FBI agents investigated him.
Carlson also mocked Swalwell's 2014 connection to Christine Fang, a suspected Chinese intelligence operative who associated with the congressman and other local and national politicians.
The Fox News host claimed that Swalwell had sex with Fang, but he offered no proof. Carlson had previously cited an unnamed informant for the claim. Swalwell has said allegations of a sexual relationship with Fang began after Swalwell began criticizing then-President Donald Trump. Swalwell says that he cut off ties with Fang once the FBI warned him about her in 2015.
"Rep. Swalwell, long ago, provided information about this person — whom he met more than eight years ago, and whom he hasn't seen in nearly six years — to the FBI," Swalwell's office told Axios last December.
Newsweek contacted Fox News and Swalwell's office for comment.