'SWAT' Season 4: All You Need to Know About the New Cast Member Norma Kuhling
SWAT Season 4, Episode 10, streaming now on Paramount+, saw the team reeling from the loss of Erika (played by Lyndie Greenwood) in the previous episode of the CBS procedural. However, as one cast member left the show, another joined, with a former Chicago Med star arriving to meet Hondo (Shemar Moore) and the gang.
That new team member is Nora Fowler, played by Norma Kuhling. NBC viewers may remember Kuhling as Dr. Ava Bekker, who left Chicago Med in the Season 4 finale in 2019 as part of a creative shake-up that saw three cast members leave amidst what Deadline called, "creative reasons related to the characters' story evolution."
In the latest episode of SWAT, titled "Buried," saw Fowler join the team as a new tactical medic. Hondo, of course, was unsure about her, asking whether she was just joining the team as "another notch on her resume," though she assured him she was, "looking to save lives."
In this exchange, we also got a glimpse into the character's past. She told the team leader: "I've seen combat as an Army medic, was an EMT for LAPD and finished for in her class in mountain rescue and deep water."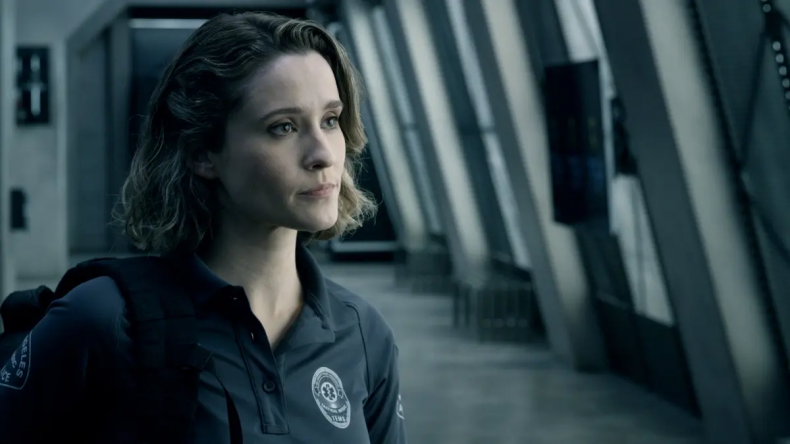 However, on her first day, she managed to make a massive faux pas, as she tried to put her stuff in the locker of the late Erika, shockingly shot through the roof of her car during a shootout in the previous episode—a death that is still an open wound for the team.
Prior to this new role, Kuhling spent two years on Chicago Med, her first-ever network TV gig after making her debut in the 2009 Demi Moore movie The Joneses. On her departure, she wrote on Instagram: "You guys have overwhelmed me with your thoughtful, passionate messages, and I'm so grateful. Chicago Med was my first big network job, I'd never experienced a 'fandom' before, and it was a helluva ride- thank you for everything.
"For loving to hate Ava, growing to respect her, being unsure what to make of her, or defending her to the bitter end. I've had the time of my life, and learned so much, and can't believe how lucky I am to have shared this time with this amazing cast and crew. Onwards."
As for whether the actor will remain a SWAT team member, that seems to be up in the air currently. In the episode, she made clear that her posting on the team was only temporary—but, of course, this could be easily made more permanent if Nora is a hit with fans.
SWAT Season 4 continues Wednesdays at 10 p.m. ET / 9 p.m. CT on CBS.